Suarez and Sturridge prove the difference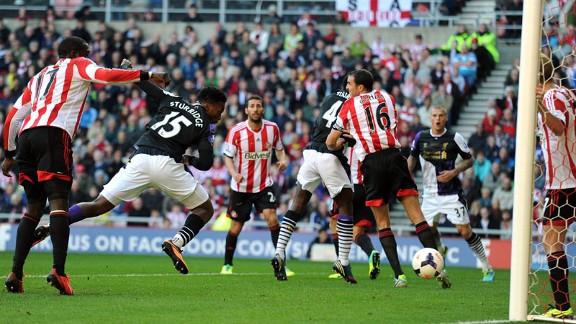 PA PhotosDaniel Sturridge scored the opener and set two up for Luis Suarez.
It wasn't the most convincing of performances and it needed a late goal to finally kill off plucky Sunderland, but on a weekend when many of Liverpool's rivals for the top four tripped themselves up this was the most welcome of 3-1 victories for Brendan Rodgers' side.

Having had the League Cup game against Manchester United to get his eye in, Luis Suarez wasted little time in getting back to last season's goal-scoring form with a brace against the Mackems that ensured the Reds halted the mini-slide that had seen them lose two and draw one of their past three games.

A player like Suarez can be the difference in tight games, and every game Liverpool have played this season has been exactly that -- tight. Discounting the extra-time victory over Notts County, this is the first game of the season that hasn't been either drawn or decided by a single-goal margin. Suarez comes back for his first league game and suddenly that margin is two goals, significantly, both scored by him. That's what the Reds have been missing.

- Rodgers purrs over strike force
- Three things: Sunderland-Liverpool

Of course this wasn't just about Suarez -- his strike partner, Daniel Sturridge, was the real star of the show as he found the net himself and then laid two on a plate for Suarez in a dazzling display. The Uruguayan's presence was hugely significant, however, as it allowed Sturridge to thrive without being the sole focus of the opposition's attention. Sturridge was doing well before the return of Suarez, he should do even better now he's back in tandem with the No. 7. Throw Philippe Coutinho back into the mix and Liverpool are cooking with gas.

This was far from being a perfect display, but it's hardly rocket science to say the more match winners you have on the pitch the more matches you'll win. The major difference between the two sides was that Liverpool had Suarez and Sturridge whilst Sunderland didn't. Caretaker boss Kevin Ball couldn't have asked any more from his players, they battled and never let their heads drop, and Liverpool had to defend stoutly in the second half to keep their noses in front until Suarez eventually made the game safe with a late counterattack.

Midfield continues to be a concern, as Sunderland found space to get long shots away far too frequently and the balance in the centre never looked completely right. Rodgers' decision to introduce Raheem Sterling at right wing-back and shift Jordan Henderson into the centre in place of Victor Moses was a shrewd one. It was brave, too, as with a 2-1 lead to protect the easy option would have been to send on the more defensive-minded Andre Wisdom, but to the manager's credit he recognised that Henderson was having a lot of joy down that right-hand side and was often the free man. Sending Sterling out there made sense, as did bolstering the middle of the park with the energetic Henderson.

Nevertheless, the centre of the park is not functioning quite as well as other areas of the team and it's something that needs to be looked at. Overall, though, the Reds did defend well and all three centre-halves performed strongly. Most of Sunderland's best efforts came from long range, anything played into the box was usually cleared by one of Liverpool's three big men. Kolo Toure was fantastic all day, Mamadou Sakho was flawless and Martin Skrtel -- given the most difficult job of the three as he had to deal with the aerial bombardment up to Jozy Altidore -- also emerged with great credit.

The Reds are still very much a work in progress, especially as Brendan Rodgers is now experimenting with a new formation that has looked promising so far and will hopefully get better as the players become more accustomed to it. I made the point after the defeat to Manchester United in midweek that this system maximises the strengths of the squad and helps to cover up its weaknesses, but the biggest thing it does is allows Rodgers to get Suarez and Sturridge in tandem without either of them having to sacrifice themselves by playing wide or deep as they had to do at times last season.

It makes sense to put your best players in the best possible situation for them to thrive and that's what Rodgers is doing right now. Liverpool are not a great team, but they do have two great strikers and as long as both are on the field they've got a chance against anybody. The Premier League has been incredibly unpredictable thus far, Arsenal and Spurs are the only two sides to impress consistently, but there's an opportunity there for Liverpool to really do something this season. As long as Suarez and Sturridge can stay fit and firing then there's every reason to be optimistic.