Liverpool the nearly men at Old Trafford
With 72 minutes played at Old Trafford, Luis Suarez exhaled. In his breathless return to the Liverpool side after his 10-game ban, this was the first time he truly stood still since the first whistle. The striker had scuttled, twisted and trekked across every bit of turf, albeit without reward. Now, 25 yards out with a free kick in front of him, he had a chance to equalise for Liverpool.

He strode toward the ball and fired his right foot at it, just as he has done successfully so many times before. The ball met the head of Phil Jones before clipping the crossbar and going over. Now it was Manchester United, and manager David Moyes, who exhaled. Nearly.

- Usher: Optimism taking shape
- Brewin: Three things: Man United-Liverpool

It was a game of nearly and almost for Liverpool. They almost made their first-half adventure mean something, but repeatedly failed to play the final ball, the right ball, at the right time. They nearly grabbed an equaliser before Suarez's free kick, but Victor Moses' diving header was at goalkeeper David De Gea as opposed to an unreachable 10 inches left or right of his spindly frame. The decision to line up with three in defence and four in midfield? Almost game-defining, nearly match-winning.

No wonder. Liverpool's season has featured a granite-like defence but has ultimately been built upon wafer-thin foundations; success and failure have been defined by split-second decisions, moments of genius and the unlikely spin of an incoming ball. Their three excellent 1-0 wins could have ended in disappointing draws; their two league results since could have yielded at least four points. It is to their credit, or detriment, that they are where they are.

The 1-0 defeat to United, Liverpool's 10th loss in 11 games at Old Trafford, followed that formula. At Anfield, it was the forehead of Daniel Sturridge, glancing the ball into the net from a corner, which won the game for Liverpool. Here, it was the foot of Javier Hernandez -- from a corner, with a glance -- that sent Liverpool to defeat.

Fine margins. There will be solace for manager Brendan Rodgers in how his side, 28 points shy of the champions last season, have played in the past two games against them. The gap does not appear so wide, though the end of a 26-year managerial reign can do such things to a side. Rodgers will also know Wednesday's defeat can be attributed to more fine margins from two of his starting 11.

Jose Enrique seems capable of only two performances. There is the splendiferous -- the backside of concrete, the blockading chest, the rifle-like left foot -- and the downright stupid.

Against Hernandez, the player he was supposed to be marking when Wayne Rooney's corner kick was drilled into the box within the first minute of the second half, he exhibited the latter. Simon Mignolet could have commanded his box better and Steven Gerrard could have headed it away, says the devil's advocate, but the Spaniard should have definitely stayed with the Mexican.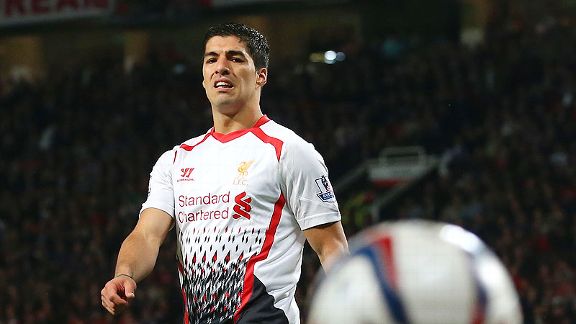 Julian Finney/Getty ImagesLuis Suarez's return to action ended in defeat at Old Trafford.
At the other end, Suarez danced along the line of good and gratuitously magnificent. If not for the fact that he has played just four times competitively since April -- two of those international friendlies -- then he would have been of the standard capable of taking the tie into extra time. Unfortunately for Liverpool, he was merely good, which was not good enough in the context.

His touch was smart, but not marked by genius; his spins lacked the extra sharpness and pop, his acceleration with the ball beneath him not at his usual level. The industry was there, as was his desire -- his shirt alone, retaining an estuary of sweat, was testament to that.

That, ultimately, is what won United the tie: Liverpool's lapse of concentration at one end and lack of sharpness at the other. How similar the protestations sound to United's after leaving Anfield empty-handed weeks earlier. If only Jones had reacted to Sturridge's dart; if only Rooney had been fit to play, his head not resembling a tomato-based pizza topping.

Liverpool's players and staff will be disappointed at losing to their close rivals and seeing a cup run halted before it even became a brisk walk. More disappointing was how the game served as acknowledgement of what is currently good and bad at Liverpool, highlighted by the manager's postmatch bleating of reinforcements and squad strength.

As Rodgers circled his little brickwork patch of the stadium, realisation will have found him, as it did many of the 7,500 who stood in support, muttering: There was nobody capable of linking midfield and attack.

There was no muttering for the defence bar Enrique's lapse. They performed admirably against a front line that was missing Robin van Persie but possessing the power of Rooney, the laconic style of Shinji Kagawa, the speed of Hernandez and the directness of Nani. To keep that foursome quiet for the majority of the game is no easy task, but both Mamadou Sakho and Kolo Toure were excellent; agile, quick, strong and well-positioned throughout. A potential two-man partnership in central defence, and world domination, awaits.

Yet with just five league goals in five games this season, and with Philippe Coutinho sidelined through injury, worries arise over the balance of the attack. With four in midfield -- with Enrique and Jordan Henderson operating as wing-backs -- and three in attack, there was potential for six or seven players to attack the penalty area.

No such luxury. Gerrard and Lucas Leiva no longer possess the dynamism to do that for 90 minutes, while Moses is not equipped to play in the role behind the strikers, particularly in the system deployed on Wednesday. Moses can pass, but he is not blessed with the ingenuity of Coutinho. Few are.

The aforementioned fine margins between delirium and derision are not solely defined by the bounce of a ball, but by cohesion. The quality of the 11 players who started on Wednesday can be debated fiercely, but it would take a Herculean effort to convince the front seven were comfortable in their new-found positions, especially without Coutinho to knit.

And with Luis Alberto not yet ready in the mind of Rodgers and Iago Aspas simply not ready for anything right now, there appears to be no player with feet nimble and mind quick, with the tenacity to pick the ball up in a deeper position and delight in the mass of movement before him.

Think again. A frustrated Suarez is a dangerous Suarez, and so it proved as he dropped off the defenders to collect the ball and run at the United defence. The problem was that it was a role specified for Moses, so it left Sturridge isolated and struggling, Moses consumed with uncertainty, and Suarez running, breathless, and running some more.

In the absence of Coutinho, it is Suarez who must be burdened as the central outlet, to take control of the ball in midfield and link with the attack. The rhetoric of Liverpool being a one-man team fell from the page in the Uruguayan's absence, and it would be unwise to neglect Sturridge and ignore his capability; but Sturridge will need support, and support must derive heavily from Suarez. The prematch talk of reintegration changed completely by halftime; instead, it was reinvention, as it became clear Suarez needed to be given the ball at every possible opportunity in order to provide chances for both himself and others.

What isn't clear is whether Rodgers persists with the 3-4-1-2, particularly when Coutinho returns. Wednesday's defeat could not be attributed to the system, but rather its personnel; Henderson is not a right back, nor is Moses an attacking midfielder of subtle persuasion. He would rather kick down a door than climb through a window. But 3-4-1-2 would allow Coutinho to samba centrally and play behind Suarez and Sturridge up front; it would also make full use of their assortment of centre backs and allow four central midfielders to compete for two places.

It isn't clear to Rodgers, either. Not until Suarez is fully fit and Coutinho returns, at least.

After just over a year of holding the notepad, he still looks with his brow furrowed at what to do, Biro chewed in deep thought. With each fresh twist of the Rubik's cube comes a new problem, so forgive him for taking a sledgehammer to it now and then. Indeed, the two games between Liverpool and Manchester United this season have been a byproduct of two managers still deciding how to do what is expected of them, two 90-minute mind-maps played on grass.

But with this 1-nil defeat comes a problem for Liverpool other than the obvious vacancy that remains in the trophy room. With no Capital One Cup, there are fewer opportunities to experiment with the squad, to give younger players an opportunity, and to tweak any system or formation. For Rodgers, a manager still figuring out what his Liverpool truly plays like, that's as bad as losing to your hated rivals in a cup tie. Nearly. Almost.