Missed chances, but optimism taking shape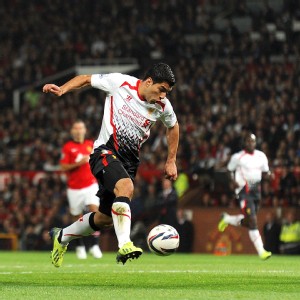 Andrew Powell/Liverpool FC/Getty ImagesLiverpool's Luis Suarez returned to action after his ban for biting Branislav Ivanovic last spring.
Losing at Old Trafford is never easy to take if you're a Liverpool fan, but Wednesday's 1-0 Capital One Cup loss to Manchester United was especially tough to stomach.

Brendan Rodgers' men dominated much of the game and turned in their most complete 90-minute display of the season, yet it's Manchester United and not Liverpool that will be in the draw for the next round. Failing to deal with set pieces coupled with an infuriating wastefulness in the final third proved to be Liverpool's undoing, but if Kopites can put the bitter disappointment to one side, there are some encouraging things to take from this.

Admittedly, putting that disappointment to one side is difficult -- especially in the immediate aftermath -- and I'm struggling to contain some of the anger and frustration that built up during an infuriating 90 minutes. But when the dust settles, there are definitely things that bode well for the immediate future.

-Brewin: Rapid reaction
-Rodgers delighted with Suarez return

Despite the positives, which I'll get to in due course, losing to Manchester United always stings, and given that the Premier League title was obviously never a realistic prospect (despite the bold and misguided proclamations of Victor Moses last week), this loss means Liverpool have just seen their hopes of lifting a trophy this season reduced by 50 percent.

The worst part is that it was completely self-inflicted. I'm not sure what was more unforgivable, conceding a goal in the manner Liverpool did, or conceding it when they did. Managers tend to send their teams out after halftime with instructions to "switch on straight away" and to "start the half quickly," but within seconds, a corner was conceded and Jose Enrique fell asleep and gave Javier Hernandez, the most clinical finisher on the pitch, the freedom of Manchester.

Liverpool's vulnerability from set pieces has been evident for many years -- it went away briefly for spells under both Gerard Houllier and Rafa Benitez -- but in general, when the opposition wins a corner, Kopites tend to fear the worst.

Manchester United in particular have benefited from this on countless occasions down the years, especially at Old Trafford. Maybe it's just me, but it seems like they score from a set piece every time Liverpool are in town, so it was no surprise to me that it proved to be the case once again. It doesn't make it any easier to accept, though.

What compounds the frustration is Liverpool so rarely threaten from their own set pieces, specifically corners. It was the same at the weekend when Southampton took advantage of what has become an obvious Achilles' heel for the Reds.

Liverpool had plenty of height in the side yet lost to a goal conceded from a corner and never once looked remotely threatening from the numerous corners they had. Four days later, the same thing happens. Do Liverpool even bother practising corners in training? I'm sure they do, but you'd never know by watching them.

United won without having to do much to earn the victory. The goal was handed to them, and while David Moyes' side kept a clean sheet, that was as much down to Liverpool's wastefulness as it was solid defending. By wastefulness, I'm not talking about missed chances, although they were a few of those.

No, I'm referring to the generally sloppy play that ruined countless promising situations in the final third and prevented clear chances from being created. Time and again, Liverpool worked themselves into a good position to make an opening, and time and again we saw a poor pass, a bad touch or a wrong decision.

Any hope the return of Luis Suarez would immediately solve all of Liverpool's goal-scoring problems quickly went up in smoke when it became apparent just how rusty he was. The brain was working perfectly; he got into some terrific positions and, generally, he made the right decisions, but he was just a fraction off in everything he did in the first half. Completely understandable, of course; he had the excuse of a long layoff, his teammates did not.

Daniel Sturridge was especially wasteful in possession all night, while Victor Moses never seemed to fully get to grips with the role he was asked to fill and was quite conservative in his play.

Suarez improved markedly in the second half and the movement of the forward players certainly stretched United's backline, but too often the good approach play did not translate into clear scoring opportunities -- and when it did, the finishing was terrible. Moses headed straight at goalkeeper David De Gea, Suarez missed the target twice from good situations, Jordan Henderson and Kolo Toure both wasted glorious opportunities by shooting wide when well-placed and Sturridge was unusually hesitant with numerous opportunities to make something happen inside the box.

Liverpool definitely missed a trick here. United didn't play well, and they looked understandably disjointed after the eight changes made by Moyes from his regular lineup. Still, they've ground out the win and will make no apologies for doing so. Cup football is all about progressing to the next round; United have done that, and Liverpool really only have themselves to blame for this defeat.

All that said, the change in formation certainly helped the players, and at times Liverpool did a passable impression of an extremely good side. There's definitely something for Rodgers to work with moving forward, and the system used perfectly suits every player in the squad except the likes of Moses and Raheem Sterling, neither of whom are ideally suited to playing as a No. 10. For everyone else though, this system plays perfectly to their strengths, especially when Glen Johnson returns to shore up that right-hand side.

Whether or not Rodgers decides to go with this long-term remains to be seen, but the situation Liverpool are in now is similar to that Roy Evans found himself in early in his reign as manager. Liverpool had a centre-half problem, and Evans went out and bought both Phil Babb and John Scales the same day. With Neil Ruddock already established in the side, Mark Wright about to return from the wilderness and the promising Dominic Matteo coming through, Evans suddenly had a wealth of centre-backs and was having trouble accommodating them in his team until he opted to go with a back three.

He ended up sticking with it for several years, and by and large it worked well, as Liverpool produced some of their most fluent, attractive, attacking football in that period.

Given the current personnel, perhaps that's the answer now? It's not easy getting the best out of Suarez and Sturridge in a 4-3-3, while Philippe Coutinho is more suited to playing centrally rather than wide. The formation we saw at Old Trafford allows all three to play in roles that suit them best, while both Enrique and Johnson are ideal wingbacks. It also removes the headache of trying to pick two centre backs from four, meaning Rodgers will have to deal with only one unhappy centre-half as opposed to two.

Liverpool need to lick their wounds, learn from their mistakes and then go to Sunderland on Sunday and get themselves back on track with a win and a performance. Despite the result Wednesday, there were enough encouraging signs to suggest they are more than capable of doing so, especially as Suarez appeared to get better and better the longer the game went on.

It's great to have him back, it's just a shame he hadn't had a game under his belt before this one, as had he been a little sharper, there could have had a much different outcome Wednesday.