Reintegration, reprimand and recompense ahead of Suarez return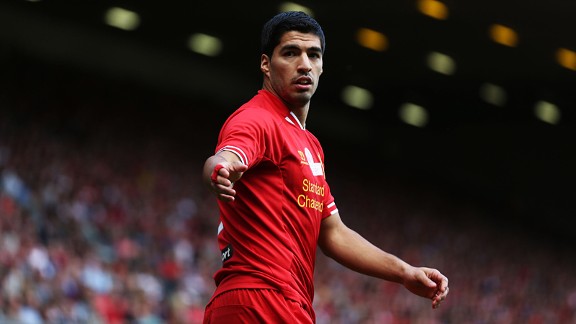 PA PhotosLuis Suarez will return to action after serving his 10-game ban.
What's in a first impression? Jorge Luis Borges, the 20th century Argentine writer, believed that only the first reading of a poem is the true one; any sensation or impression after the first reading is simply a delusion. Maybe Borges, born in Buenos Aires, stood on the terraces of La Bombonera or El Monumental watching Boca or River.

Football follows poetry's example, probably because the two are so alike at heart. First impressions are paramount on the pitch, their imprint hard to shape once set. Herculean efforts are required to erase debut performances, good or bad, from the memory, every touch thereafter enhanced or tainted. It takes months, sometimes years, to change them.

The same can apply to an entire team. Open sobbing is heard every time Stoke City attempt to play a ball that doesn't pierce the stratosphere; eyes are rubbed when there is purpose to an Arsenal attack. At Goodison Park, the mass of inhumanity and elbows that permeated David Moyes' side has been replaced by neat passing and refined technique. Merseyside is still in shock.

- 'Luis Suarez champing at bit to return'

But the other half -- well, more like three-quarters or five-eighths, in reality -- of Merseyside are one of the few exceptions. Forget any impression forged of Brendan Rodgers' side, whose style has fluctuated wildly during his year in charge. From a tweaked tiki-taka to taking the tika, Liverpool's transformation from a possession-based game into a regimented counterattacking unit has been as surprising as it has been blatantly obvious.

After not knowing what the new Liverpool looked like, consistency has finally been found this season. For now.

First half good, second half bad; score early and erect the red barricade. It is something that only Southampton have breached enough to conquer. Liverpool's style is a strange hybrid of swashbuckling movement up front and sedimentary defending, with five of the six games so far conforming to that.

Enter Luis Suarez. Everything is to change once more now Suarez is ready to return from his ten-game ban, for the all-action Uruguayan of bellicose nature does not do conformity. The playbook is about to be ripped apart by shard-like incisors, set alight and defenestrated; forget all you know or you think you know about Rodgers' side. There are few players in world football who can shift the attitude of an entire club, but few players possess such irrefutable talent as does Suarez.

Liverpool have missed something over the last 10 games. Not victories, for there have been seven of those; it has not been goals, either, as they have scored 19. They have not lacked gleeful creation or shirt-soaking industry either with the presence of Philippe Coutinho and Jordan Henderson, nor have they been bereft of strong mentality with Steven Gerrard and Kolo Toure in the side.



But they have missed Suarez. He brings all of these things -- wins, goals, creation, industry -- and does so belligerently, wickedly, with a scowling smile upon his face. Most important of all, he does this consistently.

With his return comes a dilemma for Rodgers: how to utilise him best, and how to ensure the balance of the side is not askew in his presence. There is no suggestion Liverpool are a better side without the forward. Any such rumblings should be met with a level of suspicion reserved for people who don't like cheese, or have never watched an episode of "Breaking Bad." Suarez is Liverpool's best player. But Liverpool have won seven of the last 10, albeit one in extra time against Notts County; Liverpool have scored 19 goals and, when they have sought to play in such a manner, Liverpool have produced some astonishing football, most notably in the 6-0 evisceration of Newcastle.

This is the problem with first impressions in football. In just over a year, Rodgers has presided over three different styles, each supposedly heralding the new Liverpool. Uncertainty still rests on what this new Liverpool truly looks like. Even with their new-found second-half defensive solidity, questions remain on whether it is sustainable over 38 games. It was whispered before Southampton and bellowed afterwards. Add Suarez in all his whimsical wonder and defining the side is complicated further.

No surprise, given how complicated Suarez can be. He is a dribbling dichotomy, one who draws both exaltation and lamentation as expertly as he draws fouls from the stiffened limbs of defenders. Reminders are hardly needed of how magnificent he is with the ball at his feet.

But reminders are hardly needed of why his imminent return is taking place, either; of why, in his Liverpool career, he has been suspended for 20 games, no matter how draconian some thought the punishments were.

Reminders are hardly needed, either, that it is only through the stubbornness and valour of the club that his return is set for Old Trafford in the Capital One Cup, and not elsewhere with Arsenal, Real Madrid or whoever would save him from his Merseyside purgatory. Talk about first impressions: Who would have thought this tip-toeing ball of energy with the shouting and the hollering and the vamos towards the Kop could ever do everything possible -- bar submitting a bonus-evaporating transfer request -- to leave.

For all the dramatics surrounding his return, for all the discourse about how he will fit into this Liverpool side and what magic he will fling upon it, there is the reality that this reunion is only temporary. Though he apologised in private and executed exemplary sycophancy towards the supporters, he never offered a full public apology for his summer behaviour. Only a supernatural act, like Liverpool winning the Premier League, could now keep Suarez beyond this season.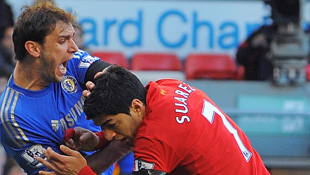 Andrew Yates/AFP/Getty ImagesThe bite on Ivanovic that lead to Suarez's ban.
There is temptation to simply forget this and enjoy him for his footballing ability. With Gareth Bale now at Real Madrid, Suarez appears heir to the Welshman's PFA Player of the Year award and key figure in the weekly highlight reel -- though the arrival of Mesut Ozil, gliding and assisting his way around North London, may make that more difficult.

Still, the Premier League needs him, but not as much as Liverpool do, even if they won't openly admit it. They have done well without him, but they could do better. The club have worked hard to moderate the importance of his return, depicting him as an important cog of Rodgers' machine-like side, but nothing more. He's a mere twist, turn or outrageous nutmeg at Old Trafford from changing that narrative.

That does not make Liverpool liars. Suarez is a wonderful player but also an individual one; that is not to label him selfish or greedy, but rather somebody who likes to create his own chances and wrestle destiny into his own hands. In his absence, Daniel Sturridge and Coutinho have flourished together, and Henderson has been allowed to provide energy in midfield.

Indeed, no matter how transient Suarez's presence will be in this Liverpool side, he must learn that he is a mere cog, albeit one of opulent design, for the remainder of his Anfield career. His return cannot be to the detriment of Sturridge or, when he returns from injury, Coutinho. Though results against Swansea and Southampton have quelled the enthusiasm of Liverpool's excellent start, they still sit in fifth on 10 points, just two points off the leaders; the attacking verve they have shown has been impressive. Suarez would do well to note that.

There is a lot to comprehend when Suarez returns, so allow the three R's to help. Reintegration, reprimand and recompense.

For Rodgers, it is about reintegration, and how to get the best from both Suarez and the side around him. For the fans, it is about reprimand; Anfield has been a much quieter place without his name sung repeatedly, feverishly; but with his sentence served, how loudly it will be sung at Old Trafford on Wednesday night. For Suarez himself, his return is about recompense for his lengthy ban and his behaviour in the summer, and providing that with effort and extravagance.

There is no wisdom in catering to Suarez and allowing the human whirlwind to rip through the squad, altering all around him, before potentially leaving in the next nine months. But then, wisdom does not apply to a player of Suarez's ilk. As the sage Borges also said: "Nothing is built on stone; all is built on sand, but we must build as if the sand were stone."

From one genius South American to another. Suarez is back. Regardless of whether he stands upon sand or stone, that can only be positive for Liverpool.