Rare bad day for Rodgers as Liverpool lose
For Liverpool, there's just something about Southampton. In March, the Saints were the last side to inflict defeat upon Liverpool, and the last team to brutally expose what flaws still lurked beneath the Reds' slickening, quickening exterior. Until Saturday, that is.

Southampton's 1-0 win at Anfield, Liverpool's first home defeat since early February, wove a familiar tale of woe in comparison to their 3-1 defeat six months ago. Both heavily featured the South Coast side's relentless, indomitable pressing game with 90 minutes of aggressive running; both featured impressive showings at full-back from Luke Shaw and Nathaniel Clyne, the perfect mix of fresh-faced exuberance and burgeoning ability. Southampton's midfield, industriously industrious, also shone.

-Rodgers: We needed Suarez

More pertinent for Liverpool, the defeats both at St Mary's and Anfield demonstrated the fallibility of Brendan Rodgers, serving as a gentle reminder he remains a young manager who will continue to learn through failures. As such failures become more infrequent, the reminders are less gentle. After 10 games without defeat and relative veneration for it, the spotlight that falls upon his team selection against Southampton feels far stronger.

Unfair, granted -- but such is life when aiming for the Champions League. With more wins comes more pressure and expectation; with a lessening of standard comes even more scrutiny on why positives turn to negatives, why rights become wrongs, why wins transform into defeats. It is the imbalanced formula of a football manager, where a dozen good performances can be clouded by the asphyxiating haze of one unexpected bad one.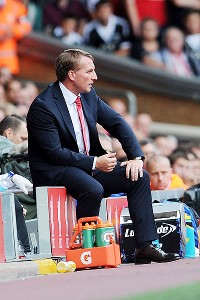 John Powell/Liverpool FC/Getty ImagesLiverpool manager Brendan Rodgers had a lot to think about during Saturday's loss.
So it has proven. Post-match, Rodgers was asked about, and explained, his decision to field four centre-backs. A knock to Jose Enrique does not fully satisfy as clarification, given the Spaniard was on the bench and Andre Wisdom -- also a centre-back, but one with recent full-back experience -- was unused.

In March, Rodgers fielded too many attackers, a top-heavy side of reckless intent; Saturday saw too many defenders whose mentality is to defend, particularly problematic without a dynamic central midfield two.

Neither worked. The result in March was a by-product of not thinking enough about the shape and a misplaced arrogance that Liverpool could simply hammer a good, uniformed side with attacking verve. But this selection appeared to be an exercise in overthinking because of the aforementioned result in Southampton. Even with the caveat of lingering injuries and lack of form, it was evident that without one of Steven Gerrard or Lucas Leiva joining the front four, there was an imbalance to the side.

With two wins from two against Rodgers, there will be claims of Mauricio Pochettino out-thinking Rodgers, but this was simply Rodgers out-thinking Rodgers. Here is another lesson for the Liverpool manager, one more confusing than most: sometimes, lessons are not always to be learned from previous encounters.

More confusing still is that if Liverpool had not made three or four mistakes early in the second half in the build-up to Dejan Lovren's goal, the afternoon would have potentially been regarded as frustrating, goalless, but little more than that.

Potentially. Even without Lovren's header, Southampton could have taken three points, their game plan only deviating after the goal. Focus will fall upon the plodding, uninventive play in defence that led to the corner; from that corner, focus falls upon Daniel Agger being outmuscled and Gerrard's futile attempt to scythe it off the line.

But the underlying reason was uttered by Rodgers himself, chastened by the setback, during his media duties: Liverpool simply never got going. For a side who were yet to score a second-half goal this season, a slow start was hazardous; against a side whose goals have only come in the second half since April, this was fatal. Liverpool start strongly and fade, while Southampton start poorly and strengthen. The sequence of events in the second half was almost inevitable.

And so, the answers to two questions were provided, if only for now: questions of whether Liverpool could perform without the fast-paced start; questions of whether Liverpool could find an extra emission of energy when a goal behind.

Indeed, this was 90 minutes where everything that had quietly not worked for Liverpool so far suddenly became apparent in the most sinister fashion. The whispers that suffixed final whistles beforehand were now bellowed; the elephants in the room now became visible, firing all around them with their trunks of frustration.

Gerrard and Lucas have visibly tired as games progress and the tactic of letting Jordan Henderson become Tyne and Wear's Forrest Gump in all his inexorable running is worrisome, yet all that was washed away with Simon Mignolet's penalty save against Stoke. The side's reticence to retain the football was forgotten with the craned neck of Gerrard to clear a goal-bound shot at Villa Park; the ineffective, impotent beginning to Iago Aspas' season was disregarded after beating Manchester United.

A defeat, at home to a side they were expected to beat, highlights deficiencies in all their grotesqueness. It applies to every team in every division, whatever the sport. But what does it matter now?

After this defeat, Liverpool's season is over. Their journey comes to a gut-wrenching end with October not yet here, their quest for everything they desire -- the top four, the title, the world -- finishes in lifeless fashion, much like it has in recent times.

Not quite. A bit of perspective is required, just like it was before Saturday. The season is not dictated by a singular victory or defeat, but the sort of reaction it elicits afterward. Liverpool are fifth, level on points with Chelsea and Manchester City and just two behind North London duo Arsenal and Tottenham; they are also ahead of Everton and Manchester United with 10 points from a possible 15. To continue that form throughout the season would see them finish on or over 75 points.

Teams have afternoons of struggle that can border on turmoil. Already this season, most have. It may be down to tactical decisions or failure to perform on the pitch -- for Liverpool and Rodgers on Saturday, it was both. In his comments afterward, he stressed that Saturday afternoon was just "one of those days." That may be platitude, but behind it rests truth: with five defeats in seven to the Saints, maybe Southampton are just one of those sides to Liverpool, a bogey side, and maybe Saturday was another nod to that.

The key is to ensure those error-strewn days -- both on the pitch and in the dugout -- do not begin to occur as frequently as they once did. With just one defeat in 11, there is nothing to suggest they will. Not yet, anyway.