Patience needed as Sakho settles in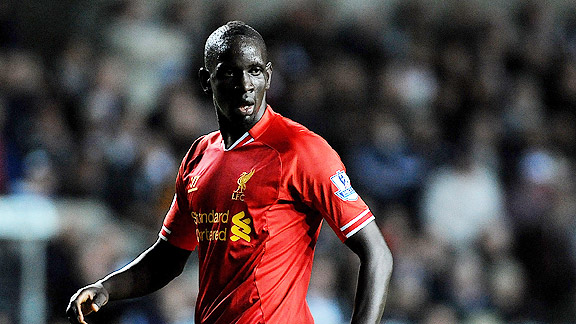 John Powell/Liverpool FC/Getty ImagesMamadou Sakho had a shaky start in his Liverpool debut but then finished strong to deny Swansea a late winner.
Two of the Reds' three deadline day signings made their first appearances for the club in the 2-2 draw at the Liberty Stadium on Monday night, and it's fair to say one fared significantly better than the other.

For on loan Victor Moses, it was a debut to remember as he dazzled in the opening 45 minutes and capped his impressive display with a fine goal before eventually running out of steam in the second half and being substituted.

For Mamadou Sakho, however, it would be overstating things to describe it as a debut to forget, but it was certainly a baptism by fire. Coming into the side in place of injured vice-captain Daniel Agger, Sakho was given a quick and painful introduction to Premier League life as Jonjo Shelvey skipped away from him to give Swansea the lead inside two minutes.

- Report: Rodgers talks up Ilori, Sakho potential

The goal was not just on the £16m man, it was the result of a catalogue of errors combined with some good fortune on Shelvey's part. Sakho's initial header wasn't great and neither was Jordan Henderson's attempt at clearing it out of the danger area. Steven Gerrard should never have turned his back on Shelvey's attempted volley and Sakho should have stayed on his feet instead of diving in. He compounded that error by not getting back in a little quicker after being beaten, as he may have been able to stop Shelvey converting the loose ball after Martin Skrtel's brilliant block challenge had initially denied him.

Sakho dived in a few times in the first half, which I put down to an over-eagerness to impress and to show his physicality. He was brought in because of his physical prowess and Brendan Rodgers described him as 'a monster'. Perhaps he was trying a little too hard to live up to that, but I felt after the break he settled down and improved considerably.

If you wanted to be ultra-critical, then the finger could be partially pointed at him for the second goal, too. He had no need to come as far out of position as he did but that in itself needn't have led to a goal if others had done their jobs properly. No one tracked Shelvey's run while neither Skrtel nor Andre Wisdom shifted across quickly enough to compensate for Sakho's absence in the middle.

These kind of incidents are the result of a lack of understanding and players not being familiar with each other. It's always going to happen when you have an unfamiliar defensive unit and Liverpool were probably a little unfortunate that it was punished with a goal, as nine times out of ten you get away with such things.

Successful centre backs are usually part of a regular pairing, where the two players not only complement each other but also have an understanding of what the other is going to do. Such relationships only develop over time and Sakho and Skrtel were never going to have that after just a few training sessions together, especially as Agger was only injured a couple of days before the game meaning Sakho and Skrtel were unlikely to have done much work together in the build-up this game.

At times that lack of understanding showed, not least with Swansea's second goal, but despite the understandable teething problems I thought Sakho also did a lot of good things, especially in the closing stages when Swansea were dominant and pushing for a winner. The Frenchman made numerous clearances and timely interventions not to mention a terrific challenge on Michu late on when the Spaniard appeared to be going clean through.

So all things considered I thought he did ok under trying circumstances. It's a lot easier for a winger like Moses to come into a new set up and impress than it is for a central defender. Wingers and strikers can do their own thing while staying loosely in the framework of a team; defenders don't have that luxury.

If Sakho is a little downhearted about his first outing in a red shirt, he need look no further than his centre back partner on the night for inspiration. Skrtel knows all about difficult debuts having endured a nightmare start to his Anfield career with a less than stellar display against non-league Havant & Waterlooville in an FA Cup tie. He struggled a lot more than Sakho did and that was against far lesser opposition than Swansea. It wasn't a sign of things to come from him though, as the Slovak has generally been a solid and reliable performer since that most inauspicious of beginnings.

I saw nothing from Sakho to suggest he's not going to be a good acquisition, he'll just need games and time to adjust to a new league, new language and new team-mates, and having got that difficult first game out of the way, it should get easier from here on in.