Credible draw as football has its wicked way at the Liberty
Sometimes, football cannot be fully explained, and there is futility in even trying. High-tech televisions and digitalised analysis from men in shiny suits and tight ties are not sufficient enough to appreciate 90 minutes of mind-melting surrealism; no heat maps or pass-completion rates can clarify why what happened actually happened. It can be surmised thus: That's football.

Such was the case Monday at the Liberty Stadium -- to a degree, at least -- as Swansea and Liverpool played out a breathless and brilliant 2-2 draw, one that defied most prematch predictions and piled every word written on paper or otherwise onto a mile-high blazing bonfire. Liverpool's record of no league goals conceded evaporated within 90 seconds, flailing limbs and last-gasp efforts not good enough this time to stop Jonjo Shelvey from scoring. The tone was set.

-Battling Swansea hold Liverpool
-Shelvey apologises for mistakes

It would be easy to focus on Shelvey, for it was his lack of focus that typified the game. Of course it would be him, bursting out of Steven Gerrard's shadow and into Liverpool's penalty area, to put Swansea into the lead; of course it would be him, with his mind still celebrating the opening goal, to provide a better pass to Daniel Sturridge than he ever managed in a Liverpool shirt. That's Shelvey. That's football.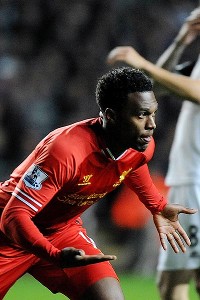 John Powell/Getty ImagesLiverpool's Daniel Sturridge celebrates his goal, which came after an error by Jonjo Shlevey.
There is rarely any reasoning to Shelvey's actions, just a lot of doing. At 1-1 after three minutes, it was inevitable this would be the pattern the game adopted in the first half. Surely it was not supposed to be like this; surely, it was never intended to be this open. Liverpool played expansive football in the first half of the three previous league games, but this was at a different level.

It was reckless, but also gleefully so, a revisiting of the sort of football that saw them brutally dispose of teams away from home last season.

But it also left them exposed more than they had been at any point this season. Mamadou Sakho did not struggle -- indeed, it would take bravery to look him in his soul-grasping eyes and tell him that -- but the furious pace of a Monday night on the South Wales coast was something he won't experience again for a while. The midfield were not as relentless as they have been with Gerrard and Lucas Leiva both troubled with and without the ball, such was the running of the home side.

Analysis be damned; back to the curious case of Shelvey. The midfielder was to be dispossessed by Victor Moses, whose run and finish exemplified what he could provide on Liverpool's left-hand side. The cocktail of power, pace, directness and confidence in front of goal is four things previous incumbents of the wide positions have lacked; not so this 22-year-old, his braided plumage fluttering ever brighter with each further touch of the ball.

Football's wicked character would show again in the second half, so too Shelvey's spontaneous style, with the midfielder's deft header setting up Michu for the equalising goal. Liverpool had begun the second half in the manner of the others; it was not defensive, but rather a conscious decision to stop playing football, and dragging Swansea to their level.

For 15 to 20 minutes it worked, with the game frequently interrupted by fouls and stoppages -- though the shoulder injury of Philippe Coutinho will be of some concern. Watching him trudge off with his arm limp was like witnessing a glacier break in two. After the Brazilian's departure, and after Michu's goal, Swansea would be unfortunate not to win, pinning back Liverpool and forcing them to cling to their point.

Yet when Brendan Rodgers thinks of this game, his conclusion may be the same as many: That's football. Having spent time at Swansea, he will be familiar as to how hard that magical little stadium, tucked away in its own little confinement of wonder and optimism, can be to visiting teams. Rodgers will also be aware that two of his back four from the 1-0 win over Manchester United were absent through injury, and that a key component of his attacking setup would eventually fall to the same fate.

Most of all, the Northern Irishman will know that football can be sometimes inexplicable, and a player such as Shelvey can make it even more so.

There will be other, tangible aspects to the draw Rodgers must examine -- by all means file it as one of those evenings -- but also recognise the trends that persist over the first four league games. The second-half drop in intensity remains worrisome despite Swansea's impressive spell toward the end -- Gerrard commented earlier this month that this preseason was the hardest of his career, something those heavy legs, perpetually moving up and down but not backward and forward, may be testament to.

In a performance that drew upon similar ones last season, the same questions remain of the midfield and its balance, of how Jordan Henderson will be expected to run 38 marathons this season. More positively, questions about Martin Skrtel and his ability against power will subside after an excellent performance against man-mountain Wilfried Bony.

This was only one game however, and one that defied logic at that. Inquisitions should not be too stern, nor should celebrations be too raucous. Liverpool are a side that will reveal more of their strengths and weaknesses with every further 90 minutes. They will hope for more of the former, especially as they are in prime position, albeit only four games in.

Liverpool had over two weeks to ruminate upon topping the Premier League table for the first time since 2011. It would be nothing more than hyperbolic flimflammery to suggest this was on the minds of the players, particularly those tasked with helping their international sides reach next year's World Cup. But for the manager and, most notably, the supporters, it will have prompted a few longing looks at coffee cups and windows, daydreams and nightmares of what could be at Swansea and beyond.

Is it too early to dream? This is a club, and a fan base, that have been repeatedly splashed by the ice-cold water of reality recently. The arrival of Rodgers in June 2012 was possibly the biggest splash of all.

Appointing Rodgers acted as confirmation, and acceptance from the hierarchy, that Liverpool's problems would not be solved with some sort of Istanbul-like miracle. Their restoration to former heights is not guaranteed, and it will not just happen because that's how the story should conclude. There had to be industry and change, masses of it, both on and off the pitch. The rhetoric of Manchester United knocking them off their perch ignores two key components: that it didn't happen instantly, and that Liverpool jumped anyway.

If that restoration is to ever happen -- and it is far too early to even contemplate such things with no Champions League football -- then it will be an onerous process. Results like Monday's draw may be eventually frowned upon. Right now, it represents a side that are learning how to get results when not playing well for 90 minutes, when missing key players in their team, and when tossed to the fiendish game of football in all its ridiculousness and instability.