A silver lining, but Johnson's absence will still hurt
Glen Johnson's announcement about his ankle injury Thursday on Twitter must have been sweet news to the ears of Liverpool manager Brendan Rodgers.


Injury doesnt seem as bad as first thought, hopefully be back sooner than originally expected! #BetterNews

— Glen Johnson (@glen_johnson) September 12, 2013


The full-back is not without his critics, but in terms of how he fits into Rodgers' system, there are few who can even come close to providing what Johnson brings to the table.

While there may be better defensive full-backs, there are very few superior attacking ones, and fewer still who can combine both duties as well as the England man. For the way Rodgers likes to set up his team, a player such as Johnson is almost the perfect fit, and right now he is clearly the No. 1 option at the club.

-Whalley: Johnson fitness boost for Liverpool
-Darke: Reasons for Anfield optimism legit
-Video: Anfield development plans

If he's out for any length of time, that is a problem for Rodgers. Liverpool do have other players capable of filling in and doing the job until he returns, but none can do what Johnson does.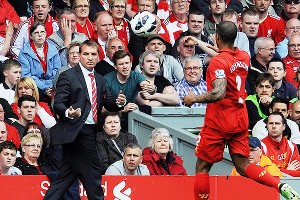 Andrew Powell/Liverpool FC/Getty ImagesBrendan Rodgers, left, has to figure out how to replace Glen Johnson, whose absence will not be as long as first thought.
Thankfully, the initial prognosis of a possible 10-week absence appears to be wide of the mark, and the club are hopeful he could be back in half that time. His absence would be keenly felt by a Liverpool side that has made such an impressive start to the season and have yet to concede a Premier League goal.

Johnson had been ever-present in a back four that had kept three successive clean sheets, although his own form had been a little up and down. He played well against Stoke, not so well at Villa and then he was outstanding in the win over Manchester United, injuring himself after bravely hurling himself in front of a marauding Patrice Evra.

That was just what you want to see from your defenders, a "thou shalt not pass" mentality. Yet Johnson is often criticised for a supposed lack of defensive quality.

While I'd agree that he is prone to the occasional error, I'd say it's no more than most full-backs, and I do think this perceived defensive "weakness" is often overblown. He's come a long way since failing to deliver as a big-money buy at Chelsea, and such was the improvement made in his time at Portsmouth that the Stamford Bridge club actually tried to re-sign him, only for Johnson to turn them down in favour of a move to Liverpool.

As a youngster he was unquestionably far more adept in his attacking than his defending, and I can remember him being given a real chasing at Anfield, by El Hadji Diouf, of all people, not long after he had joined Chelsea from West Ham United.

If there was a "I was given a chasing by El Hadji Diouf" club, then Johnson would be in it, and he'd have only Marcel Desailly for company. Thoughts of Diouf's time at Anfield are usually enough to make most Kopites break into a cold sweat, so if you are now experiencing disturbing Diouf-related flashbacks, try thinking happy thoughts -- Kenny's beaming grin, Paddy Berger lashing them in from 30 yards, Fowler's 4-minute hat trick, Titi Camara, the Gerrard FA Cup Final, Istanbul . . . better now? I'll continue.

While Johnson was majorly suspect defensively then, over the years his defensive play has caught up to the attacking side considerably. He's still prone to the occasional lapse, of course, but with attacking full-backs I always feel that any defensive error is magnified greatly in comparison with your average bog standard Tony Hibbert/Andy Wilkinson-type defender.

It's something of a lazy generalisation; if you're a full-back who looks great going forward, then you must not be much good going the other way, and any defensive mistake is often used to highlight the point.

Don't get me wrong -- Johnson can lose concentration in his defending and I'd readily admit that occasionally he can be guilty of allowing crosses to come into the box far too easily because he did not close down quickly enough. I'd even concede that he isn't the best defensive right back at the club; for me, a fully fit Martin Kelly would take that honour.

But in terms of the total package, Johnson is clearly Liverpool's best full-back, and if he is out for any time, it's going to affect the manager's plans, as there is no natural replacement on the books.

Kelly usually would be next in line if Johnson is unavailable, but Rodgers recently said it will take him a couple of months to get back to where he was before his knee injury. Quite sensibly, the club have been using him in the under-21s to help him get up to speed. He has not looked especially sharp, however, and Andre Wisdom is probably favoured to step in for Johnson at Swansea on Monday.

The England under-21 skipper did a steady job last season any time he was called upon, but that's what he is -- steady. Nothing wrong with that, but when you're a team that places a great emphasis on your full-backs providing the width going forward, you lose something when you are forced to use someone whose main strength is his defending and keeping things simple.

Other options for Rodgers include moving Kolo Toure to full-back, which also would help solve the issue of whom to play in the centre alongside Daniel Agger. It removes one of the three options and makes it a straight choice between Mamadou Sakho and Martin Skrtel. Toure has played right back before and would certainly do a solid job there, but the physical demands of the role the way the manager wants it ideally played are great, and it would be a lot to ask of Toure at his age (32), especially after his recent muscle injury.

If Rodgers wants to take a more pragmatic approach and look for defensive solidity while hitting teams on the break, Toure would be a good option, especially with Victor Moses capable of providing width ahead of him from one of the forward positions. If he wants his full-back relentlessly charging up and down the touchline for 90 minutes, he needs to look to someone other than the veteran Ivorian.

Jordan Henderson, for example, could do that without breaking a sweat -- his stamina is perhaps unmatched by anybody at the club -- but he is not a natural defender and it would be a risk using him there. Besides, he's doing a fine job where he is and there's no point weakening two positions. Jon Flanagan is another option, but he has barely featured since making a big impression as an 18-year-old under Kenny Dalglish, and he appears to be suffering from being more of a traditional full-back than the "wing back" type Rodgers prefers.

The most similar player at the club to Johnson is actually youngster Ryan McLaughlin, an attacking full-back from Northern Ireland who is very highly thought of at the club. He was exceptional for the U-21s and youth team last season, creating numerous goals and winning several penalties with his direct running and ability to commit defenders. He was close to being called up to the first team at the end of last season and may end up being the long-term successor to Johnson, but it's perhaps a little too soon for him to be thrown in.

Losing Johnson is a definite blow to Liverpool, but there's no reason why they cannot cope without him. It might just mean they have to tinker with their approach somewhat until he's ready to return. Whatever criticism he gets, for me Glen Johnson is one of Liverpool's best players.