Unlike 2010, World Cup opportunities will keep young squad hungry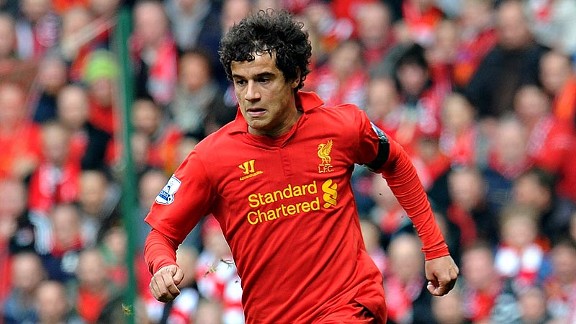 Andrew Powell/Liverpool FC/Getty ImagesPhilippe Coutinho can taste a spot on Brazil's national team, which should give him further motivation to keep playing well at Liverpool.
The reals have finally dropped for Brazil national team coach Luiz Felipe Scolari. Reports in his home nation suggest he has twirled his brush-like moustache long enough: the time has come for Philippe Coutinho to be called up to the Seleçao.

It's about time. It has been nearly three years since he won his maiden, and only, cap for Brazil. More pertinent, it has been nearly nine months since he danced into Anfield with a style, verve and joy de vivre not seen in decades. He has been dancing ever since.

It would take a manager of a morose disposition to not consider such a talent for their team. He may not be as strong as Hulk or as speedy as Bernard or Lucas Moura. But he is more Coutinho than any of them, possessing the ability to do something before defenders realise he even has the ball. His mind and feet are routinely on the same page; unfortunately for defenders, he's scribing a different book altogether.

A call-up to the national squad would be deserved, good news for people who simply like football and watching those who are good at it. It would also be good news for Liverpool.

Yet Coutinho's potential inclusion will intensify the rally against international football that now permeates the game; friendlies are useless and qualifiers are not much better, it is said.

There is reason among the rancour: Internationals sometimes feel like 90-minute temptations of fate and misfortune as players of optimum importance land awkwardly and evade tackles to the soundtrack of club managers inhaling, fainting and using agricultural language.

Still, the World Cup comes in less than a year. Coutinho for Brazil, Coutinho at the World Cup, would be a favourable movement for club and country -- even more so if his presence is only transitory, a mere yellow and green carrot to float in front of his angelic face. Logic would dictate it would be best for both him and Liverpool to take full advantage of any opportunity, to dazzle and delight, the momentum from that transferring back into his day-to-day work at club level.

Not necessarily. History, brutish and benevolent to Liverpool in equal measure, would suggest otherwise.

Not long after Anfield's own night of the long knives, when Rafael Benitez was sacked as manager of Liverpool, the World Cup of 2010 began.

For Liverpool, it was the best of times and the worst of times, a tale of two fan bases with an aversion to reason. But irrespective of whether the Spaniard's dismissal caused unbridled glee or apoplectic rage, it was still one of the most uncertain post-war periods at the club: Shyster owners continued to bleed the club dry; the futures of Fernando Torres, Pepe Reina and Javier Mascherano remained ambiguous; the new, full-time manager awaited appointment, the selection process headed by managing director Christian Purslow.

But there was still the World Cup, the month-long extravaganza of sponsorship, football and footballing sponsorship. It acted as a set of shiny keys to the compliant Liverpool, rustled to distract from all that was wrong at Anfield. Losing 110,000 pounds a day in interest repayments? No problem, here's Slovenia's 1-0 win against Algeria. Mascherano and Torres are unhappy with the direction of the club? Look! Shakira! Singing about football! What's that, Purslow is using his extensive expertise in football and hiring Roy Hodgson as manager? There's a replay of that Slovenia match past the midnight hour.

There were 12 Liverpool players participating in South Africa, the second-highest of any club alongside Chelsea and bettered only by Barcelona. This was used as a further distraction, a further rustle of the keys: things cannot be so awful, it was said, because there are a dozen international players representing the club in the world's greatest tournament.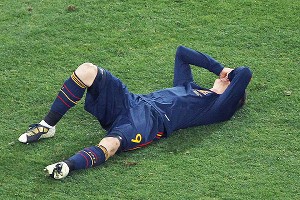 Doug Pensinger/Getty ImagesFernando Torres' famous injury at the 2010 World Cup was a metaphor for Liverpool's failure to benefit from having a large number of players in South Africa that year.
Four Liverpool players would make the World Cup final, although that stretches the definition of competing. Torres' contribution was remembered most; he clutched his hamstring and writhed on the ground, like a pained wingless butterfly, within a few minutes of coming on. Dirk Kuyt had no impact for Holland, and Pepe Reina and Ryan Babel didn't play in Spain's 1-0 victory.

Others -- Steven Gerrard, Daniel Agger, Martin Skrtel, Mascherano -- were central to their squads during the tournament. Even Milan Jovanovic, who was yet to kick a ball properly for Liverpool and would leave a year later still waiting, scored Serbia's winning goal against Germany.

It would appear inevitable a team with such distinction would be challenging for honours both in England and in Europe. Not so; not at that moment, anyway. Though nine of the 12 had been influential in Liverpool's tilt toward the title the previous season, something had changed. Things would continue to change after the World Cup, as well. In the 19 games to end 2009-10 and the 19 games to begin the following season, Liverpool won just 58 points -- a return that didn't correlate with the international attention bestowed upon them.

A lot contributed towards the decline, far more than a single page can withstand the volume of. There are factors both obvious and subtle, yet the main one was that aforementioned uncertainty of players, manager and finances. All three are linked.

And yet these 12 players could not end the malaise before or after the World Cup. The counterpoint will come, and fairly so, that the rest of the squad were not good enough, the management could be questioned and the hierarchy of the club was poisonous from top to bottom. But perversely, it is that those 12 World Cup players who also heralded the disintegration of the side that came so close to the Premier League in 2009.

Most of these 12 were all fine players, but they knew it. Hunger is the buzzword at Anfield at the moment because it has been years since the stadium saw it so conspicuously, shirts soaked with sweat, faces contorted into a constant grimace. There is a thin line, getting ever-thinner in the modern game, between reaching your peak and reaching the impenetrable ceiling of job satisfaction. The top of the mountain is a jagged edge razor-thin.

For a number of those players, they had done all they cared to do for Liverpool; the World Cup represented the pinnacle of their careers on Merseyside, the final chapter of this particular story arc. After years of internal strife and seeing the club erode from within, it was time to change. Here they were at World Cups, yet also at a team that went from title challengers to also-rans in a year, the inevitable result of asset stripping from above.

Mascherano would leave for Barcelona that summer, while Torres and Babel would move on for differing fees and reasoning months later. Maxi Rodriguez and Dirk Kuyt had waved goodbye to their status as two of Europe's most coveted attacking midfielders, instead flittering from mediocre to competent bar a few brief months when they were considered good once more.

This is not to question of effort or application of these players, or players such as Sotoris Kyrgiakos, Jamie Carragher and Pepe Reina, who would not reach the level previously set in their Liverpool careers, as varied in length as they were. This is not to decree them lazy or demotivated, but players who were -- Greek mastodon Kyrgiakos excepted -- not far from peak form but with little to show for it.

Back to Coutinho, who was no doubt balancing a ball on his nose throughout that history lesson, loveable scamp that he is. If Coutinho is to go the World Cup, he goes to the World Cup at 21 playing for a club that has seemingly survived the tumultuous years. The Brazilian is the poster boy of Brendan Rodgers' new Liverpool: hungry, talented and with much more to offer. To move from Inter Milan age 20 to a new league and culture for first-team football demonstrates that desire.

The hungrier, the better. A place in the Brazil squad for the next friendly is something for Liverpool to celebrate, but they will hope the carrot keeps dangling.

It is not just about Coutinho either, even if he does typify what Liverpool are trying to build. There will not be 12 of their players at the World Cup in June, but that reflects the formation of this squad. Some are too young, some are too rough around the edges; but all, within reason, could force their way into the international fold if they perform well at Anfield.

Simon Mignolet is currently Belgium's number two and it will take a monumental effort to displace Thibaut Courtois, but three clean sheets will give Marc Wilmots something to ruminate. Mamadou Sakho, 14 caps and the great French hope, did not make the latest squad but moved to Merseyside knowing good showings there would see his readmittance. Daniel Sturridge, Jordan Henderson and Raheem Sterling could establish themselves at England; similarly, though much more unlikely, is the Spanish duo of Jose Enrique and Iago Aspas. Lucas Leiva will also look at Coutinho being looked at by Scolari and look toward possible redemption with Brazil.

There is a lot of looking in a World Cup year, mainly to who and who won't make it. Sometimes, the sights need adjusting.

Qualification pending, the squad's older players will be in Brazil: Gerrard will captain England, Agger will captain Denmark and Kolo Toure will be second-in-command to Didier Drogba's Ivory Coast. There will also be Luis Suarez, though to predict his whereabouts in June is futile.

That experience is essential, but so too is the exuberance of those either young or truly untried as they try to force themselves into contention. It's not how many players go to the World Cup that matters to Liverpool, but how many could go -- it is the latter which will keep Rodgers' motivated group running, sweating, grimacing.

That is how this team is being built; complacency, and anything to satiate their hunger, could see it crumble. Maybe Liverpool will hope Scolari continues to ignore Coutinho for a good while longer after all.