Foreign players not England's issue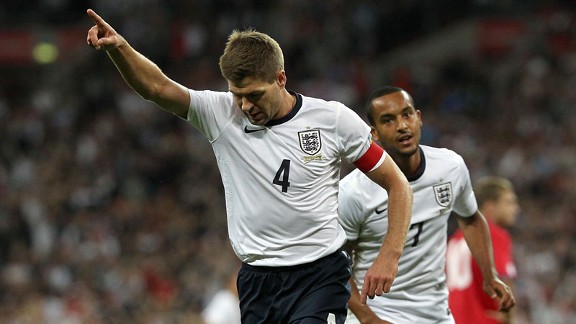 PA PhotosSteven Gerrard: A talisman for both Liverpool and England.
As far as international football goes, I take little more than a passing interest unless it's a World Cup or European Championship summer. Like everyone else, I get caught up in all of the excitement of a big summer tournament, but when it comes to qualifiers and friendlies -- especially those involving England -- the only thing I really care about is that Liverpool's players report back to Melwood unscathed.

That probably dates back to the serious Achilles injury picked up by John Barnes on England duty in 1992; he was never the same player after that as he lost at least a yard of pace, possibly even two. Don't get me wrong, I like to see LFC players doing themselves justice when they are on England duty, but if they have a stinker whilst wearing the three lions on their chest, my only worry is whether any loss of confidence or media criticism might impact on their club form. If England lost every game they played I honestly wouldn't lose a minute's sleep over it.

For me, international breaks are simply inconveniences that get in the way of the domestic club season. Bill Shankly once famously said, "If Everton were playing in my back garden I'd close the curtains." That sums up my feelings towards England, but that lack of emotional attachment perhaps makes it easier to see things with a more unbiased view than say, an FA Chairman for example.

I read with interest Greg Dyke's comments this week in which he pointed to the increase in foreign players since the formation of the Premier League as a big factor in the continuing struggles of the England national side. He's obviously right in saying the number of English players in the top flight is a lot less now than it was before the Premier League was launched, the numbers speak for themselves on that issue, but he's kidding himself if he genuinely thinks that is the reason England are regularly found wanting on the big stage.

In the inaugural Premier League season (1992-93), 69 percent of the players in the starting lineups were English. Now that figure has dropped to 32 percent. Even teams towards the bottom end of the table have top foreign talent these days, the likes of Christian Benteke at Villa, Ricky Van Wolfswinkel at Norwich, Gaston Ramires at Southampton, Yohan Cabaye and Hatem Ben Arfa at Newcastle, etc. In years gone by, players of that quality would be playing for teams at the very top end of the English league, they would most certainly not be involved in relegation battles. That shows the huge increase in standards for me.

With so many players being brought in from around the globe, it is obviously more difficult for a young English player to get a game in the top division now than it was in the 70s/80/90s for example. But guess what? England were rubbish back then, too. This is nothing new. They failed to even qualify for the 1994 World Cup, despite that '69 percent English player' domination of the Premier League.

Harking back to halcyon days before 'Johnny Foreigner' ruined the English game is embarrassing and wholly inaccurate. Is it harder for English players to become top flight players these days? Yes, unquestionably, but the best ones still make it and will still find their way into the national side, so in that regard nothing has changed. It's those who fall just below that level that are being ousted by overseas talent, but those players are never going to be England regulars anyway.

Since the very first World Cup was held in 1930, England have won it just once and have never even reached another final. There's been one semi final and the occasional run to the quarters, but that's it. As for the European Championships, England have never even reached the final of that competition. The only time they threatened to win it was the semi-final penalty shoot out defeat in 1996 when, as with their solitary World Cup success, they were the host nation. On foreign soil they've never been near winning anything, with the notable exception of 'Italia 90'. The truth is that England have always been average at best, and it's nothing to do with foreign players 'stealing jobs'.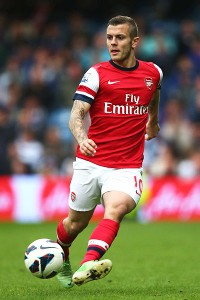 Getty ImagesOpportunities still exist for England's best young talent.
The cream of English talent still rises to the top, proved by the fact that the vast majority of the present England side actually play for the top seven clubs in the Premier League. How many other nations can say that? Several of the Spain squad ply their trade in England, Germany have players scattered around Europe, France have been exporting their best players for as long as I can remember as have the South American nations. Yet despite the presence of all these foreign players in the English game, Roy Hodgson is still able to select his squad from a core of players who play at the top clubs in the country.

The only real difference from years gone by is that he is picking from a pool of 50 players rather than the 250 or so that the likes of Ron Greenwood and Bobby Robson, etc., were selecting from. I don't see that as a problem, as you could be picking from a group of 10,000 but you're only really going to be looking at the top 50 or so anyway. The quantity may not be what it was but in terms of quality, England are no worse off than in the past and in all probability the opposite is true.

Most players in the England setup today have experience of playing in the Champions League against the best Europe has to offer and several of them have actually won it. That was not always the case, especially when there was only one English club -- usually Liverpool, I miss those days -- playing in the European Cup. Additionally, the top club sides these days are better than the majority of international sides, so the step up to international football isn't actually a step 'up' at all. If you're used to playing against Barcelona, Bayern Munich, Real Madrid et al then internationals against the likes of Estonia and Latvia should hold no fears.

The modern-day English player needs to be better than those who played in the era before the Premier League and the huge influx of foreign talent, because it's a lot more difficult nowadays for an English player to establish himself at a top club than it was in years gone by. Back in the '80s Manchester United were buying the likes of Terry Gibson, Ashley Grimes, Gary Birtles and Peter Davenport. That simply wouldn't happen these days, and not just because the new regime at Old Trafford would no doubt find new and novel ways to screw up the deals. No, those kind of transfers would be the modern equivalent of United going out and signing Danny Graham, Andy Wilkinson, Victor Anichebe and Jon Walters. It simply wouldn't happen, players like Gibson and Birtles wouldn't get a sniff of Manchester United if they were playing today, they'd be lucky to get a game at Sunderland or Hull City.

It's the same right across the board, the influx of foreign talent has meant that your 'Average Joe' Englishman can still make a great living from the game (a far better living than his 1980s equivalent would make), he just can't make it at the same calibre of club he could back in the day. The best players are still making the grade, but the ones who aren't top quality are being pushed down the ladder into the lower divisions. That's not ideal from a player's perspective, but in terms of the overall quality of top flight player, the bar has been raised massively.

Quite how that can be used an excuse for the failings of the national team is beyond me. Surely the issue lies more in the lack of quality coaching in this country, not to mention the FA appointing people like Hodgson and Stuart Pearce into top positions (and Howard Wilkinson before them) rather than bright, innovative, forward thinking coaches.

England are not successful because, simply put, they aren't that good and whats more they never have been. Even if every foreign player was kicked out of the country tomorrow and all 20 Premier League sides were filled with 11 Englishmen, that would not change. In fact, I'd wager that the quality of England player would drop off massively due to them no longer playing with and against the best players from around the world.

Take Daniel Sturridge as an example. He trained every day at Chelsea with some of the world's top players, the likes of Drogba, Cech, Mata, Hazard... now he's with Suarez, Agger, Coutinho, Toure... that simply has to help to make him a better player than he would be if Chelsea and Liverpool's squads had been packed with just English players. It's the same for all the players in the current England set up, they have all benefited from being around a much higher standard of player than English clubs had been used to in years gone by.

And from a Liverpool fan's perspective, the foreign influx has generally been a very good thing as Kopites have been fortunate enough to see some wonderful players in recent years such as Sami Hyypia, Xabi Alonso, Patrik Berger, Didi Hamann, Fernando Torres, Javier Mascherano, Luis Suarez and others. Previously the most exotic signing presented to the Kop was the Dane Jan Molby, who eventually turned out to be more scouse than most of the local lads in the squad.

Foreign players are clearly not the reason for the failings of the English national side but even if they were, personally it's a price I'm more than willing to pay if it means my team is packed with top-class talent, regardless of what their nationality is. I guess that's a lot easier to say when you couldn't care less about the England team, though.