Late business makes it a successful transfer window for Liverpool

Having spent the last few weeks expressing concern over Liverpool's inability to make the signings they so clearly needed to compete for a top-four spot, I'm happy to report that I'm a lot more relaxed after the business of the last couple of days.

It's been a busy summer at Anfield. There's little point in discussing in too much detail the players who have left; if you disregard the retired Jamie Carragher, Pepe Reina and Stewart Downing are the only first-choice players who have moved on. Reina had been flirting with Barcelona for months, so Liverpool needed to protect its own interests by signing a new keeper, and the only issue with Downing's departure was that no replacement had been signed. With Victor Moses coming in, that's no longer the case.

Most of the other departures were completely expected, although Fabio Borini leaving for Sunderland on a season-long loan was a little surprising. That's a somewhat risky move from Liverpool's point of view as it leaves them slightly short of natural frontmen if Daniel Sturridge picks up an injury or Luis Suarez has one of his "moments" again. The flipside is that the Italian desperately needs games, and if he weren't playing for Liverpool his transfer value would only plummet further. Whatever happens at Sunderland, I'd be surprised if we saw him in a Liverpool shirt again.

- Johnson: Dissecting Sakho's move to Liverpool
- Rodgers content with summer additions

In terms of the players recruited, overall it's been a productive summer thanks to that late spurt to get over the finish line with three new players. Eight new boys have arrived, with at least two (possibly three and maybe even four) expected to be in Brendan Rodgers' best XI when everybody is available.

Good business was done early on, and we've seen already that Simon Mignolet and Kolo Toure are valuable additions to the team. Iago Aspas is still trying to adapt to the pace of the game in England but showed flashes in preseason to suggest he can be a useful asset, whilst Luis Alberto is one for the future; barring injuries to a fairly thin midfield corps, Alberto probably won't see too much playing time this season.

After that initial flurry of transfers, Liverpool fans were put through the mill for a couple of months as targets slipped through the club's grasp. Aly Cissokho arrived on loan to provide much-needed competition for Jose Enrique, and that could be a shrewd acquisition assuming Cissokho can recapture the form that made him one of Europe's top left-backs a few years ago. If he does, he may well establish himself ahead of the Spaniard, and if he doesn't, he'll be sent back with no damage done to the club's coffers.

The much-vaunted marquee signing failed to materialise, however, and the summerlong search for a centre-back was proving to be just as fruitless. Sebastian Coates picked up a serious injury, and then Toure collapsed in a heap against Notts County and left the field on a stretcher, which merely highlighted the need for extra defensive cover, especially with uncertainty about the future of the out-of-favour Martin Skrtel.

Suddenly, Liverpool sprang into action and spent £25 million on securing not one, but two talented young central defenders: Mamadou Sakho and Tiago Ilori. Whether it was the injuries that prompted such decisive action, or whether the signings would have happened anyway, is something we'll never know. But suddenly Liverpool have an embarrassment of riches at the centre-back position. Ian Ayre describing Sakho as "marquee" was stretching things a little, though.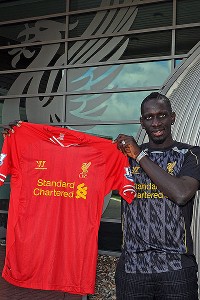 John Powell/Liverpool FC/Getty ImagesSakho is one of three deadline day signings for Liverpool.
Rodgers now has to choose between four established internationals and two promising youngsters, Ilori and Andre Wisdom (not to mention Martin Kelly, who is another option for the position). Centre-half remains a problem position, but now the problem is who to leave out rather than who is available to pick.

Maybe we'll see Rodgers use three at the back more often.

Sakho sounds like exactly the kind of player every team wants at the heart of their back line: quick, strong, aggressive, composed and a leader. Liverpool's track record with French players isn't good (and that's putting it mildly), but someone has to break the mould and hopefully it will be Sakho, as he certainly has the pedigree.

The other deadline day arrival was Victor Moses, who joined for a minimal loan fee from Chelsea. I can understand why some fans would be a bit underwhelmed by that since on the face of it, going from multimillion pound offers for the likes of Henrikh Mkhitaryan and Willian to taking a kid on loan who was struggling to even make Chelsea's bench isn't exactly the kind of business you want to see.

I like Moses, though; he's a talented player and is at an age where he needs to play every week. It's easy to draw parallels with the Sturridge situation, and let's hope Moses can have a similar kind of impact. He is far from the superstar attacker Liverpool fans were hoping for, but the most important factor for me is whether he improves the team, and I'd say the answer to that is a resounding yes. I'd suggest that he'll bring far more to the side than youngsters Raheem Sterling and Jordan Ibe could, as Moses is a few years ahead of them in his development.

Not having that "option to buy" shouldn't hamper Liverpool's chances of making the Moses deal permanent if they so choose, but it does allow for Chelsea to bump up the price or for another club to swoop in with a bigger offer. And by "another club" I obviously mean Spurs.

The first XI hasn't been improved massively -- you could argue it didn't need massive improvement based on the form since January -- but the squad depth and quality most certainly has, especially in defensive positions. The financial outlay hasn't been huge when you take into account money raised from sales, but the value for money appears to be good.

Ideally, Liverpool would have landed a Mkhitaryan or a Willian, but who's to say that Willian will have more of an impact than Moses? You simply never know until players get out on the pitch, and big-money signings can often flop when they move to a new team.

In comparison with the teams Liverpool hope to be competing with this season, I'd say the Reds haven't fared too badly.

In summary, the goals this summer for Brendan Rodgers were to replace Pepe Reina, strengthen the heart of the defence, bring in cover at left-back, and add more players at the top end of the field who can score goals. He's achieved most of that, with the only question mark being whether he has added enough goals to his forward line.

You could argue that another midfielder was also required as there is no natural replacement for Lucas if he suffers another injury, but unless you have the wealth of a Manchester City or Chelsea it's impossible to address every need in the one window. Liverpool appear to have filled most of their requirements, and another holding midfielder may have to wait until next summer.

Overall, I'd give this window a B-minus, which isn't perfect, but it appears to be a lot better than many of Liverpool's rivals. Plus, there's still Suarez to come back, and you know it's only a matter of time before someone at Liverpool (my money is on Steven Gerrard) refers to him as being "like a new signing."