Liverpool's start to the season is making the people happy
On the plinth on which the statue of Bill Shankly stands reads five simple words: He made the people happy.

This is not just a glib phrase to sell t-shirts; the golden engraving is not there to make photographs, taken by tourists in their hundreds and thousands, sparkle more. For all his achievements -- and there are many of them, including three first division championships -- it is that he brought happiness to the people of Liverpool that will forever define him.

If he were still alive, Shankly's thoughts of what has occurred at Liverpool over the past few years would be enough to fill a thousand plinths. He was a man who believed in socialist values, that everybody should work for the group's benefit. If a player was having a difficult game, 10 of his team-mates, friends, comrades, would carry him; it would then be expected that player would carry others whenever needed.

- Report: Borini set for Sunderland loan
- Report: Liverpool sign Moses, Ilori and Sakho
- Report: Rodgers: Business all but done
- Report: Suarez stresses that he's staying
- Usher: Defence puts Liverpool atop the table

If those ideals are what Liverpool was built upon, consider the foundations crumbled, eroded by self-interest and greed.

The ownership of Tom Hicks and George Gillett created a culture of egotism, if it had not already started to form already. The club's hierarchy wanted play Liverpool manager, while the Liverpool manager wanted to play to the hierarchy; players were signed on expensive, long-term contracts that were as eye-gougingly grotesque as they were undeserved. Internal wrangles and unhappiness were made public, a once-private club now exposed for all to point, poke and prod.

That legacy affected performances on the pitch -- no wonder Roy Hodgson was denied access to the directors' box on Sunday, it appears elephantine security guards never forget -- but even more damaging was what it did to the support. Divisions were created, sides were chosen and steadfastly stuck to. Liverpool, and all those who left their grubby fingerprints upon it, had made the people unhappy.

It is befitting, then, that Anfield's happiest day in a long while should fall upon the celebration of Shankly's 100th birthday. It was -- in part -- because of the occasion: the Kop united to display a mosaic in commemoration of the gentleman from Glenbuck, the singing of You'll Never Walk Alone that preceded it more emotional and stirring than most.

But there is only so much red and white cards and sing-songs can do. The football itself helped: Liverpool beating Manchester United certainly helped, especially with an early lead to defend; three wins out of three, and moving to the Premier League summit in September, most definitely helped.

There is a different feeling at Liverpool this season, albeit after only three league games. It is not simply optimism from their best start in nearly 20 years, no matter how naive and infantile hindsight may deem that as next spring. This feeling is almost intangible, indefinable, something that cannot be properly explained.

But it is there. It was there in the city centre on Sunday morning as pockets of conversation could be heard as the rest of the country rolled from bed; it was there on the Kop, and more unusually the other three stands that house the home fans, as the game kicked off; it was there as the thousands walked, scuttled and danced home after the victory.

The notion of every year being the year Liverpool's wait for the title ends is readily mocked, but this feeling is nothing to do with that; very few believe Liverpool can win the league, even after their perfect start. There is no suggestion Brendan Rodgers is morphing into Shankly or that these three results serve as proof of Liverpool's inevitable ascension to greatness once more.

But the fans are happy for now. They are happy because the inertia that has permeated throughout the club appears to be ending; they are happy because the club appears to be moving forward, however slowly, as the dark clouds of failure and catastrophe slowly dissipate. The match against Manchester United gave Liverpool an experience that has been absent for far too long: 90 minutes in the league that actually mattered.

Such was the start endured last season; any hope of anything significant was forlorn by September and non-existent by Christmas. A new season brings fresh hope, and it is hope that is still very strong after Sunday's win.

This was about more than winning arguments at the office water cooler, but a genuine opportunity for Liverpool to enter the early-season conversation and to move five points ahead of United. It would also take them to nine points -- over 12 per cent towards last season's points tally for fourth-placed Arsenal.

Toss aside the abacus for now however, because the win against David Moyes' side was something more visceral and less calculated than that. The club's pride, and by association the pride of the supporters, has been beaten to a pulp in recent times. This season has witnessed the bloodied carcass crawl to its knees, at least.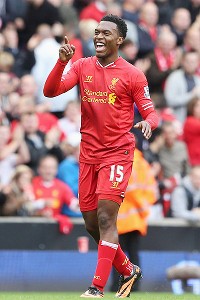 Matthew Peters/Getty ImagesAnother game, another Daniel Sturridge winner for Liverpool -- but this time versus rivals Manchester United.
What happened at Anfield on Sunday was through collective effort and consummate professionalism. After years of performances being disproportionate to either salary or importance in the team, here ran 11 men -- and a further three from the bench -- who defended as a unit, constantly throwing limbs and faces into menacing places. With every tackle that took both ball and leg, a further decibel from the crowd and a further restoration of pride.

What Rodgers has found at Anfield this season is an interesting mixture of hungry, motivated youngsters and more senior players eking out their experience for the benefit of the youth. This is something the supporters can get behind, particularly when it leads to maximum points after three games. Far too many players have huffed and puffed on the Anfield turf despite having no right to be playing for Liverpool, whether that was because of financial or footballing reasons.

That cannot be claimed now. Steven Gerrard, visibly maturing with every game in his deeper role, deserves to be on the pitch, as does his midfield partner Lucas Leiva, who is reminiscent of the player he was pre-injury in November 2011. Jordan Henderson deserves to be on the pitch, if anybody can keep him on it, such is his desire to run; after Sunday's excursion, he's somewhere on a motorway hard shoulder halfway to Hull.

Philippe Coutinho and Daniel Sturridge are proof of how immense talent can be married with work ethic, both unfazed by scythe-like feet swiping at their heels; Daniel Agger and Martin Skrtel, defenders who have faced criticism over the past 12 months, answered every question of their ability more resoundingly with each clearance.

Some of these players are inexperienced, prone to errors or simply not of the highest quality. But those are weaknesses that can be worked upon. What is harder to improve is mentality, the ability to work as a collective unit, carrying out meticulously-defined defensive roles. Watching Liverpool so far this season, especially when they decide to erect their red barrier in the second half, clarifies why Rodgers was keen to sell Stewart Downing, Jonjo Shelvey and Oussama Assaidi this summer; they were players of some ability but questionable tactical temperament.

The debate regarding the defensive second half performances, and the reasoning behind them, will continue. But there is no debate about what that sort of football does to those who watch from the stands. To play that style, and do so successfully, requires all those adjectives so frequently used -- steel, grit, determination -- as well as a metaphorical industrious sleeve-rolling,

Liverpool have lacked that for years. How it told at the full-time whistle, as voices and flailing arms combined to create something not witnessed at the stadium in a while. As the players departed the pitch, the Kop ended the afternoon how it began: by singing Shankly's name. He made the people happy; with Liverpool's start to this season, with a squad that appears dedicated and industrious, they are happy once more.

It could all change against Swansea in a fortnight, such is the fickleness of football. Given happiness has been in such short supply, they should simply enjoy it while they can.