Sturridge silences critics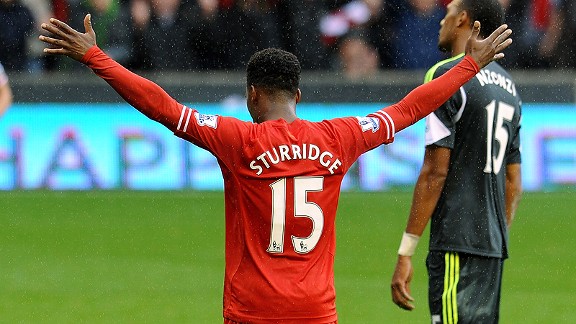 AllsportDaniel Sturridge: Fifteen goals in just 19 games since joining Liverpool.
This time last year Liverpool were loaning Andy Carroll to West Ham United without having secured a replacement. Speaking after a 1-1 draw against Hearts in a Europa League qualifier, Brendan Rodgers stated that with 24 hours left before the close of the transfer window he was confident that a new striker would be joining the next day, with Clint Dempsey the man he believed would be walking through the Melwood doors.

As we know, it didn't happen and instead Spurs swooped in to land the USA international. Hindsight is, of course, 20-20, but it can be argued that it proved to be a lucky escape for the Reds; Dempsey didn't pull up any trees at Tottenham and was shipped out after one relatively undistinguished season at White Hart Lane.

- Stats: Liverpool thrive in Suarez's absence
- Walsh: Expectancy raised for Rodgers
- Payne: Rooney ready for Anfield
- Bennett: Reds' leadership focused on top four

That's an extremely simplistic way of looking at it though, and it's not necessarily a view I subscribe to. Dempsey had scored a lot of goals for Fulham the previous season and he may well have repeated that feat had he been teamed up with Luis Suarez, or of course he may have been completely useless. We'll never know because the owners didn't sanction the transfer.

Personally, I was never a massive Dempsey fan and he wouldn't have been high on any list of players I wanted to see at Liverpool, but that wasn't really the point. It was irrelevant what I or anybody else thought, the only thing that mattered was that the manager wanted him and believed he was getting him. He shipped Carroll out on the premise he would be replaced and considering Rodgers was in desperate need of a forward it seemed negligent that the club pulled the plug on it. Rodgers later admitted that he would not have sanctioned Carroll's departure if he'd known that no replacement would be forthcoming.

Naturally, whenever last summer's transfer window is brought up it's always the name of Dempsey that springs to mind, but there was another striker Liverpool considered signing only to decide against completing the deal. Well, not for another six months anyway. After witnessing Daniel Sturridge plunder 15 goals in just 19 games since joining the club you can't help but wonder what might have been had he been recruited last August. He was available and Liverpool thought long and hard about it, but in the end Rodgers baulked at the then £15 million asking price due to concerns he had about the player's mentality and attitude.

It was not just Rodgers who had concerns either, it's not as if teams were lining up around the block to try and secure Sturridge's services. That seems crazy now when you look at the frightening ability he has shown since becoming a Red. But fairly or unfairly, prior to joining Liverpool Sturridge had a reputation for being selfish, a bit arrogant and generally high maintenance.

Don't forget, Rodgers worked for a number of years at Chelsea and although his and Sturridge's paths never directly crossed as he had left to take charge of Watford before the striker arrived from Manchester City, the Reds' boss still had his contacts at Stamford Bridge. Whatever feedback he received from them made him reluctant to commit £15 million on taking Sturridge to Anfield.

Rodgers wanted a loan deal with an option to buy. Naturally, Chelsea were not interested in such a deal and the transfer window closed with Sturridge still at Stamford Bridge and Liverpool praying that Luis Suarez could carry the load on his own until January. It's easy to say now that Liverpool made a mistake, but the concerns Rodgers had certainly seemed valid at the time.

What happened in the period between August and January is that the price dropped by £3 million and Rodgers became more receptive to the idea of making a long term commitment to Sturridge. Since joining Liverpool, the striker has certainly allayed any fears the manager may have had whilst also proving to a somewhat sceptical fan base that he's more than up to the job of leading the line at Anfield.

Opinion was very much split amongst the supporters regarding Sturridge when he arrived on Merseyside. I was strongly in favour of getting him on board as it was obvious he'd add something to a squad in desperate need of more firepower, and in the January market beggars usually can't be choosers. He was as good as Liverpool could realistically expect to get and despite concerns over his mentality it was a risk Liverpool simply had to take.

As it turns out, Sturridge is an infinitely more accomplished and all round footballer than many realised and he's nothing like the selfish, arrogant, cocky individual he'd been portrayed as. In fact, he's been about as far removed from all that as it's possible to be. He comes across as a humble, well grounded lad that is relishing the opportunity of playing for a manager who is giving him the opportunity to play every week, in a position that suits him.

He speaks about being blessed with the opportunity to play for Liverpool, he talks about putting the team first, hard work and helping out wherever he's needed... he's even getting out of his car and dancing with the fans!

Either he's grown up and left all of that other stuff behind him, or it was vastly overblown in the first place. Probably a bit of both. What we are seeing now is a player thriving in an environment that seems tailor made for him. It's probably the first time he's been in this situation since his days in Manchester City's youth team. He's settled, he's appreciated, he's trusted by his manager and team-mates and he's playing the role that suits him best.

He left City just as the money arrived, believing he wasn't going to get the first team opportunities he needed as big money signings tend to get the nod over aspiring youngsters, regardless of whether their form merits it. An understandable decision, at least it would be if he were joining someone other than Chelsea. That was an odd decision, which most assumed at the time was financially motivated, something Sturridge insists wasn't the case.

Inevitably, he found himself in the same situation at Chelsea that he had walked away from at City, with big money signings and established stars keeping him on the sidelines. He impressed on loan at Bolton only to return to Stamford Bridge and find himself back on the fringes or marooned on the right wing. Fair enough when the brilliant Didier Drogba was ploughing an unstoppable furrow through the centre, less so when it was the sulky and disinterested looking Fernando Torres keeping Sturridge out of the side.

Promising players can often lose their way when they join a big club at an early age and find playing time difficult to come by. Clubs such as Manchester City and Chelsea spend so much money on players each year that it's easy for someone like Sturridge to slip through the cracks. Philippe Coutinho was in the same boat at Inter Milan whilst Victor Moses is finding himself in a similar situation now, a young player who has done well in limited playing time but who finds himself up against a host of big money, high quality players.

Liverpool are one of a number of clubs said to be tracking Moses and whilst there is no guarantee he'd have the same impact as Sturridge, there are certainly similarities between their respective circumstances. Moses has done well in limited opportunities, but given the amount of players ahead of him in the pecking order he probably needs to move clubs on in order to develop his game. Sturridge has shown that for some players, opportunity is all they need.

The key for Liverpool now is keeping him fit. He's demonstrated in the short space of time he's been at the club that he can score goals as well as create them, and the instant rapport he's struck up with Coutinho provides Liverpool's best hope of a successful season. Unfortunately, he's also shown a propensity to pick up injuries on a fairly regular basis and that's just about the only negative thing you can say about him these days. A year is a long time in football.