Notts County may have forced Liverpool's transfer hand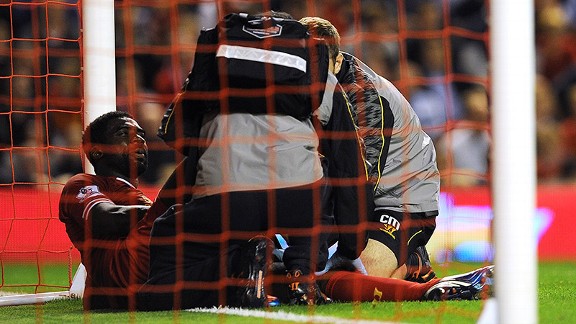 John Powell/Liverpool FC/Getty ImagesLiverpool supporters are holding their breath waiting for the diagnosis on the apparent groin injury sustained by Kolo Toure on Tuesday.
Kolo Toure was on his back with one hand over his groin, the other over his face; he was not hiding his modesty, but a pained expression upon his face. After two league games of witnessing Toure two feet taller than anybody else on the pitch, to see him so pained and horizontal brought realisation of how costly Tuesday's Capital One Cup tie had become for Liverpool.

It was the moment that all the worry about Notts County transformed into regret. There was still a cup tie to scrape through -- and how they would scrap at 2-2 in extra time and down to 10 men -- but that was a secondary thought as Toure's fearsome bulk was laboriously stretchered from the pitch.

-Sturridge hat trick saves day
-Injuries sour Capital One Cup win
-WhoScored.com: Liverpool thriving without Suarez

Aly Cissokho and Joe Allen had both already limped off with injuries undetermined at the time, but Toure's departure was the one to alter the outlook entirely.

The strong selection from Brendan Rodgers, whether through necessity or by design, had started to unravel. Thoughts moved from how to beat Notts County to how Liverpool could source 18 players to face Manchester United on Sunday. Daniel Sturridge needed playing time to regain match fitness, but 120 minutes may be too many; Steven Gerrard, 33, was visibly tiring as every second moved closer to penalties.

And then, the injuries -- most pertinently Toure's groin, which caused him to leave the pitch on a stretcher and the stadium on crutches.

Do not neglect the bottom line, of course: Liverpool got through to the third round, no matter the opposition or the time it took.

They simply had to. The trio of injuries threatened to make this an evening of consternation not felt since Roy Hodgson and his sodden, ill-fitting jacket presided over elimination to Northampton in 2010; elimination here would not only have halted momentum gained from the opening two league games, but defenestrated it. The 4-2 extra-time victory at Anfield may yet have a cost not fully realised, but at least the limbs of Sturridge, Gerrard and Philippe Coutinho remain intact, as do the club's cup aspirations.

Before looking forward to Manchester United, a nod to Notts County -- some would suggest if Liverpool had started the second half with a similar attitude, the game would not have entered extra time.

Liverpool were as good as can be expected against a struggling League One side in the first half, but drastically deteriorated in the second 45. It was inexplicable and indefinable as Premier League footballers struggled to retain the ball; they were distracted and, at times, befuddled at the concept of the spherical object being something they needed to keep their two-goal lead.

Whether such worsening was because of fitness or complacency is unknown; indeed, it is also unknown which would be more worrying for Rodgers. But most worrying of all is if it is further evidence of a new tactic by the manager to retain the lead by simply ceasing to play football and transforming the game into nothingness, a philosophical nihilism with foot, ball and grass.

Nothing is certain other than how this second-half struggle mimicked similar problems against Stoke and Aston Villa. First-half performances were relatively spectacular, while the second halves would be anything but. If not a conscious decision, then Rodgers will have to either improve the side's fitness or concentration levels; he will also have to do it very quickly with Manchester United visiting Anfield on Sunday.

But there is also temptation to simply concede that these things happen. Bradford City reached the final of this cup last year, which showcased just how superhuman lower-league sides can become in these competitions. For 45 minutes, manager Chris Kiwomya presided over a team of superheroes who won 50/50 balls with Gerrard, outpaced Sturridge and outmuscled Toure.

That Liverpool, with a player less and energy looking fully expended, managed two goals in extra time was not quite superhuman, but it was close enough. And good enough, too.

Liverpool are through even though the ramifications are still unknown. Despite Rodgers saying Martin Skrtel will be able to play on Sunday, he will not be at his optimum fitness levels. That could mean an untested center back partnership of Daniel Agger and Andre Wisdom, the latter who was poor against Notts County, albeit at right back. The midfield will have a well-rested Lucas Leiva, but Gerrard will be well-worn and any chance of Allen starting evaporated with his hamstring injury; up front, Sturridge's fitness will be tested after a hard-working 120 minutes, while Raheem Sterling and Jordon Ibe must now be limited to substitute appearances, if that.

There was much vexation over Ian Ayre's disparaging remarks regarding cup competitions after Liverpool reached two finals in 2012. Tuesday night does not change the incendiary tone of them, but does demonstrate a wider issue. If Liverpool are to have a realistic chance of Champions League football, playing strong sides in the domestic cup competitions is a risk.

The logic may have been strong in selecting Sturridge, but the inclusions of Toure and Gerrard still baffle, especially now one is injured and the other, presumably, will wear clothes made of cotton wool until the weekend.

This is the pressure Rodgers must work under, the belief Liverpool should win everything -- cups, the race for Champions League football, the title -- no matter the reality. The reality, however, is that Liverpool have a small squad; games such as Notts County, irrespective of how occult the occurrences felt, should be approached with the season's remainder in mind.

But then, Rodgers would argue he had little choice. If Liverpool had signed the three center backs they hoped for at the start of the summer, Toure's absence would not be felt so strongly; if this nondescript, goal-scoring wide player worth 25 million pounds was at Anfield, Sterling or Ibe could have been spared 120 minutes of football.

Liverpool have not signed those three center backs, nor that wide player; for whatever reason, they did not target another central midfielder, either. Disregard the magnitude of Sunday's match with Manchester United, and instead contemplate the magnitude of the next few months. If Toure and Allen's injuries are as troublesome as first feared, it leaves Rodgers with a squad at its barest bones, most disintegrating before his eyes, calcium dust at his feet.

Liverpool currently have three fit center backs -- four when Martin Kelly returns to fitness, two when considering Kelly and Wisdom have never played first-team football there -- and three fit central midfielders. Their striking options are all below 24 years old, bar the inexperienced Iago Aspas and suspended Luis Suarez, with Fabio Borini needing a zombie apocalypse before getting a chance up front.

Even then, Rodgers would rather Sturridge shuffled up front ahead of the Italian, who would have been unaffected by the infection as he was living in an underground bunker at the time, for those who are wondering.

If Fenway Sports Group needed to spend money before Notts County, they need to splash it now. If they did not intend to spend money, then Tuesday night's game should pry their eyes open. Liverpool needed a bigger squad before their Melwood training complex resembled the end of a Shakespearian tragedy; now, it is imperative.

It matters little if Toure, Allen or Cissokho miss 90 minutes or 90 days; what is important is the realisation the squad is not big enough, or strong enough, to compete on three fronts.

Tuesday's 120 minutes against a League One side may be more important than anybody realises. Not because key players may be tired or injured ahead of United, but because it may increase the club's desire -- and, indeed, force them -- to acquire more players before Monday's transfer deadline. Most crucially, success or failure in both will shape Liverpool's season.