Cup progress is priority for expectant Liverpool fans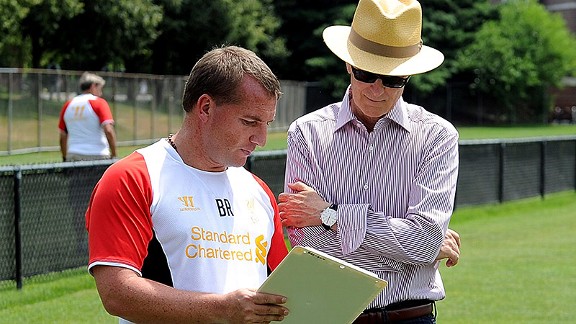 Andrew Powell/Getty ImagesBrendan Rodgers may be under fan pressure to perform in cup competitions, but owner John W. Henry has bigger aspirations.
The cup competitions are infinitely more important to Liverpool's supporters than to the club's hierarchy these days. That was apparent when Kenny Dalglish was sacked after winning one domestic cup and narrowly losing the final of the other. The club even went as far as to say that "the King" would still have been overthrown even if he'd managed to win both finals. That was at odds with the way most fans felt, as despite finishing a disappointing eighth in the Premier League there was certainly no mass clamour from the Kop for Dalglish to be replaced. Generally, if a Liverpool manager wins a trophy that buys him at least another season, especially when he also happens to be the club's greatest living servant.

The club clearly saw it differently, with Ian Ayre stating: "It doesn't matter how many cups you win. Ultimately you'll fail, because if you don't have that sustainable revenue stream that comes from playing at the highest level it will be more and more difficult to compete." Technically he's right of course, but Liverpool fans are never going to accept that lifting trophies "doesn't matter." Winning silverware is the staple diet that Kopites have been brought up on.

Whether it's Wembley, Cardiff, Paris, Rome or Istanbul, such glorious occasions are the memories that stay with us as we grow old and grey, or in some cases older and greyer. Those are the tales that we will regale our grandkids with, not bland little ditties about "that year we sneaked into fourth place on the last day of the season" that will bore the poor little blighters rigid.

Managing directors and club accountants may get their kicks from lifting the non-existent "fourth-place trophy," but for most supporters it's the days out at Wembley and seeing the captain holding aloft that shiny piece of silverware that makes it all worthwhile. Yet it's difficult to blame the club for thinking that way, money has become the be-all and end-all in modern football and while trophies are the fans' main priority, balancing the books is the chief concern of those running the clubs.

For teams at the top end of the table that means prioritising the top four over the cups; for those at the bottom it's survival in the top flight that takes precedence. Clubs across the board are now resting players for cup games and fielding weakened sides in cup competitions. In years gone by the FA Cup final was the biggest showpiece event in English football. Now? It's almost an afterthought, sometimes being played on the same weekend as a full round of league fixtures and even being shunted into an evening kick-off slot to suit overseas TV audiences.

I don't like how the cups are no longer valued as highly by most clubs, but I understand it. We've seen this summer the effect not being in Europe's elite competition can have on a club. Being out of the Champions League hits clubs hard in the pocket and makes them a much less attractive proposition for potential new recruits. Like Ian Ayre said, to be successful in the league and in Europe over a period of time you need Champions League football, not cup wins.

That makes for a difficult balancing act for any manager of a team with high aspirations. He needs to have an eye on forthcoming league matches but can't afford to neglect the cups too much because football fans love their days out at Wembley and don't take kindly to seeing a shadow squad dumped out by lesser opposition.

Europa League commitments combined with the pressure to perform in the Premier League meant Brendan Rodgers shuffled his pack more than he perhaps would have liked last season, but with no European football this time there's no great need for him to do that now. I'd expect Rodgers to adopt a different approach to the cup competitions this term, as I'm sure he's desperate to add some silverware to his CV and give the fans something to smile about. The League Cup represents a great opportunity to do that and is traditionally a competition Liverpool have done well in.

Equally, Rodgers will be aware of the importance of resting certain key players and to give his fringe players some much-needed game time. He may well be tempted to introduce a promising youngster or two as well, as to his credit he's a manager who has no issue in putting his faith in youth. It's unlikely that he will be taking too many chances in terms of his team selection though, as the squad simply isn't big enough to make wholesale changes without the risk of coming unstuck. You only have to look at what happened at Oldham in the FA Cup last season to see how things can go wrong even when you field a side that on paper should be more than good enough to win the game.

That being said, if you can't experiment a little in a home cup tie against a struggling League One side then when can you do it? You could even argue that it would actually be irresponsible of Rodgers to field his first-choice line up against Notts County when the Reds have such a massive league game against Manchester United this weekend, so some changes will have to be made.

Chris Kiwomya's side have lost three and drawn one of their opening four league fixtures, so anything less than a Liverpool victory -- irrespective of the side put out by Rodgers -- simply would not be acceptable. The manager will be well aware of that and I'd expect to see a side with a fair amount of experience blended with youth, and perhaps a substitutes bench including a couple of "insurance policies" (such as Gerrard and Coutinho perhaps) in case things aren't going to plan.

With Sebastian Coates injured and Martin Skrtel not quite ready for a comeback having only just returned to training this week, Rodgers will presumably have to use one of his first choice centre backs for this game, probably alongside the promising Andre Wisdom. The likes of Martin Kelly, Aly Cissokho, Joe Allen, Luis Alberto, Raheem Sterling and Fabio Borini will also be looking to get some valuable playing time, and who knows, perhaps Rodgers will spring a surprise with one of the youngsters as he did in this competition last year when making Jerome Sinclair the club's youngest ever player.

Sixteen-year-old scouse midfielder Jordan Rossiter has been fast-tracked to the Under-21 side this season, so perhaps someone like him might make the substitutes bench with a view to introducing him if the Reds are a few goals to the good? In an ideal world, whatever lineup is sent out to face County will get the job done nice and early allowing the manager to give some younger players a run out from the substitutes bench, and in the process giving whichever senior players are included the chance to put their feet up early. These games rarely end up going that smoothly though, and having been humbled by the likes of Oldham and Northampton in recent years the main priority for Liverpool is simply getting into the hat for the next round.