So far, so good for Rodgers' evolution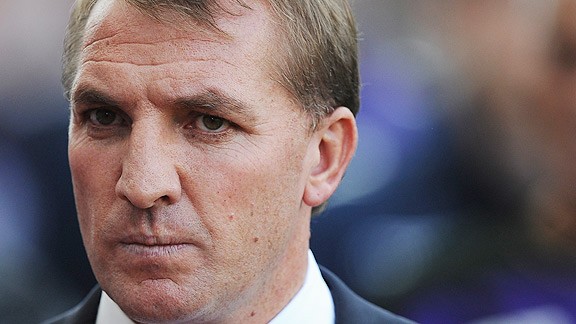 Stu Forster/Getty ImagesLiverpool were unable to bring in their top transfer targets, but Brendan Rodgers still has the Reds playing gritty, determined football.
Football does not revolve around transfer tittle-tattle and transfer tittle-tattle alone. It's pretty difficult to fathom such a notion after 55 days of the transfer window being officially open, particularly with gale-force hot air blown from the mouths of broadcasting minions clad in yellow and black. Football, and who is ultimately successful, is not limited to who signs the best players; it is not a game of Top Trumps.

Liverpool's transfer travails this summer have been well-documented, their efforts to sign an attack-minded player of high quality all futile so far. Henrikh Mkhitaryan and Diego Costa chose elsewhere, Fenway Sports Group chose not to pursue Willian further, and that has resulted in many choosing to write the epitaph on Liverpool's likelihood of Champions League football.

- Usher: Willian saga reinforces fall from elite
- Report: Rodgers staying grounded

We are all guilty of believing the formula to be so simple. Brendan Rodgers himself spoke of the necessity to acquire two players in July. Six weeks later and zero progress made with that, he gave a news conference tinged with frustration; all answers were measured, every word carefully selected. He knows, more than most, that good players should make teams better.

But he also knows progress does not sit solely in burlap bags with a dollar sign scrawled upon them. Money, and using it to acquire good players, is not everything. Football can also be dictated by the things done with the foot and the ball -- that is where the name derives from, after all. The winners and losers can be decided on the training pitch as much as in the boardroom; that football doesn't fully rest on the graft that involves boots and grass -- and instead also involves pens, paper and fax machines -- is most lamentable of all. Especially the fax machines.

Liverpool are winners for now. They have won their first two games of the Premier League season, both times without conceding a goal, both times courtesy of solitary Daniel Sturridge strikes. It is partly because of transfers -- Simon Mignolet is yet to concede, Iago Aspas is neat in possession and Kolo Toure is an all-singing, all-heading beast of a defender. But what has also been evident, particularly in Liverpool's 1-0 win at Villa Park, is how they are six points grown, concocted and cultivated at their Melwood training ground.

Liverpool are not the richest side in England, nor are they anywhere near the best. The pressure falls upon Rodgers and his coaching staff to develop the existing players, as well as those joining the club who ride that old, weary, long-faced steed called Potential; potential will forever go unfulfilled if untouched. Advantages can also be gained in the dugout, transfers rendered immaterial by an acute managerial mind.

So far, so good for Rodgers. The weeks and months away from Anfield have not been spent writing postcards and licking ice creams with the sand around his toes, but instead developing the squad he currently has. There were signs of it against Stoke: Toure dealt with the strength of Peter Crouch and Jonathan Walters, while Lucas Leiva played on the front foot, looking to shift the ball forward at every opportunity. There was also a more measured approach with the ball and a stronger desire to retain it, albeit against a team with no intention of taking it, which resembled more of what was expected of a Rodgers side when he took charge.

The win against Aston Villa confirms this summer has seen an attempt of evolution. The performance was like few others under Rodgers, and possibly under a string of managers in the past few years. Liverpool were gritty, determined; if this were a fight, it would take place in the Wild West, chairs shattering over skulls, haymakers and uppercuts sending mustached men into wooden tables. It was a brawl, 45 minutes of defiance; an appreciation of how beautiful ugly football can be.

Liverpool had an underbelly far too easily tickled last season; their response to finding themselves in a physical battle was attempts to foxtrot out of trouble. But against both Stoke and Villa, there was a conscious decision made by Rodgers to play doggedly and eke out the result. There is the counterpoint that Liverpool would have only two draws to show for those tactics if Mignolet had not extended his limbs so far, but that's football, and football has worked against Rodgers' side enough over the past year.

The point is not really what Rodgers is changing yet, but just that he is -- tangible proof that he knows seventh last season was not good enough and that adjustments are needed. Make no mistake; there were also glimpses of the sparkling fluidity, so hypnotic yet also frantic, from the front four. The first half was impressive in a way that has become synonymous with Rodgers' Liverpool, on a favourable day at least: quick passing, incisive runs, intelligent movement had Villa baffled. Still, Liverpool had only one shot on target -- but this was pertinacity, not profligacy.

The evolution has not stopped with tactics and training ground routines, it seems. There are signs that the players have been told how to improve; how to eradicate bad traits and make good ones even better.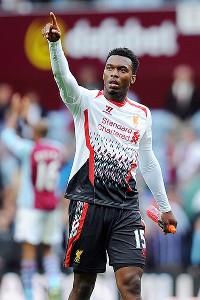 John Powell/Liverpool FC/Getty ImagesDaniel Sturridge has led the way in both Liverpool victories this season.
Sturridge is thriving in the role given to him, though that could be attributed to Luis Suarez's absence, as well; Lucas' aforementioned vitality on the ball is complemented by Steven Gerrard, who has undergone further reprogramming in a deeper role and has been excellent in the first two games. Though Philippe Coutinho was quiet offensively on Saturday, he was industrious defensively -- something that is permeating the entire team, with their off-the-ball pressing better than last season.

There is still much to improve and evolve, of course. But that Rodgers is now presiding over an evolution rather than a revolution is promising. The first two games have almost appeared like his stream of tactical conscience, a blank canvas on which to splash paint upon. Some ideas are still confusing, the colours not quite mixing: his insistence on shifting Sturridge to the right-hand side blunts both the striker and Coutinho; the energy levels are worryingly low at times, as is the conscious decision to allow the opposition to have the ball for periods in the second half. His use of substitutes -- or lack of, rather -- could also be debated.

This is not to anoint the Northern Irishman's forehead with tears of gratitude, nor is it an overreaction to six points against two sides who finished in the bottom half last season; in the early stages of a season, all words positive and negative are uncouthly dismissed as early-season hyperbole anyway.

But this is what has to be done, especially with the players of the calibre he wanted not forthcoming. To stand still in football is to move backward, and it appears Rodgers has been moving all summer -- whether that is in the right direction is yet to be fully determined. Here's to the transfer window shutting, so the things with the ball and the foot take proper focus again.