Liverpool need the Champions League -- time to prove it can happen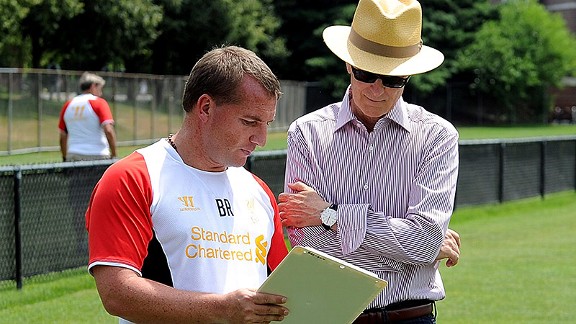 Andrew Powell/Getty ImagesBrendan Rodgers may be under fan pressure to perform in cup competitions, but owner John W. Henry has bigger aspirations.
In the labyrinth of people who snaked out of Wembley Stadium toward the adjacent train station -- a setup which must have made that patch of Northwest London look like a giant tadpole from space -- pockets of conversation broke out. And in this heaving, unregimented tail of humanity, heated arguments began.

It was nothing physical or violent, just healthy discussion and hearty disagreement between friends, acquaintances, Liverpool fans. They had just watched their side lose the FA Cup final, their second cup final of the season, to Chelsea. This was the third time they queued for transport back into the centre that season -- 2012 -- but for the first time, they did so in defeat.

Discarded flags tangled around ankles; strewn litter moved along the ground gently by wind. As they walked, they talked: two cup finals, one cup win and an eighth-place finish. Does Kenny Dalglish deserve another season?


-Villa host Liverpool Saturday
-Rodgers rules out Suarez to Real Madrid
-Usher: Willian saga highlights LFC fall out of elite

The dialogue was circular. Points and counterpoints, beginning and ending with the same lack of conclusion, constructed a verbal tennis match. Eighth and 52 points was not a season befitting of Liverpool, came the serve; Dalglish provided three visits to Wembley -- and a first trophy in six seasons -- followed the furious return.

So it continued. Every reason Liverpool should think of dismissing Dalglish was quickly cancelled out by the two cup finals reached. This is Anfield and this is Dalglish, one of the most important figures in the club's history, and it is not befitting of Liverpool to sack a manager, let alone him, they said.

They were ignored. Liverpool sacked Dalglish, and the short-term unity he originally brought shattered. Ian Ayre then took his sledgehammer-like tongue to the fragmented pieces. "If you don't believe the results are right and feel 37 points off the champions and 17 points off Champions League pace is a long distance, you have to make a change," he said. "No one is saying we didn't enjoy winning the Carling Cup and getting to the FA Cup final, but, ultimately, the backbone of football now is the Premier League and European football at the highest level."

Liverpool is a city traditionally divided, and Ayre had unwittingly created another partition. It was not about the rights and wrongs of sacking Dalglish anymore but an existentialist question of what Liverpool existed for. Take an eraser to history and burn the golden tapestry on a bonfire, because the cups are no longer priority; it is the league -- and qualification for the Champions League -- that truly matters.

Some understood Ayre's comments, accepting they were the words of a businessman, and a competition worth an accumulative £1.15 billion is attractive to that sort. Others immediately rejected the notion, regarding it as a betrayal to the heritage of the club, a further erosion of pride. Nobody was right, nobody was wrong; as it always is with football, viewpoints remained steadfast and unwavering.

This summer might be shifting a few opinions, though. This summer -- which has become an arduous crawl through the vast, barren transfer terrain -- might have changed the outlook.

Cup competitions are fantastic. In a period of struggle, it is Craig Bellamy's equaliser at home to Manchester City and Andy Carroll's ponytail heroics in the Merseyside derby that keep the light flickering, no matter how dim it has become.

But here is the harsh reality: Henrikh Mkhitaryan did not pound his feet on Armenian playgrounds to score in League Cup semifinals; Diego Costa would not have watched the FA Cup semifinal against Everton, and if he did, he would not have felt the incising emotion of envy as Carroll bounded around that grotesque dome of commercialism. But Liverpool in Europe, in the Champions League, is something they would be aware of -- so, too, that the pages on which those nights are storied upon fade more by the day.

Liverpool need Champions League football to compete, to improve, to become part of conversations held in hotels and conference rooms by agents, players and any other parasitic beings. The cups do matter, but playing in Europe's top competition matters even more.

There are no trophies for fourth; no days at Wembley and no idle chatter in lines of six and seven under the arch's shadow. But there is more money, there are better players, and with both of those comes an increased likelihood of success.

In yet another divide -- short-termism and long-termism -- the line is blurred more than some would like to admit; a few cup wins give a quick rush of joy, but Champions League money is far more sustainable.

This is nothing people don't already know. In addition, this is not a foolproof equation -- Leeds have proven in recent times that money and good players do not automatically result in dynasties. But it needs repeating, reiterating, daubed in red paint on the walls of Anfield -- hashtags and Warrior promotional language not allowed, #wecometoallwinwedo -- to remind everybody of the reality.

It isn't the fans who need to know. It also needs to be daubed on the walls of Boston, the base of Fenway Sports Group: Liverpool need Champions League football. John Henry needs to wake up and see those words on his bedroom wall, the second thing he casts sight upon after his wife, Linda, in the morning: Liverpool need Champions League football.

Willian did not turn down Liverpool because he did not have the chance -- Liverpool did not bid enough. That is not to say Willian would have joined Liverpool, particularly after Chelsea's interest. There is no guarantee Willian would have propelled Liverpool into fourth, either, and his conduct over the past 72 hours would not have given much confidence about that anyway.

This is deeper than Willian, however. Peer over his high-top hairdo and see that this is about mentality, mindset, messages. FSG -- or, more true to reality, Henry alone -- are not here to asset-strip and grind the club into dust. But their policy of refusing to pay a dollar more than what they feel a player is worth is also a painstaking, but admittedly noble, position to adopt.

Nobody bar sadistic football fans and clubs of the northeast of England want a repeat of the overspending that saw Carroll and Stewart Downing join the club for £55 million. The ownership's reticence is wholly understandable, beads of sweat in the shape of Damien Comolli's face dripping down the brow of Henry. But clubs make mistakes and look to rectify them, not lodge fingers in ears and pretend it never happened, even if only four players of the 17 signed by Dalglish and Roy Hodgson remain at the club.

Everybody at Liverpool is frustrated. Brendan Rodgers is frustrated, more frustrated than when he oversaw Liverpool's worst league start in a century. His news conference this week was one of frustration; his mouth tighter, his neck strained, his tether reaching its end, his words chosen carefully. Liverpool are frustrated that Spurs, one of those they must directly overhaul, have still managed to do fantastic business in this summer of strangeness. They do not have Champions League football and they have nearly £100 million incoming for Gareth Bale, but they are behaving like a club who want to be in the Champions League.

Contrary to what is shouted from the rooftops, FSG have had a steady few seasons at Liverpool. The handling of the face-melting Luis Suarez saga was exemplary, though it does not countervail their absenteeism during his unsavoury incident with Patrice Evra. Their work to stabilise the hierarchy was needed, as was the early transfer movement this summer.

Yet there might be an argument to say small steps forward are not enough, that it is the equivalent of standing still in a game that constantly moves forward. Liverpool need the Champions League, yet four managers and two ownerships later, they still wait for it after four seasons away.

It becomes apparent this is not about FSG alone; it is not about Dalglish, or Rodgers, Hodgson and Rafael Benitez. It is not even about whether the cup competitions matter or not. All of these discussions and arguments represent one simple thing: the desire to be successful again, the desire to have fantastic players at Anfield dazzling on Tuesday and Wednesday nights.

One individual, or a solitary group of individuals, is not enough to bring it. Most of the players to take Liverpool into the Champions League are not willing to come without that carrot, and there is a reluctance to spend on those who would. Attention turns to money to solve the problem, and the money turns to Rodgers to use his tactical acumen in order to scrape every shrapnel of potential from his squad.

And standing in the middle, in deep conversation and an everlasting line, are the supporters. They have a lot to be happy about: Philippe Coutinho is a magician, Daniel Sturridge can finish, Jordan Ibe is the next John Barnes and Steven Gerrard is the greatest of all time; there's even Suarez staying, for now, Daniel Agger's odd loyalty and the belief that Rodgers has the potential to do something special with the potential on the training pitch.

But, instead of embracing that, it's a perpetual argument that has been lasting for the majority of the past two decades with no real direction. Should he stay or should he go? To protest or not to protest? The cups, the Champions League, or, sod it, the Premier League? It all siphons into one eternal question: Is the club heading in the right direction?

The ownership have to show the manager, the players and the suffering supporters that they are walking in the right direction, together. The signs are there, no matter how small -- but it is time for them to take that gamble, one more calculated than the business of 2011, because Liverpool need the Champions League.