Coutinho can lift Liverpool to new heights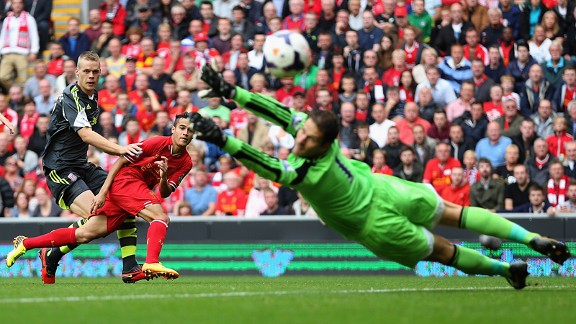 GettyImagesLiverpool Brazilian starlet Philippe Coutinho shoots past Stoke City goalkeeper Asmir Begovic.
Liverpool defender Kolo Toure last week hailed Philippe Coutinho as "the best player at the club." High praise indeed, given the presence of Luis Suarez and Steven Gerrard in Liverpool's ranks, but not especially surprising to anyone who has witnessed the huge impact made by the diminutive Brazilian in the relatively short time he's been in England.

While Toure's overlooking of Suarez can perhaps be explained by the lack of training time the pair have spent together so far (not to mention Suarez's reported lack of application in the sessions he did take part in), nevertheless Coutinho is rapidly becoming the new darling of the Kop. With Gerrard now seen as part of the Anfield furniture and perhaps taken somewhat for granted these days, the sudden fall from grace of Suarez has left Coutinho as the brightest star shining in L4, not to mention the top-selling shirt in the club shop this summer.

- Walsh: Mignolet saves more than three points
- Jolly: Liverpool new boys survive scare
- Whittaker: Vive la revolution at Stoke

The manner in which Coutinho and Daniel Sturridge combined to completely destroy the likes of Newcastle and Fulham at the back end of last season meant few people were even bothering to talk about a certain suspended Uruguayan as the season drew to a close. A lot since has been said and written about the Reds' troublesome No. 7, but essentially nothing has changed. He's still a Liverpool player, he's still suspended and Coutinho and Sturridge are still ensuring his absence is not proving too harmful to the Reds.

Of course a player of such exceptional ability as Suarez naturally has been missed to a degree, most notably in the stalemate against Everton in the game that more or less settled the "race" for sixth place last season, while you certainly could argue that this victory over Stoke would have been a lot less stressful had Brendan Rodgers been able to call upon the man who plundered 30 goals last season.

Yet even with Suarez in the side Liverpool have experienced plenty of tense afternoons like this one in recent seasons, so there are certainly no guarantees that his presence would have ensured a more routine victory against Mark Hughes' dogged Stoke City.

Being able to call on Sturridge and Coutinho, however, has made life much less stressful for Rodgers. This time last year the mere possibility of going into any game without the Uruguayan was enough to bring any Red out in a cold sweat. The term "one-man team" is usually misleading, unfair and inaccurate no matter who it is applied to, yet 12 months ago Liverpool were not far off it. There were good players in the squad, of course, but only one genuine top-class match winner, and the overreliance on Suarez was clearly a huge problem until the January transfer window saw the cavalry arrive in the unlikely form of a tiny Brazilian, who was out of favour at struggling Inter Milan, and a young Englishman whose career had completely stalled at Chelsea.

There's certainly far more to the Reds now than there was a year ago, although as things stand they still look a player or two short of being where they need to be. If the talented Willian could be thrown into the mix alongside Coutinho, Sturridge and Suarez, then that could change everything, especially if he adapts to English football as quickly as the brilliant Coutinho has. It's a fairly simple concept, but the more "match winners" you have, the more matches you will win.

Liverpool played extremely well against Stoke and on another day would have had the game won by halftime. Some of the slick interplay and off-the-ball movement was wonderful to watch, but that shouldn't be a surprise as the football has been pleasing on the eye ever since Rodgers arrived at the club. For it to become effective enough to challenge for a Champions League place, it requires top quality players in the final third. In other words, more players like Coutinho.

The little Brazilian is simply an absolute joy to watch; the touch, the shimmies, the subtle changes of direction, the work rate and of course, the eye for a pass. He's probably the best-kept secret in the Premier League right now in the sense that fans outside of LFC know who he is, but most don't know just how good he is yet. They'll find out as this season progresses.

Coutinho is much more effective when utilised centrally as opposed to from the left, which is why the possible addition of Willian seems almost too good to be true for Liverpool fans. Not only would the Reds be adding another top-class attacking player to the ranks, they would be freeing up Coutinho to play in the role that best suits him, a role in which he can completely destroy teams. Just ask Newcastle and Fulham.

Coutinho never reached those dizzy heights against Stoke, but he still had the crowd off their seats on numerous occasions. He buzzed around and took the fight to Stoke all afternoon, whilst his tracking back and closing down caught the eye as much as his ability on the ball. Despite his small frame, he stood up to any attempts by Stoke to bully him out of his stride. Indeed, the most enduring image from the game was probably Coutinho squaring up the giant Steven N'Zonzi in stoppage time. The kid has as much heart as talent, and that's really saying something.