Mignolet saves more than three points for Liverpool
Football is back. Football, and all that comes with it -- the hope, despair, optimism and pessimism -- is back. The opening day of the season is the one day everybody could be champions, every new striker is worth 50 goals a season, and nobody can say with much surety who the heroes and villains will be.

For Liverpool, they can still hope. But it was a close thing in the 1-0 win against Stoke at Anfield. That is not to suggest the fate of Liverpool's season rested on Jonathan Walters' penalty, taken as the clock ticked to 89 minutes; there would still have been 37 games and one minute of the season to be played. But if Walters' penalty is scored, or if Kenwyne Jones' rebound isn't dispatched, heads drop and minds wander to what could have been, to how any fleeting, whimsical thoughts of a special season are defenestrated at the earliest opportunity.

- Jolly: Liverpool new boys survive scare
- Report: Mignolet saves the day

Psychology is an important asset, as is momentum. Liverpool lacked strength in both last season. Enter Simon Mignolet, the Belgian goalkeeper with a point to prove after replacing Pepe Reina. Two bursts toward the ball, both to his right, both from point-blank range, strengthened Liverpool's resolve and brought them momentum in the most dramatic fashion.

And so to that penalty save. Liverpool had been comfortable, if not dazzling, for nearly 90 minutes. A rush of blood to the head, and a rush of hand to the ball, is all that is needed to render it obsolete. With a raised arm of Daniel Agger, football was back -- the despair of two points dropped, the pessimism of what would follow in May, the incredulity over Liverpool relinquishing their first opening day win since 2008.

Two kicks of the ball, two flailing limbs, and the despair, pessimism and incredulity turned into an amalgamation of emotion, the foremost being relief from Liverpool. The saves from Mignolet were impressive technically, but even more so mentally. The celebrations -- both in the direct aftermath and more measured, logical ending at full time -- illustrated how important it was.

It was about more than three points becoming one. Rodgers had spoken throughout the summer of Liverpool being in the conversation when lips are parted regarding Champions League football. Tongues may not be wagging yet, but neither did this serve as a gag, a restraint to such utterances. The 1-0 result, and the manner in which it came, keeps the dialogue as they want it. For now.

Liverpool hope. They hoped after Mignolet's save, but in reality, they had done so far earlier. The first half was intelligently played with tangible signs that the summer had not been spent admiring the end of last season in Melwood's giant mirror. There was more evidence of Rodgers' preferred style, with ball retention and pressing serving as a platform for the front four to create.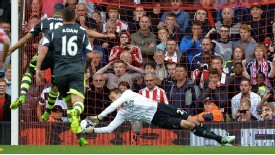 GettyImagesLiverpool goalkeeper Simon Mignolet saves Jonathan Walters' penalty.
How they created. A goal -- rightly canceled out as offside -- was proof of how Stoke toiled to repel Liverpool's work up front. Iago Aspas was smart just off the striker, finding space and aiding the quick, one-touch passing around the penalty box. Jordan Henderson was industrious if not entirely impactful. His running provided worry for the Potters' defence, most notably with a chance midway through the first half.

Philippe Coutinho and Daniel Sturridge were both excellent in the circumstances. Coutinho flew around like a gnat, albeit one with a velvet touch. Try as they could, Stoke's brutish, gargantuan limbs could not stop him from cutting in from the left and looking to stretch their back four. Sturridge, meanwhile, led the line admirably. He would drop deep, working hard in bringing the midfield into contention. His goal, struck furiously, served as the metaphorical flag in the ground. This season, he believes, will be one to catapult him among the best strikers in the league.

It also gave Liverpool a deserved lead and calmed the increasingly nervous gallery above.

Kolo Toure had struck the woodwork with a header that contorted the crossbar, done with the subtlety befitting his overall play. Toure was a 12-stone torpedo, launching himself at every airborne ball.

But the defence will still be worrisome to Rodgers, albeit against one of the trickiest sides in the league. If the pressing and passing resembled more of Rodgers' ideal, the defence did not. Stoke struck the crossbar in the first half and had voices strained in the second, though Lucas Leiva offered excellent cover. The worry of playing against strength still remains, even with a clean sheet.

Mignolet had looked troubled by Stoke's Hail Mary tactics, but then came the penalty. Hail Mignolet. If a goalkeeper is signed for £9 million, he is expected to win points. The Belgian did so in his first competitive game in the most noticeable manner.

His efforts saved Liverpool three points, but he also gave them hope. A draw against Stoke is a regular occurrence for Liverpool, but context matters little in the Premier League. Within a moment, he turned despair to hope and pessimism to optimism; that will undoubtedly change at some point. For a few hours, the chant that went up around the Kop -- "Liverpool, top of the league" -- was true. Long may they enjoy it, long may they hope, long may that change hundreds of times throughout the season.

Football is back. It feels like it never left.