Liverpool running just to stand still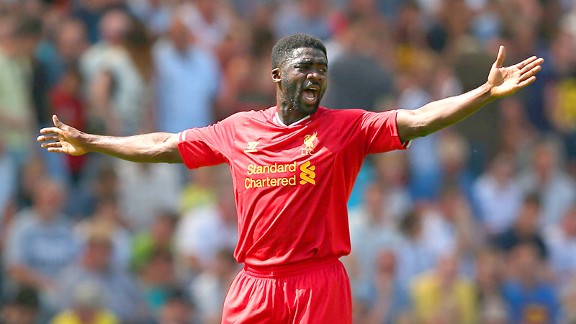 AllsportKolo Toure will make up one half of the Liverpool's center back pairing.
"We just need to build up the depth of the squad. I want people who might be disappointed because they're not on the bench. We haven't had that -- we have had one or two on the sidelines but we need more. We need to improve the group and the depth, but that's what gives me great hope for the summer. If we can add that we can make a real start and then we're ready to challenge." Brendan Rodgers, June 2013.

With just a few weeks left of the transfer window, the Liverpool boss clearly still has plenty of work to do if he wants to "add depth" to a squad that finished seventh last season, let alone strengthen the actual starting lineup. Four players have arrived, but -- assuming there's no last-minute hitch with Stewart Downing's move to West Ham -- seven have departed. Two of the seven (Andy Carroll and Jay Spearing) were not part of the group last year, so essentially Liverpool are more or less where they were at the end of last season. They've been running just to stand still.

- Rodgers sure of sorting Suarez issue
- Agger agent hints at Barca interest

Simon Mignolet has replaced Pepe Reina, Kolo Toure has come in for Jamie Carragher, with Luis Alberto and Iago Aspas replacing Jonjo Shelvey and Downing. In addition, Suso has been sent out on loan to Almeira with Jordon Ibe appearing to have been promoted in his place. As things stand, Liverpool have most certainly not added any depth and -- even more concerning to supporters -- haven't strengthened the team yet, either.

It is significant that of those new arrivals, only Mignolet was signed to go straight into the first 11 and even then it's debatable whether he was signed because Rodgers felt he was an improvement on Reina or because he thought the Spaniard was off to Barcelona. Toure is likely to find himself in the starting lineup for the opening fixture against Stoke City, in part due to his own impressive performances, but also due to the club's failure so far to bring in the top center back Rodgers had prioritised at the end of last season. The Ivorian was not signed to be an integral part of the team, he just happens to have found himself in the right place at the right time.

Rodgers even spoke about this recently, saying: "What we've done in the early part of the summer is to improve the squad. Now what's important over the next three to five weeks is improving the team. That's something the club is working very hard at." When did he say that? Five weeks ago, and worryingly for Liverpool fans, it appears he is no nearer to improving the team now than he was then.

Whilst it's too early to be pressing the panic button, it's clear that things are certainly not quite going according to the manager's plan. Rodgers has spoken about wanting a left back, a center half and a couple of more attacking players. The likelihood of Liverpool filling all of those needs in this transfer window are as remote as Fabio Borini winning the Golden Boot. The sale of Downing would mean that Liverpool's senior squad is now three players lighter than it was at the start of the summer, whilst it could be weakened further if, as expected, Oussama Assaidi and Sebastian Coates also leave the club.

The general consensus seems to be that Liverpool need to spend to get back into the top four. Not spending simply for the sake of it, of course, the days of paying well over the odds for a player are hopefully over, but there's a gap that needs to be closed and that is not going to happen without significant investment in the playing staff. The club is actually in profit in this summer's transfer dealings thus far. The wage bill has been reduced, too, with big earners such as Reina, Carragher, Downing and Carroll no longer on the books.

Whilst there is nothing wrong with being financially prudent -- indeed, you could argue it's a refreshing change given how Liverpool have hemorrhaged cash in the past decade -- it is provoking some understandable skepticism in the fan base. How can Liverpool expect to get back into the top four without significant investment in the team, especially when those clubs already ahead are working hard to get better. The club will argue they are willing to spend and will point to failed attempts at securing big money signings this summer as proof. The fans will say "we don't want excuses, we want results."

For differing reasons, deals for Henrikh Mkhitaryan, Diego Costa and Kyriakos Papadopoulos have so far failed to materialise, whilst another player Rodgers wanted -- the Brazilian Bernard -- was never going to be a realistic option without Champions League football to sweeten the deal. It is more difficult than ever for Liverpool to attract players, and the longer they remain outside of Europe's elite competition the harder it will continue to get. However, it's a big wide world out there, surely there are players who are willing to move to Anfield and who would improve Liverpool's first 11? I mean, seriously, how hard can it be to find someone better than Downing?

Very few will mourn the departure of the £20 million England winger, but he has been first choice for the past eight or nine months and his sale leaves a hole in the team that needs to be filled. If it's to be filled by somebody already at the club then that has to be a worry, given that Downing has been in the side on merit and was seen by Rodgers as the best option available. You'd have to assume that Liverpool have a replacement lined up, otherwise it would make no sense allowing the former Villa man to go, but then they do have precedent for this kind of thing. See Carroll, Andrew.

There is still plenty of time to improve the team before the transfer window closes, but irrespective of that it has to be seen as a big disappointment that with just days to go before the big kickoff Liverpool have failed to improve the team and have somehow managed to reduce the depth of an already shallow squad. Going into the opening fixture arguably weaker than they ended the final game of last season is not an acceptable situation.