Progress finally quantified at Hawthorns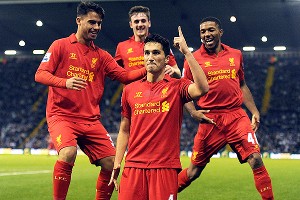 GettyImages / Andrew Powell/Getty ImagesNuri Sahin scored a brace for the Reds against West Brom in the league cup.
Progress can be an immeasurable unit in football. Though Liverpool looked impressive against Manchester United, their journey since August cannot truly be quantified. Mitigating factors -- red cards, penalties, injuries and the fickle mistress of Luck -- complicate the formula.

On the basest level, points equal progress. With just two in five games, some have seen no progress so far. But fate, under the cunning guise of two former professional footballers, plucked out the Capital One Cup balls of West Bromwich Albion at home to Liverpool, a revisiting of the Reds' embarrassing opening-day drubbing.

This was progress, on the basest level and beyond. A 3-0 defeat turned into a 2-1 victory, but there were many more things different from the Premier League's opening day. Granted, this Liverpool side was not the same one that succumbed to their heaviest opening day defeat since 1937, with only Carragher and Downing featuring; nor did this side, no matter how young, contend with 10 men for over half an hour.

It was still the most impressive performance of the season by Liverpool.

Rodgers selected a team so young, most of them could go to Disneyland for free. It's a pity most are too small to ride Space Mountain. But what they lacked in size and experience, they made up in stature. A goal behind after three minutes and under relentless West Brom pressure after five, this youthful team could have followed the lead of the senior squad and capitulated. But Jack Robinson, 19, regained his composure at left back; Andre Wisdom, also 19, did likewise on the opposite side. Striker Samed Yesil, making his first-team debut aged 18, grew into the game and looked dangerous.West Brom hardly threatened after that.

But more impressive than any individual performance was the team unity, particularly as Rodgers has always maintained that the system is the star. The fluidity and movement, so scarce in the league fixture, was to be witnessed all over the pitch.

The possession statistics may not have been as dominant as people have come to expect of a Rodgers side, but no matter: the ball was used intelligently, and kept until the chance presented itself. It was presented by Oussama Assaidi, a relative old hand at 24-years-old, who was a constant outlet on the left, and a persistent threat to the West Brom defence; it was provided by the aforementioned Yesil, who came short at times, but also rested on the shoulder of Jonas Olsson. Even Stewart Downing, much-maligned and admittedly ineffective with the ball, combined well with Andre Wisdom to allow the youngster a number of slaloming runs on the right hand side.

That was all lacking at the Hawthorns in August. There's a myth perpetuated over that 3-0 defeat that Liverpool were abject from first kick to last. The truth is a little less dramatic, with Liverpool the better side until Zoltan Gera's opener, and looking capable of an equaliser until Daniel Agger's red card. Only then came abjectness in abundance.

But there's no denying Wednesday's cup victory showed far more of what Brendan Rodgers wants from his players. The question that remains to be answered is whether that's down to the giant, solitary penalty dropping to the ground to the persistent whispering of "pass, pass, pass", or simply because these younger players are already that good, and willing to become better.

Younger players will be more willing to learn, their slate much cleaner, their experiences less ingrained. Liverpool's litter also have the impressive foundation created by Rafael Benitez, Pep Segura, Rodolfo Borrell and Frank McParland, with the necessity to keep the ball and press instilled into them from their first day at the club's academy.

That has been evident with the close control and intelligence of Raheem Sterling over the first five league games; it was evident last night when Suso looked up, with eight minutes left, waited, illuminated the light bulb above his pristine head, then released Assaidi on the left at just the right time. Assaidi then released the ball across goal, just at the right time; Sahin's run, at the right time, put Liverpool 2-1 ahead. When everyone moves together so does the football club. Rodgers will hope some of the more senior players – Skrtel, Gerrard, Suarez – will continue to move along with them.

He'll never want them to undo the good work over the course of their impressive careers and start afresh, but a few tweaks to their playing style will make big changes for Liverpool. You can't teach an old dog new tricks, but he can learn to sit, chase and beg slightly differently. Just ask Jamie Carragher.

After an initial bruising from Romelu Lukaku in the opening round, he dragged himself from the canvas to captain the kids to a memorable win. This was Carragher at his best, leading by example and even showing more willingness to distribute to the excellent midfield pairing of Henderson and Sahin. He also guided Sebastian Coates through the 90 minutes, with the Uruguayan growing in command the more he plays. With Andre Wisdom on an unfairly-admonished yellow card for 45 minutes, the 21-year-old helped out his right back against Lukaku and ensured there would be no repeat of the opening day's dismissal.

With the exuberance of youth must also come the knowing nod of experience. In the midfield, Jordan Henderson and Nuri Sahin controlled the game. Henderson has played nearly 150 senior games at the age of 22; Sahin, 24, still to find full match fitness yet still man of the match, was Bundesliga player of the season aged 22. It was those two, alongside goalkeeper Brad Jones, Carragher and Downing, who ensured the vitality was complimented by virtuousness. It's a mix that proved a winning one for Rodgers, and one he might look to once more with the club still awaiting their first Premier League win.

Genuine claims were staked for positions on Wednesday night. If not for Saturday's game with Norwich, then the side's next round Capital One Cup tie with Swansea. And that will be a fixture where progress, once again, is very much on the agenda.