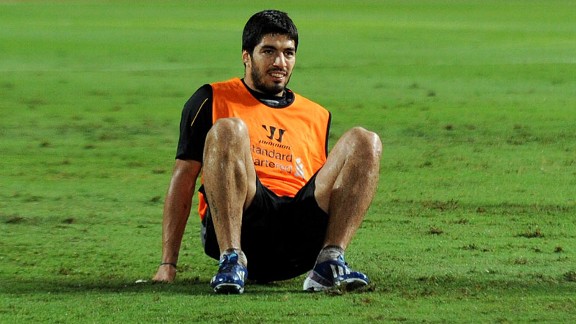 GettyImagesLuis Suarez is now training alone at Liverpool.
How about that John W. Henry then, eh? I doubt many people saw that coming, least of all Luis Suarez and his agent, Pere Guardiola. If Brendan Rodgers had them reeling on the ropes Wednesday, Henry delivered the knockout blow Thursday when he insisted that the want-away player will not be sold "whatever the bid is."

Of course, this is big news for Liverpool and Arsenal fans, but other supporters should also take heed as this is about player power and a club standing up to it. This affects everybody, as there isn't a club in the country that won't have to deal with a similar issue at some point in the future. It would appear that Henry has taken a stand, and hopefully now we'll see others follow his lead.

It seems that everybody outside of Liverpool just assumed that the Reds would cave in and get what they could for the Uruguayan agitator, reinvesting the cash in the squad. Certainly most of the London-based media assumed it was inevitable that he would end up at the Emirates sooner rather than later. There was a belief at Arsenal that it was only a matter of time before they got their man, presumably due to assurances by the Suarez camp that the now infamous clause in his contract was watertight.


Liverpool's stance has remained the same throughout: the contract clause did not mean what Suarez thought it did (that interested clubs have the right to sign him for £40 million). The PFA assessed the situation, agreed with Liverpool and suddenly things didn't look quite so rosy for Suarez and Arsenal. That's when desperation kicked in and Suarez finally broke his silence with a series of interviews bemoaning "broken promises" and pleading to be allowed to leave.

While Suarez is ultimately responsible for his own actions, he clearly has been let down repeatedly by his advisers. They failed to ensure the contract clause was worded as they wanted, and they have obviously underestimated the determination of the club to not be pushed around by an employee. Now they've encouraged him to alienate just about the only people in the country who liked him. Luis, I think you need a new agent, son.

In fairness, they were not alone in doubting that Liverpool would stand as steadfast as they have. While there was a confidence the club would not sell to Arsenal -- especially after JWH's Twitter quip about "what have they been smoking" -- it was unexpected to hear the club's principal owner state so categorically that Suarez was going nowhere.

Henry said: "We are not going to sell Luis. At this point, so late in window, with everyone who's already moved or isn't moving, we do not have time to replace him. So for football reasons we can't -- and especially to Arsenal. We've made that clear. It is unequivocal, but that doesn't seem to slow them down so I can't wait to see what the next bid is. To sell to a rival for those Champions League positions, or one of them, would be ludicrous. Whatever the bid is, we won't sell him. We need Luis. Hopefully this will pass."

Of course anything is still possible, but if Liverpool were to perform a U-turn then Henry would look like a complete fool. Millionaire businessmen with reputations for being hardnosed do not like to look foolish. A big money offer from Real Madrid may force a somewhat acceptable climb down, but Arsenal are now completely out of the picture and Suarez must be feeling extremely uncomfortable.

Presumably he thought that going public and alienating the supporters would force the club's hand. Instead he got a clip around the ear from his manager and a kick in the backside from the big boss man and now faces the reality of another year at Anfield when his mind already had left for pastures new.

While a strong case can be made for Liverpool just taking the money and sending him on his way with a flea in his ear, it's refreshing to see a player being made to squirm. Players are so used to getting their own way it has led to a culture of self-entitlement and tantrums. Footballers leave clubs all the time of course, either to take a step down in order to get more playing time or to take a step up in order to advance their career or bank account. That's the nature of the game and as long as it's done in the right way then there's no problem. Unfortunately, more and more these days we are seeing it done in the wrong way.

It's rare though, to see a player kick up such a stink for a move that's, at best, little more than a sideways step. Arsenal fans can disagree, but the respective trophy count in the past eight years is significant. The Gunners are not officially in the Champions League proper yet. Finishing fourth guarantees nothing, just ask Evertonians.

But I digress. Suarez clearly felt -- or was advised -- that going public was the way to force the club's hand. After all, no one wants an unhappy player moping around the place, right? Usually when this happens, clubs understandably buckle. There are two big exceptions to that in recent years, Manchester United with Wayne Rooney and Manchester City with Carlos Tevez.

Rooney handed in a transfer request but United simply refused to let him go and in the end he had to knuckle down and get on with it. They are in a similar situation now, and have so far once again refused to give in to the player's demands for a transfer. It remains to be seen whether they are simply holding out for more money, but regardless, in the past they stood up to a want-away player and won. City, too, played hardball with Tevez even when he went AWOL and was playing golf in South America for a couple of months. He ended up coming back into the fold, helped them win the title and remained at the club for another 12 months before eventually departing for Juventus, on fairly amicable terms.

It's easy to act tough with a rebel player when you're loaded with cash, though. Had they chosen to, City could have gone out and bought a replacement without having to first sell the troublesome Argentine. In fact, City were in a position where they could have just let him rot until his contract expired. Tevez eventually realised that and had to come back, tail between his legs.

Liverpool are most certainly not in that kind of strong financial position, but nevertheless they appear to be taking the same hard-line stance. There's a massive risk in forcing an unhappy player to stay; if his head isn't right and his heart isn't in it then the chances of him performing at his best are slim. The ace up Liverpool's sleeve, however, is that this is a World Cup year. Suarez cannot afford to not be playing as it will affect his preparations for a tournament that means everything to him. He needs to play, and that will only happen if his attitude is right in training and if his application is what it needs to be in games. He'll also need to do some serious grovelling too, assuming Rodgers is true to his word.