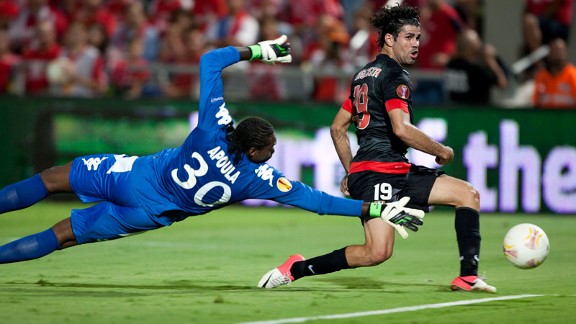 PA PhotosDiego Costa is not a man to shy away from confrontation
Brendan Rodgers spoke toward the end of last season about the need to add "men" to the group. Whilst in future he may have to choose his expressions a little more carefully in the wake of that leaked "naughty words" document that Liverpool sent out to employees, his point was clear. He wants leaders, winners, players who are mentally and physically strong and who not only possess in themselves that toughness and desire to succeed at the very top, but who also demand it from those around them. Players who want to win at all costs and for whom losing is seen as a personal insult. Steven Gerrard has it, Luis Suarez has it, Jamie Carragher had it too, but is unfortunately no longer around. The rest of the squad? Not so much.

Rodgers recognises the importance of having a winning mentality around the place and appears to be making a conscious effort to recruit players who possess it. Kolo Toure is a perfect example, a man who sets himself high standards and also looks to influence and help those around him. He's most definitely a winner and has the medals to prove it. Iago Aspas may be largely unknown outside of Spain, but his will to win and never-say-die efforts almost single-handedly preserved Celta Vigo's status in La Liga last season. That passion to win occasionally spilled over into unsavoury incidents, with a shocking head-butt on Carlos Marchena earning him a lengthy suspension. Rodgers, significantly, wasn't put off by that.

- Liverpool line up move for Diego Costa

Reported transfer target Kyriakos Papadopoulos also seems to fit the profile Brendan is looking for. The powerful Greek is not someone you'd want to get on the wrong side of (witness the hilarious exchange with Samaras on YouTube). And if he had been born a couple of thousand years earlier, you can bet your bottom dollar he'd have been one of the 300 Spartans fighting alongside King Leonidas. And if he had been, for my money that particular battle would have had a much different outcome.

And then there's Diego Costa, a player who has been the subject of a large bid from the Reds this week and someone who makes Suarez seem almost angelic in comparison. Costa has been described in some quarters as "the most hated man in La Liga," a title Suarez can presently lay claim to in the Premier League, at least until Joey Barton finds a new club in the top flight. Some of Costa's antics have crossed the line -- flicking snot at Sergio Ramos was particularly unsavoury -- but as with Suarez, it appears to be a case of using any edge possible to gain an advantage. Win at all costs.

Liverpool currently have plenty of talented, "nice" lads, but they don't have too many of the "men" that Rodgers referred to. If you go back to the Reds' late '70s/early '80s heyday, those sides were crammed with big characters and players who would make their presence felt both on the field and in the changing room. Graeme Souness, Joey Jones, Tommy Smith, Emlyn Hughes, Kenny Dalglish, Alan Hansen, Phil Neal, Jimmy Case, Phil Thompson, Bruce Grobbelaar, Terry McDermott, Steve McMahon, Ronnie Whelan, Jan Molby, John Aldridge... the list goes on and on. All had winning mentalities and weren't shy when it came to voicing their opinions and letting others know what was expected of them, or indeed putting the opposition in their place.

When you compare those names with today's squad, it's men against boys. The likes of Joe Allen, Jordan Henderson, Stewart Downing, Lucas, Jose Enrique, Glen Johnson, Fabio Borini, Daniel Sturridge and Philippe Coutinho are all just a bit ... well, they're Boy Scouts, aren't they? I'd compare the '80s players to the Rolling Stones, whilst this lot are One Direction. Could you imagine any of them handing out a rollicking to an underperforming team-mate, or sticking one on an unruly opponent?

If Melwood were a school, there'd be far too many pupils wanting to be prefects and hall monitors, and not enough of them being handed detentions with Suarez, Gerrard and Daniel Agger. A couple of bruisers like Papadopoulos and Costa -- who, to continue the metaphor, are likely go around neighbouring schools to shake down other kids -- wouldn't go amiss, either.

When you look back at last season, Liverpool played some outstanding football at times but were completely bullied out of their stride on other occasions. The inability to compete against Stoke City and Oldham Athletic was embarrassing, whilst even nonleague Mansfield Town ran the Reds extremely close. If things were going well, Liverpool could look very good, but when the going got tough they often folded. Rodgers bemoaned the lack of mental toughness and leaders in his side following the Oldham defeat, but when you have so many youngsters and choir boys in the side, that's always going to be a risk.

Liverpool need to get physically and mentally tougher, they need more players who want to win at all costs, and they need more leadership. Toure certainly helps, Papadopoulos would unquestionably make a difference in terms of toughness, and hopefully one or two of the younger players will grow into leadership roles as they gain experience and become more comfortable. We'll never see sides with as much character and leadership as those great teams of the past, though, as football and -- more specifically -- footballers have changed a lot since those days.

There simply aren't as many natural leaders around in the modern game, and physical and mental toughness are also in relative short supply. In years gone by, you wouldn't survive five minutes without being physically tough due to the aggressive nature of the game. That's changed to the point where physical contact has almost been completely outlawed, but every side still needs to have its share of aggressive, physically imposing players, and Liverpool do not have that. Witness last season's struggles against big strikers such as Kenwyne Jones, Jon Walters, Carlton Cole, Christian Benteke and even Matt Smith.

The mental side has changed, too; players earn so much money at an early age that many don't have the same hunger to succeed that we saw in the past. Someone like Raheem Sterling, for example, will make more money from his current contract than the vast majority of Liverpool's legends made in their entire careers. He's achieved nothing in the game as yet but is already set for life. With such rewards on offer for merely reaching the first team, the danger is that players don't have that "win at all costs" mentality that top sides need to have.

That's why Suarez is so unique and why it's so important for Liverpool to hang on to him. He wants to win at everything. Whether it's a Monopoly game against Coates and Lucas or a Cup final at Wembley, he simply has to win, and occasionally he loses the plot when it doesn't happen. Money is never going to change someone like Suarez; he had it tough as a kid, which instilled an intense hunger in him that occasionally spills over into the kind of crazy incidents that have gotten him in trouble throughout his career. You can question his behaviour, occasionally even his sanity, but never his will to win.

Rodgers wants to sign players with the same kind of hunger as Suarez and the right kind of winning mentality, but the truth is they are a lot more difficult to find than they were in the past -- and some of them, like Suarez and Costa, come with, shall we say, a little baggage. The Liverpool boss appears to feel that's a price worth paying, and I would agree with that.

The meek may well inherit the earth, but they won't win you football matches.