Melgarejo 'try before you buy' deal makes sense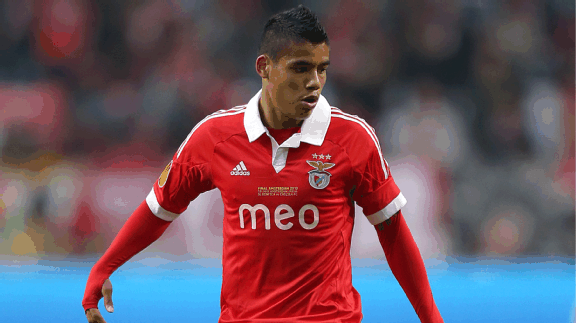 EmpicsLorenzo Melgarejo: A versatile left-sided player who can play in defence or midfield.
Signing a left back may not have been a priority for Liverpool this summer, but it was definitely on Brendan Rodgers' to do list. Having two players for every position is something the manager has often spoken of, and presently the left side of the defence is -- along with the holding midfield role -- the only area of the team where that isn't really the case.

If money were no object, there is little doubt that Rodgers would have been looking to add an established top-class left back to the ranks, but with a limited budget and more pressing needs than signing a replacement for the adequate, if not exceptional, Jose Enrique, it would make little sense to go out and spend 20 million pounds on, say, Leighton Baines.

- Liverpool close on Lorenzo Melgarejo
- Suarez saga clouds Reina exit

With that in mind, bringing in a young, exciting, attacking full back on loan -- with a view to making the deal permanent in a year's time if he impresses -- would appear to be a great move, right? So how come the loan signing of Lorenzo Melgarejo has been greeted in some quarters with the same lack of enthusiasm usually reserved for when Stewart Downing pledges his future to the club during each and every transfer window?

When the deal was first mooted last week, the first cursory port of call, as it is for most of us in these situations, is of course YouTube, and that provided the first strike against his name because Melgarejo's compilations just didn't look especially exciting. If you can't look accomplished when highlighting your best bits, that doesn't bode well, does it?

A second, more considered, investigation canvassed opinion from those who have actually watched the player on a regular basis. In this case, once again the evidence wasn't particularly overwhelming in Melgarejo's favour. The general consensus seems to be: talented kid, can't defend to save his life. Somewhat disconcerting when he's being signed to play full back.

That's assuming he is actually going to play full back, of course; it could be that Melgarejo is seen as a utility player who can provide cover in a couple of positions. Last December, Rodgers mentioned in a meeting with various fan groups at Melwood that he wanted someone who could "provide cover down the left side." Those of us present took that to mean someone who can play left back as well as farther forward if need be. He couldn't get that player in January, but subject to a work permit being granted, it would appear he may now have his man.

Melgarejo was initially signed by Benfica as a left winger of much promise. The Paraguayan international was immediately loaned out to first-division side Pacos de Ferreira and enjoyed a fine season there, finishing as the club's top scorer and being widely credited as the main reason they avoided relegation. Yet when he returned to Benfica, he spent the whole of last season playing full back in Jorge Jesus' exciting, expansive team.

However, it seems he hasn't been entirely convincing in his new position. One Portuguese football expert, Tom Kundert of Portugoal, said this week that Melgarejo was the clear weak link in the Benfica side and that opposing sides would target him due to his lack of defensive ability. That claim would appear to be backed up by Benfica's buying two left backs this summer and making the Paraguayan available for a loan, but as they say, one man's junk is another man's treasure, and I'm keeping an open mind about this one.

Liverpool's scouts will have done their homework on Melgarejo, and it's worth mentioning that the way Rodgers sets his team up requires a certain profile of player to play full back. That profile may not suit other teams but could be ideal for what the Reds' manager requires. Some of Liverpool's best-ever full backs would not be suited to the present system because Rodgers' defenders on the flanks play higher up the pitch than many team's wingers do, and the ability to attack is essential.

Last season, I remember being shown one of those infographics of the average position on the field of each player during one of Liverpool's games at Anfield, and Glen Johnson was further forward than any player on the pitch other than Daniel Sturridge. Traditional bread-and-butter full backs are of little use to Rodgers since he wants them to be able to play like wingers, and in effect, that's what they are. Johnson can do that, and Enrique has been quite effective, too, even if he isn't quite as easy on the eye as the elegant England man on the opposite flank.

It requires a specific skill set to play full back in Liverpool's present setup, and that rules out many of the current crop playing around Europe and the Premier League. Whereas in the past full backs needed to be defensively solid first and foremost, with anything else being seen as a bonus, it's now become the opposite at Liverpool. For example, Rodgers had no qualms whatsoever about using Downing at left back, even though many fans thought it was a bizarre move. Barring one mental error that cost the team a goal in a defeat at Tottenham, Downing did very well in that role, since the way the team is set up he saw a lot of the ball and was able to attack from deeper positions and run into the space created by the wingers, who are told to cut inside.

Presumably, that's what Rodgers and his staff envisage Melgarejo doing, if and when he plays full back. I wouldn't expect him to be lining up against Antonio Valencia at Old Trafford. If he is defensively suspect, he's unlikely to see much playing time against any kind of quality opposition, but he could be especially useful in home games against sides that park the bus; while Enrique is more than willing and gets forward well, he often lacks the necessary guile to unlock a defence. The Spaniard is solid defensively but can be something of a bull in a china shop in the opposing penalty area, so perhaps Melgarejo will offer more in those kinds of games.

For me, this is a sensible deal for the Reds because they can't lose. If Melgarejo does well, they can bring him in for a reasonable fee (reportedly about 8.5 million pounds). If he doesn't, no harm no foul; he can go back to Benfica, and Liverpool can bring in someone else. Liverpool have not used the loan system in this way very often, and some fans see it as being cheap or cutting costs. I just see it as being practical. The club does not have an unlimited budget, and Rodgers has more pressing needs than upgrading a competent left back.

Getting a player in who can provide cover and who isn't eating into the manager's transfer budget is good business. Given the Reds' recent unpleasant and costly experiences with Phillip Degen, Andrea Dossena and Paul Konchesky (to name but three), adopting a "try before you buy" policy seems like a good idea to me.