Back to reality for Liverpool after Far East tour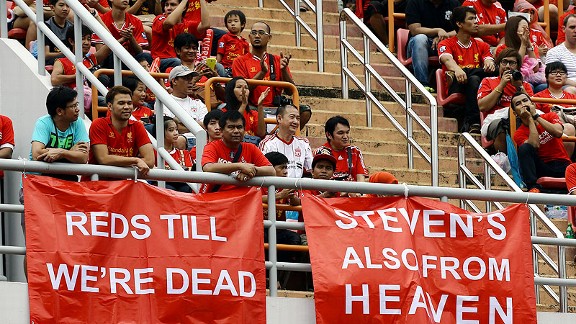 Stanley Chou/Getty ImagesLiverpool played to packed houses while on tour in Asia and Australia.
After seven goals, 27 players used and endless hours spent receiving unbridled, unconditional admiration, it is time for Liverpool to return home. This is the final boarding call for Flight 1892, and a return back to reality.

Preseason tours of far-flung lands are many things, but they are rarely normal.

The tours act primarily as a moneymaker, an opportunity to solidify the brand and strengthen its position in a burgeoning market; sad and cynical, but ultimately true. The secondary function is to allow these supporters to experience the rare phenomenon of Liverpool live, to see the sweat pour from the players' foreheads just mere metres away. More sweat, more emotion, more money. The bottom line, always, is the bottom dollar, pound or rupiah.

- Usher: Liverpool's center back conundrum

But though these tours are straightforward in intention, they are hardly normal. No bad thing necessarily, but for 10 days the club is transported into a different world. It is a world that sees players suffocated by fanatics as well as the dense, smoggy air; a world which allows 90 minutes of pyrotechnics during a friendly match against Indonesia as Istanbul is regurgitated nearly 6,000 miles away.

Everything feels transient on tour -- but concurrently, everything is regarded as important by those who are there. The games are ultimately of little consequence with the opposition of such little quality -- they amount to little more than an hour-and-a-half grind in stifling, sauna-like conditions -- but every goal is celebrated in the stands as a title winner, every touch from Steven Gerrard accompanied with hushed acknowledgement of greatness.

When this world of camera flashes and fanaticism is entered, the real world stops and a bubble of protection forms. There are few questions on the future of Luis Suarez, but simply of how great Melbourne is as a city; nobody is interested in the tactical nuances of the 3-0 win over Thailand, but rather the atmosphere that accompanied it. Football, and all the tricky trinkets that go with it, is largely immaterial and of little interest.

It is not a holiday for the players or manager by any means -- there is work to do and fitness to regain. There will also be sore hands and crooked smiles on that plane home after a week of obliging handshakes and photo opportunities. After that, however, little can be deduced from their time there. If anything, the deification by hundreds of thousands will have a few looking longingly at their passport.

Alas, time spent in Asia and Australia is very much stagnant with regards to what really matters to Liverpool. That is not to admonish anybody who enjoyed Liverpool's tour -- indeed, nobody with blood running through their veins could fail to be titillated by Philippe Coutinho and his stardust football boots -- but reality returns as of now. Proof of that comes in the immediate movement for Benfica's left-sided player Lorenzo Melgarejo.

If all the questions of Suarez, attacking midfielders, defenders and everything else in between went unuttered over the past 10 days, expect them to be asked twice as much now that Liverpool are back in England.

How quickly then, they need to be asked, and answered, with just three weeks until the opening Premier League fixture against Stoke. After a busy, proactive start to the summer, Liverpool's efforts to strengthen the squad have stalled and stagnated. This is no reflection on effort or diligence by the club, but rather the position they find themselves in after years of malaise. With no Champions League football to entice players, Liverpool's transfer strategy appears more complicated than Brendan Rodgers' public assuredness of finding players to improve the first team.

While those players are sourced, Rodgers must make do with what he currently has. The manager has three weeks remaining; three weeks, and three friendly games, which will give more indication of how his squad is developing. The time for autograph signing and endless smiling is over; instead, furrowed brows and bitten nails over how his 11 will look against Stoke, Aston Villa, Manchester United and beyond.

Irrespective of Suarez's transfer situation, he will not be available until September; Daniel Sturridge, meanwhile, has not played since his injury on international duty in May. This leaves the possibility of Liverpool beginning the season with a front three of Iago Aspas, Fabio Borini and Coutinho -- a big difference from the front line of Sturridge, Coutinho and Henrikh Mkhitaryan that Rodgers envisaged last month. With uncertainty over how Borini fits into Rodgers' front line and Aspas already looking capable of infuriating and delectating within seconds, there is much to think about, and much pressure for Sturridge to find fitness.

The attack is not the only question that needs to be answered in the next month. Ironically, after the histrionics of the club's goalkeeping situation, that position is the only one with a certain future with Simon Mignolet now the undisputed No. 1. The defence, so porous and delicate at times last season, has had only Kolo Toure added to it despite Rodgers originally wanting three fresh arrivals; the midfield, though settled, could still lack balance.

Nobody could expect anything other than the slowing down of activity with Liverpool on the other side of the world; it is clear that most Premier League sides have quieted in the past week as they fulfill their obligations thousands of miles away.

But the plane has touched down now; the seat belt signs are off. Welcome back to England, welcome back to reality. Liverpool have to adjust to that and continue with business, or the smiles exhibited so much in recent days will disintegrate quickly.