Liverpool's center back conundrum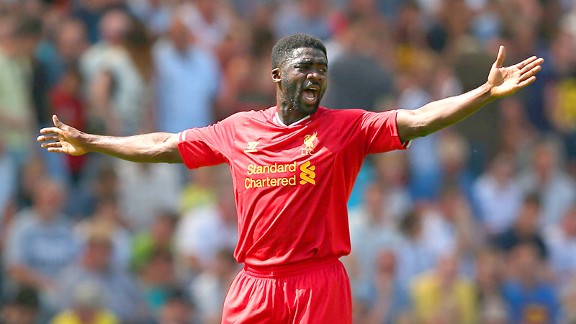 Alex Livesey/Getty Images
One of the biggest question marks surrounding Liverpool ahead of the coming season concerns the center of the defence. Martin Skrtel continues to be linked with a move away from Anfield, while the Reds have reportedly rekindled their interest in the powerful young Greek Kyriakos Papadopoulos. It may not be a position of glaring need but there is unquestionably some uncertainty there, especially as it's the first season in a long time where Jamie Carragher won't be around to hurl himself in front of shots and bark orders at those around him.

Brendan Rodgers was recently asked whether he needed another center back and responded by extolling the virtues of new signing Kolo Toure before adding, "We have a number of other outstanding center halves in Daniel Agger and Martin Skrtel. We also have an up-and-coming top talent in Andre Wisdom who will be a very good center half for Liverpool in the future. And we still have Sebastian Coates, too."

The first thing I took from those words was that Coates is now a complete afterthought. Understandable really, I mean he's only at the club to keep Luis Suarez happy and he's clearly not doing that very well. OK, I'm not being entirely serious there although there's probably some element of truth in it.

In fairness to Coates, he's obviously a decent player and I have no doubt he'll go on to become a fine center half for somebody -- just not Liverpool. He'll need to learn his trade somewhere for a couple of more years, as center backs don't usually come into their own until their mid-to-late 20s.

For example, I read last week that Milan wanted to sign Gabriel Paletta from Parma but were quoted 35 million euros. I spent five minutes looking for the punch line but it turns out there wasn't one. I spent the next five minutes checking to see if there were two Gabriel Palettas, as the notion of AC Milan wanting to sign the Paletta formerly of Liverpool simply didn't compute.

Yet it seems that Paletta has slowly progressed into a good player since leaving Anfield, initially honing his skills back in Argentina before moving to Serie A and furthering his development. Given that Coates is vastly superior to Paletta at the same age, I'd assume that he, too, will go on to become a very good player given time. Liverpool are not going to wait around for that to happen, though, and it would seem that a move is best for all parties.

Bedding in young strikers, wingers and even midfielders isn't a problem, but it's rare to see inexperienced goalkeepers and center backs playing regularly at top clubs. Mistakes made in those positions tend to be costly and often young central defenders are eased into the side at full back, as we have seen with Wisdom and Martin Kelly. Carragher was another example, while Manchester United have done similar with Chris Smalling and Phil Jones. Moving to full back was not an option for the ponderous Coates, however, as his lack of pace and mobility would have invoked painful, Abel Xavier-style flashbacks for Liverpool fans.

Going back to Kelly, though, was it significant that Rodgers didn't mention him when he was discussing his central defensive options? It certainly raised an eyebrow or two as there seems to be an assumption among many Liverpool fans that Kelly will automatically end up back in the middle, where he began his career. He certainly has all the physical tools to play there, and while he's shown potential at right back, he doesn't appear to fit the profile of a "Rodgers full back" as he's more defender than winger.

The physical demands of playing "wing back" in the Rodgers system are huge, and Kelly has had numerous injury problems every year dating back to when he was just a kid. Backing up Glen Johnson and playing the odd game here and there is fine, but would his body stand up to the rigours of playing that role full-time? Doubtful.

I'd certainly like to see Kelly in the mix at center back, even if it means playing him there for the U21s from time to time. Having Kelly as one of the options to cover in the center would also free up the promising Wisdom to possibly go out on loan. That would surely benefit him more than having to play most of the year in the U21s with maybe the occasional cup appearance, and it would also allow Kelly the opportunity to show if he really is the center back many fans feel he could be. The fourth-choice center back doesn't tend to get many games, as poor old Seb Coates will no doubt attest, and Wisdom's first-team opportunities appear to be relatively limited this year. Using Kelly there kills two birds with one stone.

In terms of the other options, Rodgers referred to Skrtel as "an outstanding center half." Should we read anything into that? Has he had a change of heart on the big Slovak? Probably not; managers say what they have to say depending on the situation. Rodgers tried to convince us a few weeks ago that Simon Mignolet had been signed to provide competition for Pepe Reina, not to replace him. Next thing you know Pepe is saying arrivederci and bemoaning how Liverpool did a deal with Napoli without telling him first. Perhaps Liverpool assumed that his agent would have kept him abreast of developments, given that he also represents the Napoli manager?

But I digress. Skrtel is out of favour and unsettled having initially lost his place last season to Carragher and now seemingly being behind Toure in the pecking order. I don't think anybody would be shocked if Skrtel departed before the season starts, but unless a replacement arrives Rodgers needs to keep him involved and motivated.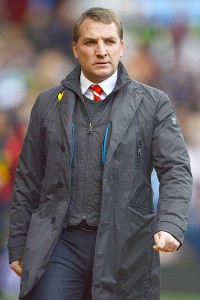 Laurence Griffiths/Getty ImagesLiverpool boss Brendan Rodgers may still be looking at center back options in the transfer market.
The writing does appear to be on the wall for Skrtel, however. Question marks over a knee injury combined with a high asking price from Schalke forced Rodgers to shelve plans to sign Papadopoulos, but recent reports suggest that deal may be revisited now that the fiery Greek has regained full fitness.

Papadopoulos appears to be exactly the kind of physical, dominant, intimidating center half that it was hoped Skrtel would be when he was recruited by Rafa Benitez in 2008. Aside from 2011-12 when he was named the fans' Player of the Year, he's never quite lived up to those expectations, but if Skrtel is still at the club beyond this transfer window it is not beyond the realms of possibility that he could force his way back into the team.

The presence of Toure means that he will have to up his game significantly if that is to happen. I honestly believe the Ivorian is going to surprise many this season. I keep hearing concerns about his age and whether he has "still got it," but he's "only" 32. Carragher proved last season that he was more than up to the job and he's three years older than Toure. Age shouldn't really be a factor for Toure for at least a couple of more years.

While I'd certainly welcome the arrival of a Papadopoulos or someone of that ilk, if Liverpool were to go into the new season with Toure partnering Agger in the center of defence with Skrtel as backup, it wouldn't be the end of the world.

Toure provides experience, leadership, strength, height and pace (those "old" legs can still shift, he kept pace with Raheem Sterling at Anfield last season), and he can play a bit, too. Not only that, he's a leader and a great presence around the camp, and in that regard he'll help to fill the void that has been left by Carragher's retirement.

I'm more than happy to have Kolo on board, in fact the only way I could be happier would be if he'd brought his "little" brother Yaya with him, but maybe next year, eh? Toure may have initially been signed as cover, but I very much doubt he sees it that way and if he's still got the hunger, then he may well surprise a lot of people this year. And hopefully so will Liverpool.