Champions League return a must for Liverpool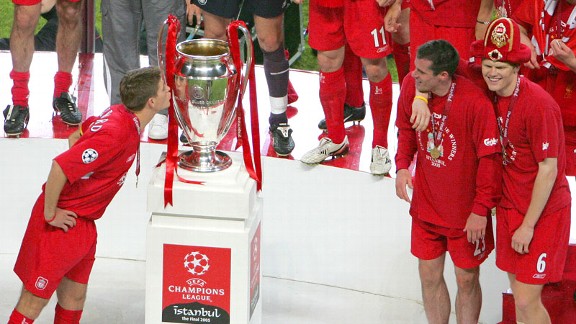 Francois Marit/Getty ImagesA return to the Champions League is paramount for Liverpool who last won Europe's grandest competition in 2005.
Between 2005 and 2009, Liverpool FC were arguably the most consistent team in the Champions League. In that five year period under Rafa Benitez, the Reds reached two finals; winning one they should have lost and losing one they should have won. In addition to those finals, there was also a narrow semifinal defeat to Chelsea, while the following year saw a loss to the same opposition at the quarterfinal stage. The lone "failure" was a loss to Benfica in the Last 16 stage in 2006.

For that five-year period, Liverpool were genuinely big time again. Maybe not top dogs in their own country, but around Europe, the Reds' reputation was sky-high and attracting players was relatively easy, for the most part. When you combined the name and rich tradition of Liverpool FC with Champions League Football and those incredible European nights at Anfield, there were very few players who didn't fancy experiencing a bit of that.

Sadly, things have changed now. The name and rich tradition is still there, but Champions League football is no longer on offer, and it's beginning to have an impact when it comes to attracting -- and indeed keeping -- players. It's still possible to sign quality of course, but generally only when there's no serious competition from Champions League clubs. LFC held off newly promoted Southampton to sign Philippe Coutinho for example, and Daniel Sturridge didn't exactly have the cream of Europe beating down his door when he was made available by Chelsea. That's the market the Reds are shopping in right now, and it's not necessarily a bad thing if you have a strong scouting team in place that can identify those kind of bargains.

But when you want to step out of that market and aim for established quality or the red-hot prospect who has clubs across the continent chasing his signature, the absence of Champions League football is a major handicap even when you are one of Europe's biggest and -- historically, at least -- most successful clubs.

This coming season will be the fourth in a row in which Liverpool will again not be dining at the top table of European football. Even worse, this year Brendan Rodgers' side won't even be sitting under that top table, fighting over the Europa League scraps. One or two years out of the Champions League isn't that big a deal. There's certainly a financial hit from not being in it, but in terms of your appeal to players and general reputation, if you're a big, established club, you can pass it off as a temporary blip for a year or two. Four years away from the big dance however, that's not a blip; it's a plunge into mediocrity.

You can finish seventh and still be seen as a "top-four team" that's maybe had a bad year for whatever reason. When you consecutively finish seventh, sixth, eighth and seventh, however, you really can't lay claim to that anymore. You're an also-ran, and that's what Liverpool currently are until they can prove otherwise.

Having strengthened the squad with Kolo Toure, Iago Aspas and Luis Alberto, Rodgers is now talking about the need to sign a couple of players to go straight into the first team alongside his top summer recruit so far, Simon Mignolet. That's not as easy as it would have been in the past. Liverpool actually have a pretty good first choice XI, irrespective of what happens with Luis Suarez, so improving on it means either unearthing a gem or signing proven quality. Unfortunately, better placed clubs than Liverpool are also trying to do the same. That's the biggest problem Rodgers is facing; any time he wants a player he has to hope that no Champions League side outmuscles him, like the school bully pushing past the weedy little kid in the dinner queue.

Henrikh Mkhitaryan was Liverpool's main transfer target this summer. Rodgers was extremely keen to bring him in and for a little while it looked like he may pull it off. Then Borussia Dortmund came in, and that was that. The idea of missing out on a player to Dortmund would have been laughable a few years ago. Now it's just common sense. Not only has Mkhitaryan joined a team that will play in the Champions League, he's joined one that has a chance to win it. What could Liverpool offer? No European football, and only a reasonable chance of making a run at fourth spot and therefore qualifying next year. Unless LFC decided to throw a load of extra cash at him, they had no chance, and that's (quite rightly) not how FSG want to operate.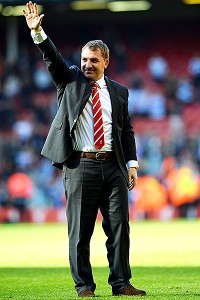 Paul Ellis/AFP/Getty ImagesA Champions League return would help Brendan Rodgers lure better players to Anfield.
Rodgers also has an interest in the highly rated young Brazilian winger Bernard. Liverpool would love to get him in to link up with Coutinho, but the odds would appear to be against it, as he's reportedly being chased by a host of Champions League clubs such as Arsenal, Shakhtar and Porto, among others. It's not a financial issue -- it's a football one. Perhaps with being so young, Bernard would be prepared to join a club not currently in the Champions League knowing he has plenty of time on his side, but the chances of that happening do not appear good.

When a top player is in his mid-20s, however, he needs to be playing on that stage. At the moment, Liverpool are simply unable to provide that platform -- which brings us back to want-away Suarez again. If Liverpool sell him for £50m, who would they realistically be able to buy who is even remotely close to the level of ability of the Uruguayan? There's nobody, because anyone that good has his pick of better teams than the Reds. The best Liverpool can hope for is to bring in a couple of players who aren't as good as Suarez but who will improve the team as a whole, or perhaps gamble on a younger player who may one day develop into a Suarez level type performer. That's much easier said than done, though, isn't it? There's a lot of pressure on the new scouting team at Anfield, as their job is more difficult than ever given the club's current predicament.

Great players have been replaced in the past, of course. Kevin Keegan left and Kenny Dalglish arrived. Graeme Souness left and Molby and then McMahon came in. Rush moved on and the void was filled by Barnes, Beardsley and Aldridge, so it can be done. The key difference is that back then, Liverpool had their pick of any player they wanted as they ruled the roost in England. Players would crawl over broken glass to sign for Liverpool then, but times have changed. It's not easy replacing your best players when you aren't the top side in the land -- just ask Arsene Wenger.

The position the Reds are in means they have to gamble on signings as the proven quality options all have better offers. Signing established talent is difficult when you can't offer Champions League football, so you have to take a punt on a player with something to prove, such as a Sturridge or Coutinho. Or a Fabio Borini. Some gambles pay off; some don't.

Getting back into that top four is becoming more and more of a pressing need, as the financial rewards for those involved means that the longer you are out of it, the harder it is to get back in, as Liverpool are presently discovering. Without billionaire owners who are prepared to spend their way to the top like Manchester City and Chelsea did, there is simply no quick fix. You have to be clever with your signings, picking up bargains and under-the-radar players who can improve the side to the point where you can sneak a top-four spot. When that happens, you can once again go shopping at Harrods, but until then it's Tesco and Sainsbury's for Liverpool.