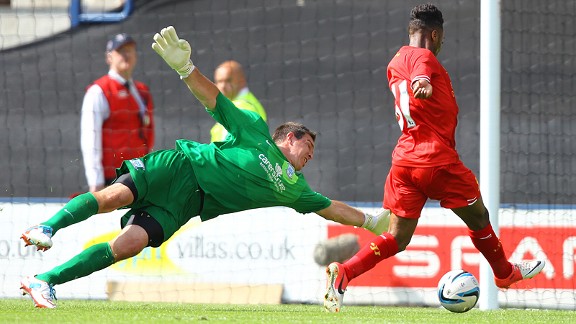 APRaheem Sterling gets on the scoresheet in preseason.
One of the few interesting things to come out of the first couple of preseason friendlies has been the sprightly form of Raheem Sterling, who has found the net twice and looked a real threat in both games. The youngster was in danger of becoming the forgotten man at Anfield this season after missing the run-in last year and seeing the side do well in his absence.

Philippe Coutinho and Daniel Sturridge arrived in January and hit the ground running, Stewart Downing began to show some form, and to top it all off a player even younger than Raheem also emerged onto the scene, as Jordan Ibe impressed when handed his debut on the final day of the season. All this while a frustrated Sterling was sidelined with a nagging thigh injury.

Competition for places has intensified further this summer with the recruitment of Iago Aspas and Luis Alberto, two players both capable of playing in the left-sided role that Sterling usually operates in. With the probability of another attacking player coming in before the season starts, few people had been talking about Sterling other than to suggest that sending him on loan might be the best solution in terms of his development and getting valuable playing time. I was certainly in favour of that option, and it may still prove to be the case, but perhaps it's not as clear-cut as some of us thought.


Having exploded onto the scene around this time last year, Raheem enjoyed a whirlwind few months before things began to go south. Despite a well-publicised preseason dressing-down from the manager (the infamous "say steady to me again" upbraiding that was aired on the documentary "Being: Liverpool"), it was clear that Rodgers had a lot of time for the youngster, singling him out for special praise on numerous occasions.

By just the second league game of the campaign Sterling had forced his way into the starting lineup, shining brightly in a 2-2 draw against champions Manchester City, and he went on to stay in the side for several months. An international debut followed and again, he acquitted himself very well. It was all going swimmingly, but then his form began to tail off significantly. This happened around the same time that the prolonged and occasionally public wrangling over a new contract began, and at the time many supporters felt the two issues were not unrelated.

Unbeknownst to the fans back then, however, he was also suffering from an injury that would get progressively worse until it eventually forced Rodgers to put him on the shelf for the closing weeks of the campaign. Just how big a part that injury played in Sterling's loss of form is something we'll never know, but it is a fact that he was playing very well before it and not so well after it, so draw your own conclusions.

Now he's fully recovered and looking to make up for lost time, but the question has been raised as to whether a loan move may be best for all parties as the vastly increased competition for places compared to 12 months ago could force him down the pecking order. Irrespective of whether Rodgers plays 4-3-3 or 4-2-3-1, Sterling is presently competing with Coutinho, Luis Suarez, Sturridge, Downing, Aspas, Fabio Borini, Alberto and Ibe for a place in the forward line (you could throw in Oussama Assaidi too although chances are he'll be departing soon). The manager has also spoken of his desire to bring in one more top-quality attacking player, so Sterling has his work cut out even making the bench, let alone the starting XI.

A loan approach by Bolton was reportedly turned down recently, and the 18-year-old says he's not even thinking about a loan deal and wants to prove to the manager once again that he's worth a place in the starting XI. Goals in both of the opening preseason games is a good start, but it is just a start and they were only friendlies against weaker opposition.

Yet while it is only preseason and we know how dangerous it can be to draw any conclusions from these games (Bruno Cheyrou's "Zidane-like" display against Lazio taught me a valuable lesson on that score), the spring is visibly back in Sterling's step and that can only be good news for Liverpool and for Rodgers, who is keen to have competition in every position and is looking to "add 20 goals to the group" this season.

And therein lies the key to Sterling's Anfield future: goals. If he can regularly get his name on the scoresheet then he'll be difficult to leave out due to the other attributes he has, such as pace, skill, awareness, vision and work rate. On a list of things that Sterling needs to work on, goal scoring would come a close second to his haircut. He managed just two goals last season, a disappointing total for an attacking player, albeit perhaps an understandable one for a kid thrown in at the deep end.

Nevertheless, if you are going to occupy one of those wide attacking positions in a side looking to be successful, you need to be contributing double digits in goals and assists. If you can't provide that, you'll be replaced by someone who can. That's the nature of top-level football.

If Rodgers is looking to add 20 more goals to the side then the two wide positions are the key to it. The Reds got plenty of goals from the centre forward spot through Suarez/Sturridge, but not enough from the supporting positions out wide and through the centre.

The early signs so far this summer are encouraging with Sterling, Aspas, Coutinho and Ibe already among the goals. In addition to finding the net twice there has been a directness to Sterling's game that wasn't always visible last season, especially after the injury began hampering him. He's starting to make dangerous runs across the line and in behind defenders, and if that continues perhaps he won't need that loan deal after all.

Sterling and fellow jet-heeled teenager Ibe offer something the squad isn't otherwise especially blessed with, and that's searing pace to scare defenders and force them to drop off and play deeper, which in turn creates more space for the likes of Coutinho and - hopefully - Suarez to operate in. The question I have: Is there room for both of them in the squad in addition to all the other options available?

The lack of European football means fewer games this season for Liverpool, which in turn means less need for squad rotation and therefore fewer opportunities for some players outside of the first-choice XI. With that in mind, Sterling may well be better served by going out on loan somewhere rather than playing only sporadically with Liverpool, but if he can continue to find the net with regularity in the coming weeks then it will be difficult for Rodgers to allow him to leave.