Goalkeeper decisions painted Rodgers into a corner
So often in life, two choices are presented before you: the right one and the wrong one. The partners you love, the jobs you leave, the cars you drive; there will always be an alternative, another path to choose, another fork in the road.

There is an obsession with the neglected option -- of how lives could be different, for better or worse. Everybody can consider their life at this precise moment and trace the numerous decisions that have led them there; they can then reassess those decisions and determine whether they were right or wrong.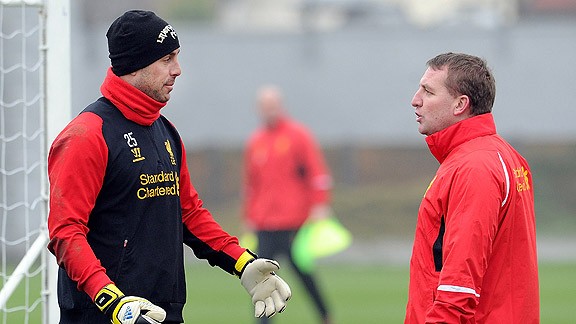 Andrew Powell/Liverpool FC/Getty ImagesGoalkeeper Pepe Reina is the Liverpool player with the second-longest tenure, but Brendan Rodgers chose to bring in Simon Mignolet to provide "competition."
Football is no different: to tackle or not, to pass or shoot. Those are the questions; the margins may even be finer, the implications ultimately greater. How does a love lost compare to a mistimed back pass? What's job dissatisfaction when any option was better than ballooning a penalty over the crossbar?

When Brendan Rodgers sat in front of the media and was asked about the goalkeeping situation at Liverpool, he had two options: to confirm new signing Simon Mignolet as his undisputed No. 1, or to deny the departure of Pepe Reina; to speak of competition between the pair, of the importance of squads to possess two top quality goalkeepers.

He chose the latter. Rodgers may be regretting the decision already.

The arrival of Mignolet was anticipated to be the catalyst for Reina's departure. Reina had been on Barcelona's radar while the Belgian had been on Rodgers', the manager deciding Mignolet would be a younger, better version of Reina. Whether that is true is a debate that will never cease; judgements are already made and fastened to, despite no tangible proof.

Few managers would be so brazen, so foolish, to admit to upgrading somebody publicly. Reina, after all, is the second-longest serving player at the club behind Steven Gerrard; his seven years have been an unquestionable success, even with his slight regression since 2010.

So Rodgers sat, spoke and chose the other option. Words such as competition and depth are firmly fastened to football's lexicon, buzzwords that can be used in conjunction with projects and progress. Sir Alex Ferguson and Andre Villas-Boas, most recently, have done similar; both even went further than Rodgers, allowing David De Gea and Hugo Lloris time on the bench, continuing the facade of competition and depth.

Liverpool does not have that luxury when its second-choice goalkeeper earns £100,000 a week; few teams do. If Anders Lindegaard or Brad Friedel were assigned as second-choice at Anfield, the club would be far less keen to sell and far more willing to keep up the illusion of competitiveness.

Still, Rodgers chose. He chose to bring Mignolet to the club; he chose to publicly regard Reina as somebody still with a future on Merseyside. With the latter, he had little choice -- to besmirch Reina, and everything he's offered during his Liverpool career, would be folly, an act worthy of the gallows on Walton Breck Road. It would also lower any potential price for Reina, with clubs knowing he is not wanted by the club.

But the gallows are already erected, the torches are lit -- reaction to Reina's actual move to Napoli suggests he made the wrong decision. Indeed, his recent admission that it was a financial decision demonstrates he already knows it.

Damned if he does, damned if he doesn't. The quicker Rodgers realises this, the longer his time at Liverpool may be. There was no right choice, only two wrong ones; until there is success on the pitch, that will remain in the eyes of many.

There is a lot of conjecture about Reina's imminent departure. Reina is thought to have forced this situation, but that is untrue; likewise, this deal does not highlight some form of Machiavellian scheme by Fenway Sports Group to strip the assets from the football club, but simply a reluctance to outlay so much on a goalkeeper who will appear so sparingly.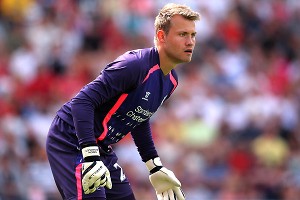 Alex Livesey/Getty ImagesSimon Mignolet is considered a younger version of Pepe Reina, but Brendan Rodgers has not yet named a No. 1 goalkeeper.
What is not conjecture is how Liverpool made mistakes in its bid to replace Reina with Mignolet. The club expected a goalkeeper of Reina's calibre to be wanted by plenty of Europe's top sides, most notably his former club Barcelona. He was dropped in the centre of this summer madness and was largely ignored. It is the Hollywood movie drop-off that goes wrong; an exchange that leaves bloodshed and trilby hats strewn across the floor, the package left untouched.

No bloodshed or bullet-scarred hats at Anfield, just anger and frustration. Rodgers has been labelled a liar, unfairly so, for no manager would admit to selling an established player. Football is something, rightly or wrongly, that exists in its own construct, a world that revolves around a Nike-emblazoned ball; its rules and customs are different to reality. If Rodgers is a liar, he is no worse than the crooks and infidels who infest the game.

He is not without blame, nor are those who make the decisions alongside him. If Reina is to leave on loan, it is a deal of incredulity for the second consecutive summer after Andy Carroll's last-minute move last year -- it is also a note of caution that while early summer deals are good business, it's also good business to ensure departures are confirmed as well.

But this is the life of a football manager or, indeed, any mortal man. Choices are made and will come to be thought of as right or wrong, fondly reminisced or bitterly ruminated upon forever.

What Rodgers chose when he sat and spoke about Mignolet and Reina will be ultimately of little consequence, it just feeds the grotesque, burgeoning ogre of hysteria. What will be of consequence is his choice of Mignolet over Reina; it is that decision, more than many others, that could shape his reign at Anfield.