The Suarez-Downing dichotomy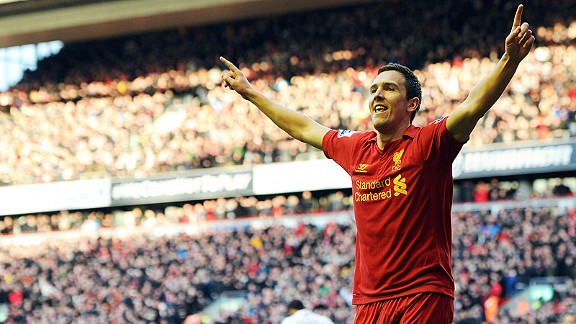 GettyImagesStewart Downing has confirmed he wants to stay at Liverpool.
The declaration of loyalty from Stewart Downing this week was greeted by many Liverpool fans with the same "enthusiasm" as the recent season ticket price hike. A fortnight ago, when it briefly looked like he might be off to join "Big Andy" at West Ham, the jubilation in some quarters was akin to that usually reserved for an exciting new signing, and there were a lot of unhappy campers when Stewy announced he was staying put.

This throws up an interesting contradiction in terms of how supporters view player loyalty. For example, Luis Suarez has been getting it with both barrels from angry fans because he appears to be trying to engineer a move away from Anfield. "He's got three years on his contract, there's no loyalty in football these days" we cry, with some justification.

Yet when Downing does the opposite and says "I've got a contract at Liverpool, I'm happy and I want to stay," he gets slated for not taking the hint and packing his bags for West Ham, or anyone else that will take him. It matters not that he doesn't fancy a move to "the Hammers" and doesn't want to give up on his Anfield career without a fight, we want him out so he needs to just clear off, contract or no contract.


I guess as fans, loyalty is something of a one-way street. We want the good players to be loyal but the ones deemed surplus to requirements can't leave fast enough. If a good player is under contract, we expect him to honour that contract regardless of whether he has a better offer or simply fancies a change of scenery. So by that logic, if a not-so-good one is under contract is he not entitled to see out that contract if he so chooses? Well yes, he is entitled to, but don't expect us to be happy about it, especially when he's being paid far more than he's worth.

I'm not in the group that's ready to crack open the champagne if Downing departs, but I empathise with the frustration felt by those who are, as I've been in that situation many times with other players over the years. Paul Stewart is the first one that springs to mind; Liverpool just couldn't seem to move him on no matter how hard they tried. He'd go out on loan, then he'd be back. He'd go out on loan, then he'd be back.

The thing is though, why should Stewart accept a pay cut or a move to a club he didn't fancy, just because Liverpool no longer wanted him? The club gave him a contract, all he's doing is honouring that contract. I understood that completely, but as football fans emotion often overrules logic and I really had it in for Stewart back in the day. It's happened with others too, El Hadji Diouf, Alberto Aquilani, Philipp Degen ... all players I couldn't wait to see the back of but who seemed to just keep resurfacing around the u-bend every time it seemed they'd been flushed away.

I always used to look forward to the first day of preseason, seeing the photos in the Liverpool Echo of the players returning to training, hopefully with one or two new signings there to whet the appetite. It was a highlight of the football calendar. Then somewhere along the line it changed. I'd see those photos in the paper and instead of getting that new-season buzz, I'd end up on a bit of a downer.

All these players that we'd forgotten about after they'd been farmed off on loan to get their overinflated salaries off the books would suddenly show up again at Melwood because no one would take them on a permanent deal ... "Salif Diao! Is he still here? And is that Damien Plessis? That's just great that is. There's Nabil El Zhar! And wait ... is that ... it can't be ... no way. It's Charles Itandje! AAARGH!"

Some have that kind of hostility towards Downing, but personally I don't and if he is still at Anfield when the transfer window closes I'm fine with that, but equally I won't lose a minute's sleep if he does end up leaving and I wouldn't rule that out despite his comments this week. If Liverpool's reported interest in the Brazilian forward Bernard materialises into a transfer, that may force Downing into a rethink. And if it's not Bernard, it may be someone else as Rodgers is definitely looking to add to his group of attacking widemen.

If he does indeed stay, I don't expect Downing to be playing every week and if he is then that means two things: that others are either injured or not performing as expected and that the club had failed to bring in the other top-notch attacking players Rodgers is still hoping for.

I've got no beef with Downing, he did OK last season and proved to be worth his place in the side. His first season was unquestionably poor, however, and did not look like a £20 million player. Liverpool clearly overpaid for him and he clearly underperformed in his first season. He's not a bad player, he's just not worth anything like the fee it cost to take him to Anfield and I think that's where a lot of the fan hostility comes from.

It's actually quite rare to see him do something glaringly bad in a game, but it's equally rare to see him do something spectacularly good. I'd say he's the polar opposite of Luis Garcia. The little Spaniard would often be infuriating, giving the ball away cheaply time and again, but then just as you'd be reaching the end of your tether with him he'd produce a moment of stunning quality to win the game.

Downing is neither really bad nor really good, he's just really "meh." His technique is sound and he keeps possession well, but in the position he plays and for the fee he cost, he just doesn't provide enough to be seen as a viable starting option every week if Liverpool are to be successful.

If the team is playing well he can be a useful, functioning part of it, as we saw in the second half of last season. If things aren't going well and you're looking for someone to turn a game with a bit of magic or to step up and take a game by the scruff of the neck, Downing isn't your man.

The problem is, when the club has paid £20 million for your services (not to mention the weekly salary), you need to be that man. You need to provide double figures each season in goals and assists, but that's just not who Downing is.

For £20 million you want a Juan Mata or a David Silva. Instead, Liverpool got a left-footed James Milner.