Liverpool must tear down their marquee infatuation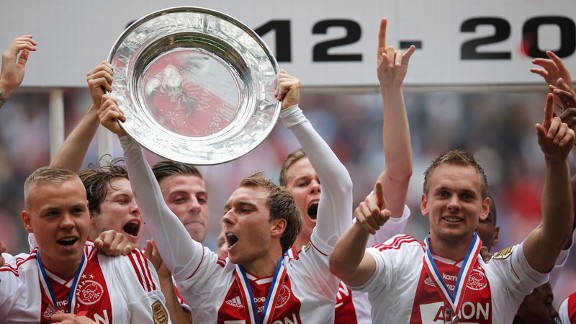 GettyImagesAjax's Eredivisie title-winner Christian Eriksen has been linked with Liverpool.
The lexicon of football can be wonderful, the perfect opportunity for those with an unconventional imagination to flex their minds.

A "managerial merry-go-round" prompts images of Arsene Wenger, Harry Redknapp and Sam Allardyce straddling pink plastic horses while contently devouring cotton candy of the same colour. "The road to Wembley" is a long strip of tarmac which club cars career up, destruction-derby style, until two remain and park in the extortionately priced car park outside the stadium. The "transfer window" is actually a giant window which every new signing must climb through, its key guarded by an excitable Scotsman with a penchant for shouting and the colour yellow.

But one resonates particularly throughout the summer. From the final kick of the previous season to the closing of the aforementioned window, there is an insatiable desire from supporters to see the arrival of a "marquee signing." Never has a player been unveiled under a marquee, nor is there ever a marquee to adorn their name in neon lights. No matter, for those two words insinuate far more.


A marquee signing encompasses the lot: they sell hundreds and thousands of shirts and cure millions of diseases, all with a nonchalant kick of the ball; they walk around the city which arms outstretched, disciples kneeling at their remarkably expensive boots; statues are erected and regimes crumble, such is the weight of this player's name. No wonder Liverpool were tracking he of hefty syllables, Henrikh Mkhitaryan.

It is notable that, of all the things a marquee signing brings, footballing ability is rarely at the summit of the checklist. That is not to suggest these marquee signings, whoever they may be and wherever they may reside, are not good footballers. Indeed, their status has been built on their ability with the ball; the better their performances, the bigger the mystique that surrounds them and all they can offer.

But perception is paramount. These signings do not -- and cannot -- come from mid-table sides on the continent, nor are their faces unrecognisable as they walk along the street. What's more, they are rarely defensively minded; instead, they are attackers who move with freedom, who play the game as every rhapsodic child does in their local park.

Liverpool are now desperate for such a signing, or so it would appear. The signings of Simon Mignolet, Kolo Toure, Iago Aspas and Luis Alberto are, above all, pragmatic. Everything about the signings pointed to a diligent approach. Brendan Rodgers needed another goalkeeper to challenge and usurp Pepe Reina; he needed players who were content to be part of the wider squad, but unrelenting in their efforts to break into the first XI.

Yet that is not enough -- no bold claim given Liverpool finished seventh last season, of course. Even Rodgers admitted, reluctantly, that he was now looking for players who would immediately improve the first team.

Still, there is a difference between a first-team player and a marquee signing. A marquee signing does not just bring goals, but brings excitement; he does not simply make assists, but makes a statement. With Luis Suarez forever angling away from Anfield, Liverpool want to have a player who reassures them of their standing, both domestically and in Europe.

But what they want and what they need are two different things. The name of Liverpool can only offer so much; so too the snapshots, ever-fading, of their history. The reality is that they were the seventh-best side in the Premier League last season and, as a result of that, cannot even offer European football to prospective employees. There are four teams in England who would logically be preferred to Liverpool as a destination; away from home, the Bundesliga's allure continues to get stronger, while the top sides in Spain and Italy can offer more.

Perhaps this clamour for a marquee signing -- by supporters, at least -- is both misplaced and unrealistic. These players are not what Liverpool need, and they might not be able to obtain them anyway.

Signings that serve as a statement of intent have not been kind to the club traditionally. Stan Collymore's arrival confirmed that Liverpool were now financially competitive and could dominate for years, but he would leave two years later. Paul Ince came from Inter Milan in 1997 with Liverpool needing something, anything to guide them to the Premier League which was moving ever-closer -- but that something, anything, was not a former Manchester United midfielder who was all bluster and little bite. Robbie Keane, more recently, was to herald a bolder, more attacking side, but the Irishman would return to Tottenham within six months.

There are no guarantees, and history is a mere guideline, granted. It is worth noting, however, that players such as Sami Hyypia, Dietmar Hamann, Xabi Alonso, Luis Garcia and Javier Mascherano did not arrive with ticker tape blowing around their ankles; more was made of Andy Carroll's signing than Luis Suarez's. Only Fernando Torres, in recent years, has been placed upon this wobbling, unstable plinth and avoided free-falling from it.

Liverpool simply need to concentrate on bringing in players who improve their fortunes on the pitch before anything they do off the pitch is considered. Christian Eriksen, Bernard and the other big-name attacking midfielders linked with little concrete evidence may very well do both. But there is no quick fix to Liverpool's problems; there is no magic formula to jump from seventh to first -- not in this climate.

The summers of searching for the final, glorious piece of the jigsaw may have to be suspended, if only for a little while. Rodgers sits, pieces strewn across the floor, with plenty of work to do.