Jonjo Shelvey move is best for both parties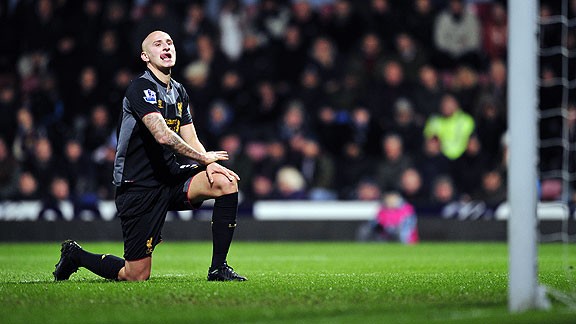 Glyn Kirk/AFP/Getty ImagesLiverpool midfielder Jonjo Shelvey appears to be on his way to Swansea.
With half-an-hour played in Liverpool's FA Cup third round tie at Mansfield Town, there was a piercing whistle, loud enough to be heard across the entire county of Nottinghamshire. It was not the whistle of the referee, but of Liverpool manager Brendan Rodgers, who crouched in the ramshackle dugout at Field Mill.

On that bitterly cold January afternoon came acerbic words for Jonjo Shelvey, the man entrusted as Liverpool's creative pivot, the position most important to Rodgers' way of playing. "Jonjo," Rodgers shouted, while placing his two middle fingers upon either temple. "Jonjo, get tighter, focus."

Shelvey acknowledged Rodgers' request with a nod of the head and a thumbs-up, before placing his hands on his hips and staying static as the ball broke forward. Rodgers whistled and motioned once more; once more Shelvey gave signal he understood. Rodgers turned away, frustrated, muttering to assistant Colin Pascoe.

The whistling and shouting could be heard so clearly because the non-league side's support, boisterous upon kick-off, had quieted. Daniel Sturridge's debut goal within five minutes had dampened the atmosphere; it was a goal set up expertly by Shelvey, a pass as incisive as it was intelligent. Yet here was Rodgers on the touchline, no more than 20 minutes later, frustrated, angry, flummoxed.

This was a microcosm of Shelvey and the mystification of the 21-year-old: from quality to maddening inability within seconds. He had played a big part in giving Liverpool the lead, but was also visibly contributing to their struggles off the ball.

Rodgers spent a while micro-managing the midfielder at Mansfield, far too long in truth. The Northern Irishman would whistle, beckon, instruct; he would tell him where to stand, who to mark, when to press the opposition. Solitary words as verbal Post-it notes, failing to stick with the youngster.

It was not laziness from Shelvey, nor was it an absence of desire -- the only thing absent was his mind and legs. He looked weary on the heavy, mud-stained pitch; he looked confused at the role expected of him behind Sturridge, particularly defensively.

Mansfield was only one game, granted -- but it came at a time when his Liverpool career, so promising under Rodgers' early tutelage, had already started to dwindle away. His previous start came on Boxing Day at the Britannia Stadium against Stoke and, while the majority of the side were poor, Shelvey was particularly abject. He would not play the next two games against QPR and Sunderland.

By this point, Rodgers had made a decision to change both the style of football and the personnel; players more comfortable in possession were demanded, but also those capable of quick, one-touch football on the counter.

In a season of learning for the manager, Shelvey became one of the biggest casualties. With Swansea City eager to buy the player for £6 million and Liverpool happy to sell, confirmation comes of the irreversible decline. Gather round all, for this is the story of yet more unfulfilled potential at Anfield.

But before the why comes the how. Before the trip to Mansfield, Shelvey's season looked set to be his breakout one, the one which would confirm everything ever said about him: he made 15 starts, appeared a further 10 times from the bench and earned his maiden England cap. But after Mansfield, he would only make a further six appearances, two of them starts and -- suffice to say -- his England cap remained free of company as well.

That is not to say either Stoke or Mansfield were the 90 minutes that signalled the end. Indeed, the agitation of Rodgers as he tried to guide Shelvey through the cup tie was one well-worn, a long way from the manager's words of comfort given on the Being Liverpool documentary in pre-season.

That contrast, that stark difference, surmises Shelvey perfectly. He is a walking -- and oh, how he walked -- enigma, a player who appeared to have the world at his feet but forgot to tie his shoelaces.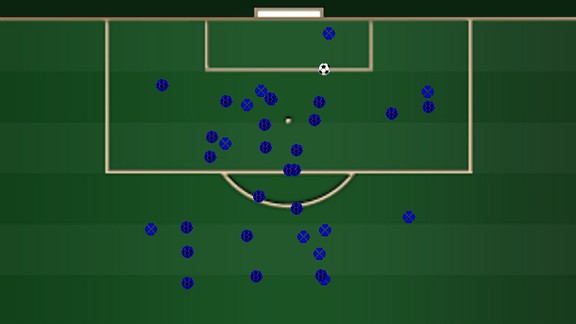 Other / ESPN StatsIn the Premier League last season, Jonjo Shelvey scored one goal form 35 shots. The worst rate in the league.
By October, he was an England international, the driving force of his club's Europa League campaign and one of the few people to survive a four-letter tirade towards Alex Ferguson. Though the comparisons to Steven Gerrard were unfair, they were also unstoppable. Now, he will be compared more readily to David Thompson; a young midfielder who -- for a variety of reasons -- never became what people expected of him at Anfield.

It would be easy to blame Shelvey entirely, to consign him to a lifetime of wounded hands, forever picking up fragments of his broken dreams. It is true he did not replicate performances from earlier in the season -- the all-action nature of Manchester City at home, the remarkable cameo away to Young Boys Bern, the tireless graft as a false 33 at West Ham -- and that his outings towards the end of the season, fleeting and forgettable, did little to impress those who needed to be impressed most.

But this is not necessarily the archetypal story of the promising youngster who stalled and stagnated, collapsing under the weight of expectation. His England cap did not herald the beginning of the end and it did not unearth an unruly egotism that eroded all goodwill. Instead, he was simply a victim of circumstance, failing to develop at the same rate his side were.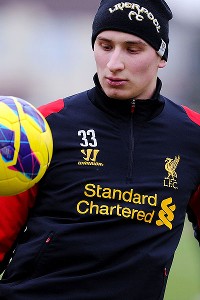 John Powell/Liverpool FC/Getty ImagesJonjo Shelvey: Moved from Liverpool to Swansea for a purpose.
Shelvey is a player who needs to be central to everything, somebody who could bring something out of his team-mates providing they seek to do the same. With the signings of Sturridge and, more pertinently, Philippe Coutinho, any possibility of that happening at Liverpool ended.

The Liverpool that lost just two of their last 16 league games could not accommodate a player who still dwindled off the ball and was erratic on it; with the necessity for better results quickly, there was no desire to play a player who might be good enough. Coutinho and Sturridge had both played Champions League football while Jordan Henderson -- when eventually given his opportunity -- was more attentive and disciplined off the ball.

Shelvey is not a bad player and, at 21, still has plenty of time to develop -- he must to ensure he does not become an unwanted member of the international one-cap club. But with the arrival of Iago Aspas and Luis Alberto at Liverpool, the playing time he requires to develop, as well as the playing style that suits him best, will not be found on Merseyside.

There will be no tears or regret, alas. Not from Liverpool, who sell their eighth-choice midfielder for substantial profit; nor, in time, should there be tears from Shelvey, who needs to move for the sake of his career, and will no longer hear that shrill Antrim whistle of Mansfield ringing in his ears.