Fans melt down before transfer window opens
In a week of mystery and unanswered questions, the most pertinent one of all: How did you spend your Wednesday afternoon?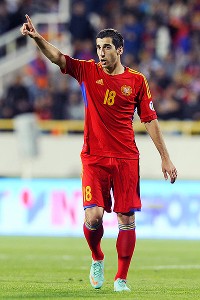 Claudio Villa/Getty ImagesLiverpool supporters are relentlessly tracking the team's pursuit of Henrikh Mkhitaryan, illustrating the absurdity of the modern transfer market.
Was it spent in your office, fingers furiously typing, eyes squinting smaller by the second with the working week crawling by? Did you manage to take some time off in the sunshine -- or rainfall, if that's more suitable -- and walk around your local park, seafront, city centre? A movie with the girlfriend, a barbeque with friends, nondescript board games with the family?

Or perhaps you were one of those people -- one of those who shunned all that to partake in flesh-tearing hysteria on social media; one of those who maniacally scavenged, like a crazed, ravenous racoon, through the rotting mountain of sugar for a pearl of wisdom on Henrikh Mkhitaryan.

-Siqueira cool on transfer talk

For those blissfully unaware -- and how blissful ignorance can be -- this all began on that Wednesday afternoon. A picture of Liverpool target Mkhitaryan, supposedly in a London hotel, was leaked to the world via social media.

The Apocalypse will not be heralded by the hooves beneath the four horsemen, but the serene tweet of a little blue bird. The picture went viral. It was shared, analysed, deconstructed; it was laminated, liquidated, used as some sort of lotion. Praise be, the Armenian was on his way to Anfield, and is now sliding across every pore of these bare-chested lunatics.

That was just the start. Then came the questions -- few, unsurprisingly, about the veracity of the picture itself. The stream of consciousness became an ocean: Was he signing for Liverpool and when was he signing for Liverpool and how long will it take for Liverpool to sign him and how much money will he cost Liverpool and what number will he wear for Liverpool and has anyone even seen him play, anyway?

And so this frontal-lobe castration continued with hundreds flying over the cuckoo nest, obsessed with the false reality of Mkhitaryan's imminent arrival. Attention turned to local journalists for answers; answers they must possess, answers they have decided to withhold to the detriment of their profession. No news was very much bad news and besides, local journalists know nothing anyway, they decided.

The surrealism and frenzy of the transfer window has been critiqued unceasingly in recent years, unfairly so. In a world where millions of pounds are tossed around like Monopoly money for players, there is no surprise there is irrationality. Football fans, by nature, are irrational and rightly so. That applies to all clubs, in all divisions.

Upon hearing of Southampton's interest in Valencia midfielder Ever Banega, the latest home shirt -- shorts and socks, too -- should be purchased by supporters and worn by their pet dog, creating a disinterested, hairy version of the Banega-Morgan Schneiderlin midfield axis that will never materialise.

News of potentially signing Hamburg midfielder Dennis Aogo should always be met with an instantaneous ringtone change to Wham's Wake Me Up Before You Go-Go. Candle-lit vigils and rallies must accompany any team who want to sign Yannick Djalo.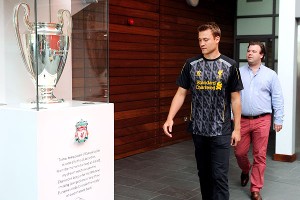 Andrew Powell/Liverpool FC via Getty ImagesThe absence of Liverpool managing director Ian Ayre at Wednesday's introduction of Simon Mignolet only fanned rumours regarding Mkhitaryan.
But there is irrationality, naive enthusiasm, and then there is simple insanity. Back to that insanity and Mkhitaryan, who still sits in that London hotel lobby: With no news forthcoming and questions unanswered, imaginations flew. Liverpool managing director Ian Ayre, traditionally so prominent in photographs when new signings are welcomed, had not been alongside goalkeeper Simon Mignolet during his unveiling Wednesday.

It now all made sense to even the most nonsensical. Ayre was not engaged and busy elsewhere, but rather dealing with Mkhitaryan's agent in that London hotel. Back to the local journalist they went, demanding the whereabouts of Ayre. Ayre was in Liverpool, they were told; they told him, for the second time, he knew nothing.

The world turned for everybody on that Wednesday afternoon except those people fixated on how Ayre was spending his. Posts surfaced -- 25, 50, 100 in a few minutes -- debating with themselves, each other and anybody else. They did not debate how the picture was in no way conclusive to it being a London hotel, nor that the deal is so complex that a simple meeting would hardly suffice.

Nobody even thought to debate whether, if the photograph was of Mkhitarayan in a London hotel, it could have been taken in November when his club Shakhtar Donetsk played Chelsea.

But it is not what they debated, but the fact any of this was being debated at all. Underneath all the absurdity and mania lies a genuine question: When did transfers become as important to some supporters as actual football results? When did the cult of transfer rewrite the narrative of how football is viewed?

Most transfers have now become sagas, with a winner and loser required upon completion. Rumours of player arrivals are either celebrated like three points or prompt the vexation of defeat. Moods alter drastically at any news, heads rest in hands when targets move elsewhere, blame is designated viciously in failure. That thrill, that buzz and emotional undulation of 90 minutes of football, is replicated desperately, excruciatingly, over an entire summer. Each day is a constant, continuous game, except no winner is guaranteed and the pursuit remains.

Good signings correlate with good performances obviously, and that is where the desire to do well in the summer stems from. But nothing is guaranteed.

There is no acknowledgment that these players have to be coached properly and implemented correctly. There is a refusal to accept that not everything in football works so simply as a good player makes a team better. When the football begins, results are both a by-product of transfer activity and an excuse to discuss the changes ahead: Managers no longer have to tweak tactics, but their transfer strategy too; a player cannot suffer a poor performance without being replacements being immediately touted, their YouTube compilations invariably set to 1990s Europop.

Ultimately, there is a futility about it all. If a signing is to happen, it will be made official when a club website posts pictures of the player awkwardly holding up his new shirt, accompanied by evidence of a topless examination -- always, always topless -- from the club doctor. Mkhitaryan may have been in London and negotiations could be advanced, but persistent worrying makes little difference to that.

What alarms is that there is no real sign of the juggernaut halting, that even the pursuit of a player is met with such fervour now. There is no telling where this could lead: Interviews, perhaps, from managing directors and directors of football about on-going contract negotiations. "This pen is from the top drawer," said Ayre, as he began to compose a potential offer. "It is a pen of great heritage, a pen we have scouted for a while." Or maybe his walk to his office down Castle Street will soon be lined with the banners and pyrotechnics deserving of his new-found importance; the open-top bus parade awaits.

Because it should not matter where a club's managing director is on a Wednesday afternoon, Friday evening or Monday morning -- but it does. The media have to take responsibility for most of this obsession, particularly the necessity to fill blank spaces, both television and online, for 24 hours a day. None of us are free from blame.

But the seeds have always been there -- ask Kevin Keegan who, in January 1995, was confronted by angry Newcastle United fans for selling Andy Cole to Manchester United for £6m and Keith Gillespie. Keegan stood outside his office and told them, straight-faced, that Gillespie was a magnificent player. It marked the first time one of his raven-black hairs turned grey, and also one of the first times such revolt had occurred on camera.

They were right and Keegan was wrong, of course. But the camera has been rolling ever since, and the introduction of two transfer windows has only served to concentrate the panic into smaller, indigestible segments.

So, how did you spend your Wednesday afternoon? What were you doing when this, all of this -- transfers, Twitter and missing managing directors -- not only jumped the shark, but bludgeoned it to death? Football can be irrational, but it is also meant to be fun -- chasing club officials and pining for a player few know much about is anything but fun and anything but football.

Football fans all over must fight the urge and enjoy the summer, for the transfer window isn't even officially open until Monday. Good news for clubs as they look to add to their squads, but terrible news for all those who simply want the football to start once more.