Mignolet deal shows Liverpool are catching on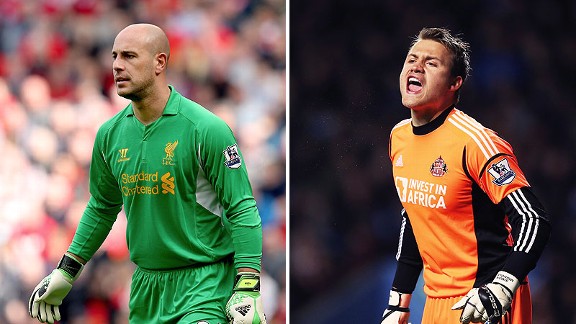 Getty ImagesWill Pepe Reina stay and fight for his place with Simon Mignolet?
Note: This is an updated version of an earlier post reflecting Liverpool's signing of Simon Mignolet.

Of all the epithets thrown at Liverpool, one stands true above all: Liverpool are a club fettered to tradition.

It has been used throughout time as something to be proud of, something to celebrate, the foundation of the fabled Liverpool way. Tradition is the reason players want to sign at Anfield; it is why the stadium used to vibrate and reverberate through the foggy Champions League night sky, why opposing goalkeepers always approach the Kop to applause.

- Randall: Mignolet exit poses questions
- Liverpool sign Mignolet from Sunderland
- Walsh: Reds signings bring uncertainty

Tradition is now a curse, according to some -- particularly when tradition inhibits how to conduct business. Business is a dirty word in what was once a game so pure, but that is what the game has developed, manifested, distorted into. Tradition dictated that Liverpool's official club store was closed the day after their fifth European Cup, losing out on a massive amount of revenue; it stopped them, several times from the 1990s onwards, from constructing a new stadium.

Most important of all, tradition forces the club to look after their own players at whatever cost; a blind, naive loyalty to those they employ. This is Anfield, where ruthless decisions are often shunned and egos are fluffed further. Maybe they need a bigger sign in the tunnel.

That was the reason Kenny Dalglish was handed a three-year deal by Fenway Sports Group; that was why the final embers of Jamie Carragher's career burnt away on the pitch week-in, week-out. That was the reason Lucas Leiva was given a long-term, handsomely paid contract extension after recovering from two serious injuries in the space of a year.

That is not all necessarily true: Dalglish was fantastic in his half-season as caretaker, Carragher was the only realistic option after Martin Skrtel's season of woe, and Lucas is 26 with an extended contract always likely.

No matter. Perception can be king. While tradition surrounding Liverpool sees ink weep from quills over how different -- indeed, special -- they are, it is also a byword for being a little bit soft, a club that is failing to adapt to the dramatic shift of the landscape over the two decades previous.

Other clubs know this and take advantage. The belief that Liverpool should always play with two strikers cost them £20 million for Robbie Keane in 2009, while the notion that players will not happily see their contracts run down was disproved when losing both Steve McManaman and Michael Owen to Real Madrid for less than £10 million.

But with Liverpool's purchase of Sunderland goalkeeper Simon Mignolet comes a jarring change.

Pepe Reina has been the club's first-choice goalkeeper since 2005 -- a fine servant of the club, one who has won two trophies and widespread admiration. Tradition says Reina's flirtatious glances at Barcelona were to be met with subservience by Liverpool, like a father who pushes his daughter into the arms of her first love.

Instead, Liverpool have shown proactivity, targeting and capturing the Belgian goalkeeper and making their intentions clear.

The fact that Barcelona's current goalkeeper Victor Valdes has now stated his intention to see out the final year of his contract at the Camp Nou means Reina is now to challenge the new arrival from Sunderland. Or so it seems to Reina, at least.

"Every team needs competitors, and when it's positive it is more than welcome. If it is finally done, I'll welcome him a lot, and anything he needs, I'm here," Reina said while on duty with Spain at the Confederations Cup.

Some will argue that the capture of Mignolet is a blatant disregard to all Reina has done for Liverpool, disrespect of a player who has kept 177 clean sheets in 394 games. There will be a feeling that if this is to be the end of his career at Anfield, he deserved to end it with more decorum than being forced out by circumstance. Maybe that is Liverpool's intention. Maybe Liverpool no longer want to be associated with the sentimentality and tradition that lines their history.

There are, however, reasons to plan for the departure of Reina: Barcelona are still reportedly interested and his contract, widely thought to be in excess of £100,000 a week, is quite large for a player who turns 31 in August. By signing Mignolet the club shed yet more figures from the wage bill, albeit at the expense of shedding experience as well. There also remains the unshakable theory that the Spaniard is not what he once was, despite an upturn in form since Brendan Rodgers' arrival.

Along with Steven Gerrard and Daniel Agger, he is only remnant of life before Tom Hicks and George Gillett. They are the only survivors of that tumultuous time which saw Reina's Spanish international team-mates -- Xabi Alonso, Alvaro Arbeloa, Fernando Torres -- leave, as well as Rafael Benitez and goalkeeper coach Xavi Valero.

The departure of Valero in particular seemed to correlate with Reina's loss of form more than anything else; reports would often reflect well on their relationship, particularly in the meticulous nature of Valero's coaching. It was thought Valero would offer Reina compilations of strikers and their actions when in front of goal, as well as insisting on Reina taking tiny steps in a particular direction depending who had the ball and where he had it on the pitch.

But above all, Liverpool are doing this because they can. This was an opportunity for Liverpool, still in the infancy of new ownership and management, to show ruthless aggression in the transfer market. It also ensures any potential bid for Reina is at their premium price, regardless of whether that is regarded as correct.

Discussion of whether Mignolet is better than Reina, or ever can be, is lined with pesky caveats: Playing for Liverpool could see Mignolet's performances improve or deteriorate tenfold. The defence he would play behind, following the addition of Kolo Toure, is still under construction.

Statisticians will suggest that numbers indicate Reina's performances have deteriorated, while the Belgian's compare favourably. Romantics will remind people of the romance, of how Reina's game is not one that can be gauged by numbers alone and his two trophy wins are all that matter; of how he did not possess the adamantine ways of his first few seasons, but he did keep 14 clean sheets in the league.

Nobody is right; nobody is wrong. The debate will be held constantly, its answer only fully available over a long period of time.

But what is fully available is the clear shift in Liverpool's attitude to those who have been at the club for a fair while. Skrtel is playing a cat-and-mouse game without realising his tail is forever in their grasp; Lucas and Glen Johnson could also leave if suitable bids were received. Even Luis Suarez's constant pandering to Real Madrid has prompted a benumbed, businesslike response.

There is no telling whether the mooted departure of Reina and arrival of Mignolet will be the right move, but what can be told is how Liverpool are hoping to break with their perceived tradition. Without Champions League qualification in four years and no league title in 23, that may be no bad thing. Much like the goalkeeping question, its answer will only be told in time.