Alberto and Aspas signings bring uncertainty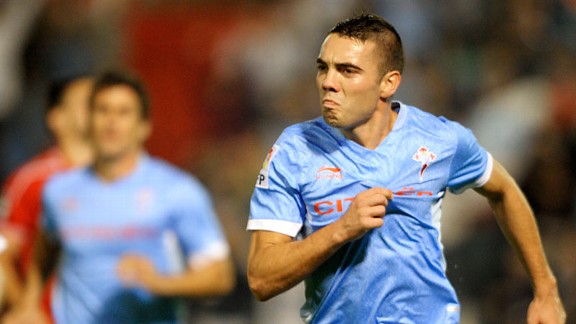 Miguel Riopa/AFP/GettyImagesIago Aspas: Described as feisty, temperamental and mercurial
The footballing Spanish Armada is approaching Merseyside for a sequel, it seems. After the arrival of 16 Spaniards at Anfield over the past 10 years, two more sail along the river within 48 hours. Liverpool have officially confirmed the signatures of forwards Iago Aspas and Luis Alberto -- two players raised at the top and tail of the country, now brought together by manager Brendan Rodgers.

If Rodgers faced accusation of targeting players he knew well last summer, the finger will point less firmly now. It is a nod of the transfer committee's work while supporting the theory the world should not have been placed upon the shoulders of a manager yet to turn 40 years old.

- Shakhtar: No approach for Mkhitaryan
- Aspas wasn't worried by deal delay

But although Liverpool monitored Alberto since last year, these are still players who represent meticulous scouting; two attacking assets -- one from the lower reaches of La Liga, the other on loan at Barcelona's B side -- whom few people in Britain know about.

It is high-risk, high-reward for Liverpool. Aspas is described as feisty, temperamental and mercurial by those who have watched him intently, but he is one flashpoint away from being labelled a liability; Alberto is highly regarded, thought to have the potential to belie Barcelona's decision not to sign him on a permanent contract, but failure to show that immediately will discard him on the scrap heap of failed talents.

There are few certainties surrounding the two, undoubted gambles ahead of a season that needs stability more than anything. Not every new signing can hit the ground running, weaving, gliding like Philippe Coutinho.

But Coutinho will no doubt be the 5-foot-7 measuring stick for every signing from abroad, particularly those of attacking persuasion. Both Aspas and Alberto can play across the front three forward positions, a trait clearly favoured by Rodgers, as well as a more withdrawn, creative role behind the central striker.

A number of Alberto's favourable statistics -- 11 goals and 18 assists, as arbitrary as the latter can be -- have come from the left side, his right foot doing damage; Aspas, meanwhile, played as a lone striker for Celta Vigo but is equally comfortable using trickery in a deeper position to bypass defenders. Both are roles performed admirably by Coutinho.

Uncertainty abounds -- uncertainty over how the two will adapt to England; uncertainty over how, and when, they will fit in alongside Coutinho. There is also uncertainty on the club's priorities this summer, with two more players added to an attack that scored 71 goals last season. Although Rodgers' desire for 20 more league goals is obvious, the club must take care so that the renovation of his defence -- Liverpool's biggest issue last season -- is not left short.

But the biggest uncertainty is just why they have been signed at all. This is no negative reflection on either player, particularly the 20-year-old Alberto, who is thought to have endless potential. Yet amid the arrival of two more players capable of lining up across the front three, and with the pursuit of Henrikh Mkhitaryan still ongoing, questions are asked on the future of others currently at the club.

Stewart Downing, as workmanlike as he was last season, may look over his shoulder with worry. Jonjo Shelvey, a walking warning to Alberto of how potential must be supplemented, may also be a candidate to leave. Raheem Sterling and Suso, who played far too much at the start of last season, could potentially be loaned elsewhere for a season.

Such dealings, though conjecture at this point, make sense given the remit set by the ownership. The squad's average age would be lowered, likewise wages, while the development of Sterling and Suso would continue elsewhere for a year. It would leave seven or eight players vying for three or four first-team places.

But everything, as it has been and will continue to be all summer, hangs upon the volatility of Luis Suarez, he of the most volatile nature. The Uruguayan keeps talking to Real Madrid via the South American media, but the Spanish club have yet to reciprocate. Although the hope is that the duo will complement Suarez, there is a real possibility they are part of the plan to replace him.

With the club not having European football to lure such talent and the squad needing to be swelled, the likelihood is any money generated by any Suarez sale would be used to purchase three or four players rather than a direct replacement worth £50 million upward. Alberto and Aspas may be the beginning of such movement. Arsenal would testify to the danger of such juggling, with their decision to replace Robin van Persie with Santi Cazorla, Lukas Podolski and Olivier Giroud not as successful as they hoped.

That is what ultimately will judge the signings of Aspas and Alberto once the transfer window closes. On a team that has benefited with Coutinho's technique on the ball and a style of play that relies on players comfortable in possession, the arrival of two players raised in an environment where technical ability is king is something of note. But Liverpool will hope they play alongside Suarez, not instead of him; unfortunately for Rodgers, it may not be his choice.

If Suarez does stay, questions remain on who will make way for the pair; if Suarez remains at Anfield, worries persist as to whether too many changes are being made to an attacking formula that worked so well in the second half of last season. Those questions and worries, and all that uncertainty, will only subside if both Aspas and Alberto live up to the club's exalted expectations quickly. If they are unfamiliar with pressure, now is the time to be acquainted with it, for this will be a season full of it, whether unfair or not.