Carroll's Liverpool career over before it began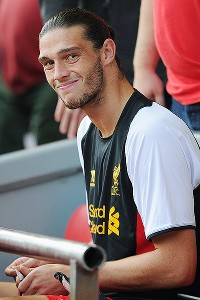 no_source / Michael Regan/Getty ImagesThe smile aside, there wasn't much happiness during Andy Carroll's time at Liverpool.
Andy Carroll's Liverpool career ended on January 31, 2011, the date it officially began. It ended when Kenny Dalglish and Damien Comolli entered a darkened room in the depths of Anfield armed with three-quarters of the 50 million pounds taken for Fernando Torres, intending to find a replacement; the war room was about to become a nuclear fallout bunker.

Regardless of his playing ability, to pay 35 million for Carroll immediately burdened him. Within 24 hours, the man about Toon became the most expensive English footballer of all time, the replacement to World Cup winner Torres and next in a rich lineage of Liverpool strikers. What's more, any opportunity of justifying such a fee would have to wait with a thigh injury ruling him out until March.

This was a 22-year-old with less than 50 top flight appearances -- troubled by injury and leaving his boyhood club, no less -- expected to not only to score goals but validate the faith put into him by the club's biggest living legend.

-Carroll completes Liverpool exit
-Carroll: From misfit to perfect fit

Such was the grotesque amount of money involved, he was never going to justify it, irrespective of how he performed. Good enough was ever going to be just enough. If he scored one goal, 35 million dictated it should be two; one Premier League title should be followed by another two or three given the outlay. Level-headed calls to ignore the price upon his ponytail could only stretch so far.

It is true that Carroll did not ask nor want to become a player with such value attached to him and the blame mainly lies with Liverpool for what would follow. The signing of Carroll for 35 million pounds was one of vanity and panic -- a troublesome mixture if ever there was one -- sanctioned by an inexperienced ownership.

Instead of ignoring Newcastle's demands, the club feared a backlash if Torres was to leave without a reassurance of their ambition. Luis Suarez was evidently not enough, so Carroll was brought in as not only a striker, but a statement -- a vacuous representation of new-found wealth and old-school values, Anfield's very own Great Gatbsy.

But Carroll wasn't great. Reserving judgements is a matter of infinite hope. Supporters were quick to judge, quick to lose the hope that the 35 million had been well spent.

He played as a player who knew what was expected of him and how instantaneous it had to be -- it is not easy to make an immediate impact in a side that looked to play flowing football on the floor. There would be early glimpses of his potential, particularly against Manchester City at Anfield. Not only was he impossible to contend with aerially, but held the ball up well and refused to let Vincent Kompany or Joleon Lescott near it.

It was a rare high point, and a rare sight of Carroll high above his marker. His two goals in that 3-0 win against City would ultimately be his only ones at Anfield, and a third of his entire league total. It would not be until the FA Cup semifinal of 2012, and a late winning goal against Everton, that Carroll came close to repaying a fraction of the fee.

Liverpool would play their best football without Carroll towards the end of Dalglish's caretaker reign, with the striker missing most of the run-in through injury. In Dalglish's first full season, Carroll's reintroduction and reintegration -- and a transfer policy designed to get the best from him -- would coincide with the club's lowest league points tally since 1954.

Ire naturally fell upon Carroll, particularly with reluctance to direct it towards Dalglish. He was regarded as slow, cumbrous and the reason the football of the season before had degenerated; he was the reason Suarez did not score as many as he was capable of and took blame for pretty much everything else in between.

Carroll does not deserve a character assassination, but nor was he blameless. His endeavour could rarely be questioned, but his ability to be the focal point of Liverpool's attack could. Too many times the ball would be fired into the box, only for Carroll to be static on the edge of it -- this was not laziness, but simply an absence of the instinct expected, and demanded, of a player brought in for so much money. With each shot off target and every lost header came increased apoplexy at the fee, its true cost doubling by the day.

The statistics tell the entire story, so too the end result of it all: 11 goals in 54 games, and the two men responsible for signing him sacked. There are no asterisks, no caveats -- Carroll's performances were not befitting of a £35m player, or indeed a player who Liverpool could rely on to score goals. Even disregarding the cost, he still failed to do what was expected of him by the club.

But this was ultimately Liverpool's mess; it was Liverpool who decided to pay for Carroll, and then sign Jordan Henderson, Stewart Downing and Charlie Adam for over £40m to supply him. With Brendan Rodgers' arrival came fresh hope which quickly transformed into well-worn doubts -- Carroll's Liverpool career in a microcosm. Rodgers' desire for a mobile, adaptable centre forward was made abundantly clear early on -- so too Carroll's future at the club.

And yet, despite the hand-wringing and head-shaking at the disastrous Carroll experiment, Liverpool have managed to recoup a potential £17m from West Ham. For Carroll, it is another big transfer fee, but with seven goals in 24 appearances for them last year, the expectation won't be as crippling. His career -- both for club and country -- must forget the past 2 1/2 years as a Liverpool player.

But Liverpool cannot, and should not, forget. Valuable lessons have already been learned from the transfer, most notably in their recent pursuit of players and the frugality of negotiations. It still does not alter the past -- it will ultimately be regarded as the worst transaction in Liverpool's history -- but it will help shape the future. No more signings of vanity or panic; no more purchases based on what popular demand dictates.

Indeed, the sale of Carroll is a humbling moment for the owners, a clear admittance that their money was wasted. That Liverpool have somehow regained nearly half of his original transfer fee should be marvelled at, but not celebrated -- it is still a defeat, and a costly one too. Both Liverpool and Carroll will be sad to say goodbye, but only because they wish they didn't meet in the first place.