Calls for patience must extend towards Borini
The mantra emanating from Anfield has been one of patience and lowering expectations. A reasonable request for a team with their fourth manager in two years; for a team that have finished the past three seasons in seventh, sixth and eighth; for one currently striving to recover from years of mismanagement at boardroom level. Some still aren't listening.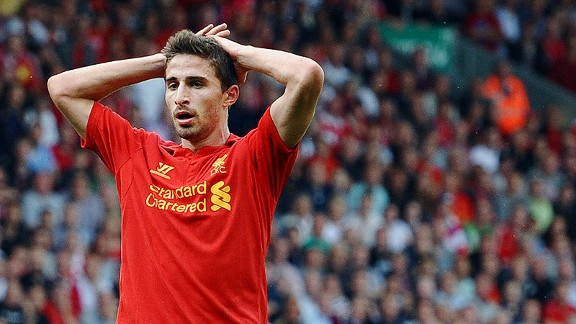 It started before a ball had even been kicked. "We hope to complete a deal this week which will be a real exciting one for the football club," Brendan Rodgers told reporters, just a week into his new job. "One that will be terrific here. I'm sure and the supporters will absolutely love him." Rodgers might have researched all he could about club and city before joining Liverpool, but nothing can prepare for forensic examination of every word uttered. The mere mention of an exciting signing had supporters salivating.

Much like last summer's fantastical pursuit of Juan Mata, belief of an imminent flamboyant Brazilian or big-name Dutchman went into overdrive. Liverpool had not competed in the Champions League since 2009, nor had the money to attract such stars. No matter. The name of Liverpool carries more weight than recent achievement and financial clout, according to some.

Reality hit hard. When Fabio Borini was unveiled as that exciting signing, he was fighting a losing battle already. There's no flamboyance from the quiet Italian from the sleepy village of Bentivoglio, nor is his name one that reels off the tongue when talking of Europe's top talents. The stigma of being released by Chelsea at a young age does not help his cause, nor does his only productive time in England coming in the Championship with Swansea City.

There is selective patience at work at Anfield right now. After two points from four games, manager Brendan Rodgers has - rightfully - been spared in the pushing of panic buttons. He is a young manager who needs time to adapt to the football club. Likewise, the football club needs to adapt to him. But that is a benefit that hasn't been extended to the playing squad.

Though Steven Gerrard and Luis Suarez have struggled to adapt to the stringent ball retention, and Martin Skrtel has wobbled like a stack of Jenga during an earthquake, it's the £10 million man from Roma who has been identified by some as the weak link. With just four league games played, Fabio Borini is the key suspect in the interrogation over Liverpool's poor start.

It's an unfair assessment, and one which betrays the call for patience. At 21-years-old, his signing is not just for the first four games, but the next four years; even then, his record of 15 league goals in 44 appearances points to an impressive 1-in-3 ratio. His age and inexperience is something conveniently dismissed when looking at his first four league games, as is his station on the right hand side for the majority of those games.

Borini thrives in a central role, his goals for Roma last season mainly a by-product of his well-timed runs into the box and natural, instinctive gravity towards the ball. His stint on the right so far this season can be attributed to his industry and selflessness, married with Rodgers' desire to see his most productive asset - Luis Suarez - in a central role. But deployed in his more familiar role in the middle against Sunderland, there were signs of what Borini is about. His tireless running forced Carlos Cuellar into a short pass back to the goalkeeper, allowing Borini to drill a shot into the keeper. He then struck a well-controlled volley from the edge of the area after a multi-pass move, linking well with Luis Suarez and Raheem Stirling.

Aside from the chances, Borini's movement caused problems for Sunderland's defence, his constant darts near post and far post putting Mingolet under pressure and dragging defenders away from the centre. But much like the man whose boots he's ultimately likely to fill - Dirk Kuyt - a lot of his work will go undetected. It has already. His first four league games have been more productive than claimed; the veracity of his criticism far off the mark. His hefty fee, dictated by others, should not overrule his age and inexperience. Though four years older than Raheem Sterling, he is starting from a similar point, and has actually played less Premier League games.

Though he is yet to score in the Premier League, his finish on his Anfield debut against FC Gomel should provide an insight into his ability at finding the net. If that does not suffice, perhaps his time in Italy's top division will. His nine-goal return last season at the age of 20 is better than many. Alessandro Del Piero scored just six for Juventus at the same age, while Filippo Inzaghi bagged just two for Parma. Udinese striker Antonio Di Natale, then of Empoli, scored six in 33 games on loan at Serie B side Iperzola. Only Adriano, 15 goals in 28 games for Parma, can claim a better record at that age, at that level, over the past 15 years.

Those numbers are meaningless if Borini cannot translate that form into the Premier League, of course. But at the age of 21 and after just four Premier League games, it is far too early to write off the £10 million as an act of folly by Rodgers. The young Italian is a player the manager is familiar with and knows his capabilities, both mentally and physically. Though Rodgers has little choice given the striking scarcity, he's already proven he will be patient with his player. It's time for some in the stands to do so too. Some rightfully shout for patience. It's time to start listening.