Fixture list not as it seems for Liverpool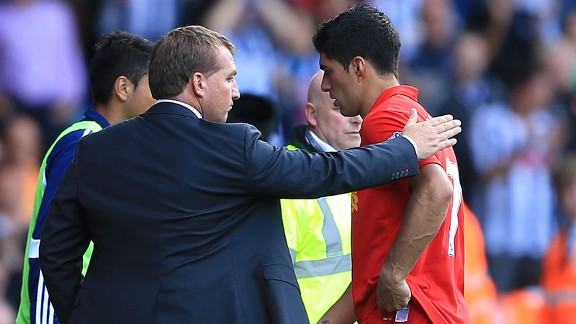 PA PhotosBrendan Rodgers' Liverpool will start the season without Luis Suarez.
The annual release of the Premier League's fixtures - and, indeed, the whole Football League - is one of tradition and habit. Fans will fixate on opening day, final day and local derbies, as well as the Christmas and Easter periods, where titles are erroneously said to be won and lost.

But one tradition is kept before all: No matter how kind or brutish the noble computer has been, clubs will feel aggrieved at what has been given them. Simple starts suddenly appear difficult; scenarios are concocted for the spring, when the final eight games will be against teams gunning for Europe or survival. The worst-case scenario becomes the most-likely scenario.

Liverpool are a side often in this state of angst. In recent years, the fixture list has often brought difficult opening days: eight of the last ten have been away, including matches against newly-promoted Sheffield United in 2006, Tottenham twice and a West Brom side with Steve Clarke -- at the time, recently released from Liverpool -- as their new manager.

Liverpool have only won two of their past 10 opening day fixtures and will feel trepidation over this year's opening day too, as the team is scheduled to host Stoke City at Anfield. Stoke are Liverpool's bogey team and have beaten Liverpool all but two times since the Potters' promotion to the top flight. The advantage of home field does not hold much promise either, as the last two Anfield fixtures were dull, frustrating and goalless for the home side.

But the situation may not be so bleak. This will not be the Stoke of Tony Pulis' design. Instead, Mark Hughes is at the helm and is looking to rebuild the way Stoke play -- as well as his flailing reputation -- but will have had no time to do so by August 17. A confused, transitional Stoke side may provide a porous defense for Brendan Rodgers, as he looks to improve on his team's 61 point tally from last season.

However, Rogers' first objective will be to inspire Liverpool to a better his start than last season, when the team scored only two points in the opening five games. In that case, the rancor towards the fixtures was fair: The inexperienced Rodgers, in his first three home games, faced the previous season's top three as well as West Bromwich Albion and Sunderland away. It took a long time to reverse the damage of that gruesome start -- some is still being reversed, some never will be.

This season, the first five games would appear kinder, though the home fixture with Manchester United at the end of August will have Rodgers tugging at his collar. But again, all is not as it appears: United would not usually be desirable early at Anfield - if, indeed, there is ever a desirable time to face the champions - but there will be doubt in Old Trafford following the retirement of Sir Alex Ferguson.

The pressure will already be on David Moyes, a manager without a win at Liverpool, Chelsea, Arsenal and United in nearly 50 games as Everton's boss. Will he be able to end that streak at Anfield, the ground where he is most heartily mocked? In the eyes of Liverpool fans, it would be a wicked irony. Instead, Liverpool will look at the facts and see a reflection of their predicament last year -- a manager without any experience, attempting to imprint his style upon a new club.

However, care must be taken not to overanalyze the fixtures. All teams play each other twice, and at this early stage of the preseason, it is a struggle to gauge who will offer difficulty. Though fixture lists can help or hinder a season, it is folly to enter into guesswork without a ball being kicked.

Regardless, the two Merseyside derbies in November and January will garner attention --particularly the latter, as it will be played midweek under the floodlights at Anfield. Liverpool's Christmas schedule will also provide excitement, with the club making trips to Manchester City and Chelsea within three days. The team also faces the two Manchester clubs, Tottenham and Chelsea, within a month in March and April.

Liverpool will also be playing without Luis Suarez, at least for the start of the season. But if he stays at Anfield through the summer, he will be available, after his ten-game ban, for either the Capital One Cup third round - if Liverpool progress that far - or Sunderland away on September 28. The club is simply hoping such things will be up for consideration at that point.

But the challenges ahead of Liverpool are still conjecture; what is certain is that the schedule cannot serve as an excuse for the second season running. If they want to succeed, they must win football games, irrespective of sequence, from August until May.