Rodgers can learn from predecessors' transfer dealings at Anfield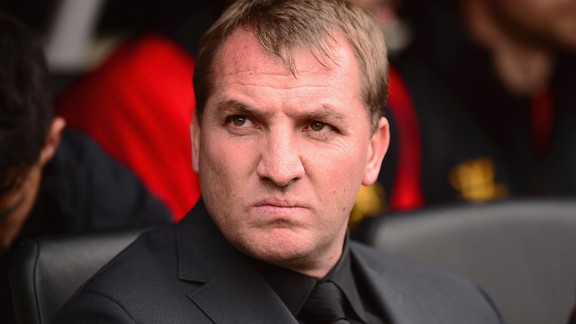 GettyImagesNever has a Liverpool manager faced a second season with the importance and pressure that Brendan Rodgers does.
Comparison has been a particular demon to Liverpool in recent times. At a club with so much to compare, and with so little to celebrate over the past four years, it is little surprise. No failure can occur unaccompanied with a footnote of the past: the points total in Kenny Dalglish's final season was the lowest since 1954; Brendan Rodgers oversaw the club's worst start to a league since 1911; 18 league titles in 1990, none since.

It's an inevitability and an unfair one too, especially as they are rarely positive. The past is often in black and white, caveats and context become frayed over time. Brendan Rodgers' achievement of obtaining more points (61) in his first season than any manager since Roy Evans in the mid-1990s is ignored, the £50 million spent used as an airbrush. The only comparisons that truly matter are those which tick along, every day, month, year: no Champions League qualification since 2009; one major trophy since 2006; 18 league titles in 1990, none since.

- Rodgers to add depth to squad

The only way to halt them is to make them redundant. When the doomsday clock stops and Champions League participation is obtained, the hand-wringing and wistful glances to yesteryear will cease.

But to do that, Liverpool must improve. Seventh and 61 points are three places and 12 points from fourth, after all. It is not an exact science, but realistically 10 to 15 points improvement will be needed. There is much work to do, particularly with the squad.

This is where the devilish comparisons find wings and become guiding lights. Rodgers may not want to be sized up alongside Gerard Houllier and Rafael Benitez, but he would be wise to acknowledge their work in the transfer market, particularly during their second seasons at the club.

Never has a Liverpool manager faced a second season with the importance and pressure that Rodgers does. Not even Dalglish, whose second season would ultimately end in his dismissal, faced this. By next summer, Rodgers will have one year of his contract remaining and Fenway Sports Group will possess a much clearer picture of whether he is achieving progression sufficiently. With four of the six clubs above Liverpool with new managers, the expectation of capitalising increases further.

But before consigning the Northern Irishman to history prematurely, a quick history lesson about those he could follow.

Though Houllier spent part of his first season alongside Evans in an ill-fated partnership with little affability, he had changed enough from November 1998 to the season's end to regard Liverpool as his. The changes he wanted to implement, both on and off the pitch, had begun. Then came the summer: Transfer activity that had official club photographers flustered, the eternal question of how to unveil seven new signings at once finally answered.

To call signing seven players -- all bar Dietmar Hamann below £6 million -- a scattergun approach would do disservice to the scouting system Houllier had cultivated. Hindsight is also kind on them given three would help Liverpool win their fifth European Cup six years later. But Houllier's mindset was clear -- a squad that had seen six or seven squad players leave needed adding to quickly, and this approach minimised the risk. If four or five of his seven arrivals became first-team players, it was a risk worth taking.

And so it proved, both short term and long term. The 54 points became 67 the season after; seventh place became fourth, with Champions League football denied on the final day. Beyond that, Stephane Henchoz and Sander Westerveld were key members of the treble win in 2001, while Hamann, Sami Hyypia and Vladimir Smicer all played big roles in Istanbul.

Benitez's second season is a tale more familiar. A fifth-place finish with 58 points was placated somewhat by winning the Champions League, yet Benitez knew his side needed to improve in the league. Instead of acquiring seven players in the knowledge some would prove their quality, the Spaniard targeted three players who would suit the style of play he wanted to develop.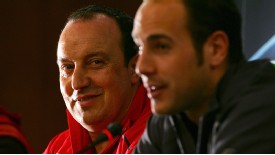 GettyImagesPepe Reina arrived at Liverppol during Rafa Benitez's second summer
In came Pepe Reina, a goalkeeper who was far more comfortable playing behind a high line than Jerzy Dudek, Chris Kirkland or Scott Carson. He was joined by Mohammed Sissoko, a midfielder who would bring energy to the midfield and allow Steven Gerrard to play on the right-hand side. Up front, Peter Crouch was purchased alongside much head-scratching, but it was quickly evident his role was to push defences deeper, allowing more space for the midfield to operate, particularly away from home. The anomaly, Bolo Zenden, was already bought to replace Gerrard after his summer love-in with Chelsea.

It was a pragmatic summer from a pragmatic manager. Sissoko and Crouch would not prove to be players of pristine ability, but the duo helped Benitez fix what was broken the season previous. How well it worked, too. Liverpool won the FA Cup and finished third on 82 points, just nine behind champions Chelsea.

And so to Rodgers -- and his transfer committee -- who would dearly love a 28-point increase next season. The problems at Liverpool appear obvious to all: With 71 goals scored and 17 league games seeing Liverpool concede two or more, the defensive positions need reorganising. Liverpool's defence struggled particularly against players with strength; legs trembled and lips quivered upon the sight of Christian Benteke, Jon Walters, Rickie Lambert and even Matt Smith -- a League One striker -- approaching.

But complications are never far from Liverpool. The club need to be pragmatic, with the arrival of Kolo Toure and apparent pursuit of Kyriakos Papadopoulos suggesting they are targeting players capable with dealing with strength. But Liverpool also need to add to their roster, with a number of squad members thought to be exiting Anfield. Rodgers cannot do what Benitez did in 2006 and simply use his budget on three players, nor can he mimic Houllier and pick a large group of players reasonably priced and accept some may join Erik Meijer and Titi Camara as the briefest of flecks on the canvas.

The players thought to be Anfield-bound -- Toure, Papadopoulos, Iago Aspas, Tiago Ilori and possibly Henrik Mkhitaryan -- show the difficulty in striking the balance, as proven or highly thought of they may be. Though bodies and quality could be added in Rodgers' front three and the defensive dystopia could be fixed, problems still remain; problems, potentially, that will make the difference in obtaining Champions League football. Worries still linger about potential cover at full back, while a lot of hope rests upon the knees of Lucas Leiva and the Brazilian regaining his form following two long-term injuries. Another striker in the mould of Daniel Sturridge would also be desirable.

Proof, if nothing else, of what lies ahead for Rodgers and why such pressure rests upon him. Proof, if nothing else, that a big bid for Luis Suarez could be considered in order to allow Rodgers to pick pragmatically or promiscuously, whichever is decided upon. But any notion of that -- as fleeting as it is -- must be accompanied by a reminder the last time Liverpool sold a forward for £50 million, the club reinvested £35 million of it into Andy Carroll.

Comparison has been a particular demon to Liverpool in recent times, but it can also show an ownership and manager still learning on how to conduct business.