Liverpool's old guard should not be safeguarded in summer plans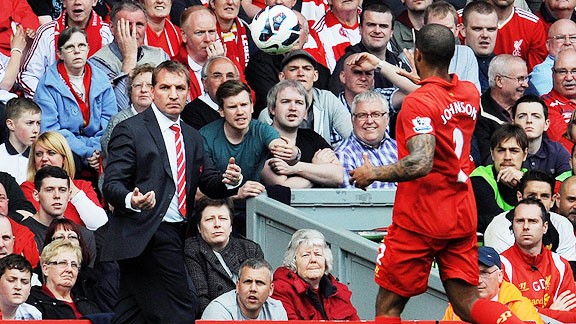 Andrew Powell/Liverpool FC/Getty ImagesLiverpool manager Brendan Rodgers, left, should not be afraid to jettison popular veterans such as Glen Johnson.
Brendan Rodgers would be forgiven for silencing his alarm clock repeatedly on Monday morning, his first morning back at Melwood. When his head lifts from the pillow, his summer is over -- the working world of scrutiny and pressure resumes.

At least he has that in common with the average man on the street, then. Last summer, his first as Liverpool manager, he used the rhetoric of somebody who identified with those who pay their hard-earned money to watch football. If they did not believe him then, maybe they will now. Rodgers is no slouch himself, but the first Monday back is always the most difficult.

- Reina backs Apsas signing

That's if he stopped working to begin with. Though he has been on holiday officially, his mind has never been far from next season, evidenced by the proactivity in the transfer market already. His thoughts will have rarely been static, his mind always moving and ever-changing. Also ever-moving and always changing is the metaphorical carousel installed outside Anfield as potential arrivals and departures come and go.

Rodgers, 40, will wade through the dust and debris at his feet and begin his second season in charge. There is much to do, especially if Champions League qualification is wanted and expected.

It is at this time of year when supporters identify with their managers much more, and not just because of that Monday morning feeling. Though tactics can be detangled and management questioned, it is the squad reshaping in summer that presents the most fervent response, opening an alternate reality of Liverpool under the leadership of thousands, from Bootle to Bangkok. One hundred different players would be suggested by 20 different people, ranging from improbable to impossible.

This creates pressure on the club, if only from the more vocal element of its support. Every player monitored by Liverpool prompts the citation of three more who are supposedly better. That's the magnificent irrationality of football, in which Lionel Messi striding through the Shankly Gates upon Pegasus is only good enough for some folk.

The formula seems simple: buy good players and sell ones no longer required. It has largely been followed so far with the club pursuing the likes of Henrik Mkhitaryan and Kyriakos Papadopoulos, players whose assembly of commendations are matched only by the number of syllables in their names. The anticipated exits of Danny Wilson, Peter Gulacsi and Oussama Assaidi also appear sensible steps toward ridding the squad of players who would offer minimal return in the future.

This is only the beginning. Kolo Toure and, more than likely , Iago Aspas can be considered the calm before a stormy summer of rumour and counter-rumour. But while the focus will be on who signs for Liverpool, there could be far more important decisions to make elsewhere. The squad may need improving handsomely, but it is unlikely that can happen without other players leaving.

The two Liver birds that sit upon their perch and preside over the city look both ways, after all -- one toward the city, one out at sea.

This is what Rodgers and his transfer committee must also do, and how they stand on a perch while they do it -- Liverpool have not enjoyed the most sparkling transfer record over the past five years, a period that has overseen four managers. Indeed, January's purchases of Daniel Sturridge and Philippe Coutinho offered the first unequivocal transfer window success in a long time.

But the transfer window is not all fun, games and Greek defenders with protruding eyeballs and tempestuous demeanours. There are big decisions to make about who will leave the club this summer, decisions that will not be popular with many, nor will the logic be understood.

This is to say nothing of Luis Suarez and his eye-fluttering toward La Liga; it is to say nothing of players such as Martin Skrtel and Sebastian Coates, whose inactivity can be translated as imminent departure. Decisions, instead, have to be made on players who are rated -- nay, loved -- by supporters, long-term members of the squad who would be considered part of Rodgers' first-choice 11 and were very much so last season.

Pepe Reina, Daniel Agger, Glen Johnson and Lucas Leiva have amassed nearly 1,000 Liverpool appearances between them, and suggestion of their sales would not meet a favourable reaction. But bids are reportedly being prepared and will inevitably come in for them.

The quartet is undoubtedly a fine one, though all four have suffered in recent years. Reina is not performing at the level he was earlier in his Liverpool career, though he improved immeasurably as last season progressed; Johnson went from one of the side's best players to a genuine concern, though accommodating for Jamie Carragher could account for that.

For Agger and Lucas, it is a matter of injuries past, present and future: The Dane's injury record has improved, playing 35 league games this season -- his best league tally since joining the club in 2006 -- but worries should still persist over his long-standing back problem; worries, too, over Lucas' recovery should remain, the 26-year-old's reintegration into the midfield not as effortless as expected.

Liverpool do not need to sell, but whether they wish to sell is a different matter. It is certainly something to consider.

Reina and Johnson will turn 31 and 29 in August, respectively, and Agger is 28; though Lucas is still only 26, his two injures, sustained so close together, could also provide problems in longevity. The wage bill must also be reduced further, with these four signing long-term deals on high wages within the past three years.

But forget financial reasoning off the pitch, for there is rationale on it too. The performance of the defence last season -- conceding two goals or more in 17 league games demonstrates issues, but whether collectively or individually is yet to be determined. With Rodgers' style of football so keenly talked about before a competitive ball was retained in possession, there were solid, preconceived notions of which players would fit his way of football. These four were at the list's summit. Preconceptions can be wrong.

There is also the lack of success to acknowledge. They may be good players and it may be unjust that their trophy cabinets amount to a few medals and a spray-painted Adidas trainer, but it is also the reality. What has eight legs, 150 international caps and just two trophies? It may seem like a joke, but there is nothing humorous about achieving just an FA Cup and Carling Cup between them at Liverpool. There have been other brushes with triumph, of course: Agger and Reina played in a Champions League final in 2007 and a semifinal in 2008, all bar Johnson went within four points of the Premier League title in 2009 and a year later saw all four reach the Europa League semi-final.

There are caveats, of course -- with a five-year history so tumultuous, Liverpool is a club full of them. That these players have been either bought or played the majority of their football during the asset-stripping, morale-sapping ownership of Tom Hicks and George Gillett cannot be ignored. There is also a very uncontroversial viewpoint that if clubs wish to obtain Champions League qualification, they do not sell players regarded as among the best they have -- certainly not with changes happening elsewhere.

This is not to advocate the sale of any of Reina, Agger, Johnson or Lucas; this is not to claim Rodgers or Fenway Sports Group are actively seeking to offload them, or that bids for them will even be financially attractive anyway. This is not even necessarily about these four individuals, but rather to ask questions of the whole squad, to leave no player or position safeguarded. If Liverpool are to progress further, questions must be asked by Rodgers on what has gone wrong in both his first year in charge and the years preceding that.

The answers may not be what the supporters want. But that's where he differs from them, as much as he wants to identify with them. He is the one with the hard questions to face and find the difficult answers. He is the one who not only has to smile at the glamorous incomings, but squirm at the potential outgoings. With a seventh-place finish last season and 12 points from fourth, he has a lot of work to do, and there's plenty of smiling and squirming ahead.