Question of progress falls upon Rodgers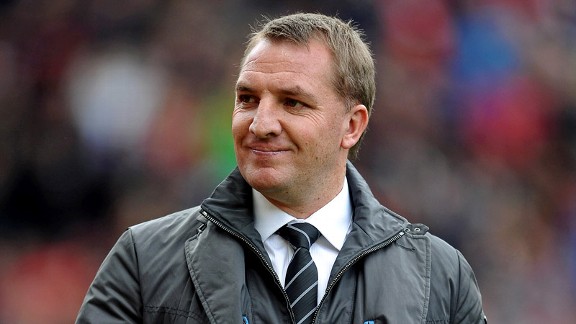 Laurence Griffiths/Getty ImagesBrendan Rodgers flashes a hint of emotion, which was not the norm in his first season with Liverpool.
In a circular season -- circular arguments, circular results, circular arguments -- it would always finish how it began. Television cameras followed Liverpool manager Brendan Rodgers on his first day as Liverpool manager as part of a documentary series; television cameras would trace his final movements off the Anfield pitch after a 1-0 victory against QPR, his first year in charge completed.

He did not want to be the last man to depart, to walk alone in the customary lap of appreciation on a day when all appreciation had been reserved for the retiring Jamie Carragher.

-Gerrard rehab on track
-Report: Carroll holding out for 100K pounds a week

But as Carragher and his teammates applauded the four sides of the ground, Rodgers was halted by the club's television channel. After a season of his quick words and thoughts, this was the final request. In the time he had engaged in those thoughts and words, the pitch had emptied. He did not want to take a solitary lap with his grandson Oscar, nor did he want his first months as manager documented on prime-time American television.

No matter, no dice. That microscopic obsession of Rodgers is a microcosm of his first season on Merseyside.

When Liverpool appoint a 39-year-old manager whose main achievements came at Swansea City, expect scrutiny. Every word was analysed, every change of tactic and substitution forensically examined. Journalists, writers, podcasts and pub-dwellers pulled everything apart and restructured it how they felt fitting. If this was a season to learn on the job, there would be plenty on the curriculum -- in the generation of mass media accessible to all came a fascination never witnessed before.

All reminiscence and review of the season falls upon Rodgers. Bad performances from Liverpool were his failures; good showings the result of his mastery. The players often became abstract beings, puppets controlled by every decision in the dugout.

And so this is how Liverpool's season will come to be defined. The buck begins and stops with Rodgers. In his first season, did he bring the progress required? Vindication of outlaying £15m to sack Kenny Dalglish and appoint Rodgers is clambered for, yearned for by many. Some are still searching.

Progress, that indefinable beast, has been a caveat to everything in Liverpool's season; it has served as a rope to either hang Rodgers or pull him ashore. Both victory and defeat, good and bad, were followed by the request to judge everything at the season's end. Even then, arguments arise over whether nine months of football is long enough to solidify opinion on a concept so subjective.

Here is the objectivity: Liverpool won more games and scored more goals than last season, amassed more points and finished a position higher. They also failed to go beyond two proper rounds in any cup competition and conceded more goals. Though they kept 16 clean sheets -- the second-highest in the league -- they also conceded two or more goals in 17 matches, a record matched by relegated QPR and beaten only by five other sides.

Arguments can be formed on both sides -- this, more than anything, is the underlying issue. In a season so undulating and inconsistent, a firm grasp of progression becomes more difficult.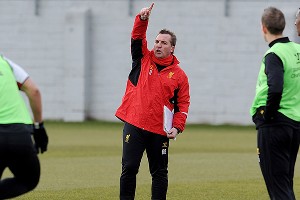 Andrew Powell/Getty ImagesRodgers was a reluctant reality TV star during his first season at Liverpool.
That disequilibrium in itself is somewhat alien to a club that has viewed things through binary in recent times: the hero of Suarez versus the villainy of Fernando Torres; the deifying of Dalglish versus the demonization of Roy Hodgson; themselves against, essentially, the world. Paradise is either lost or regained, never just simply regarded as home.

That Rodgers does not immediately elicit such fluctuating feelings is also an adjustment needed at Anfield. There will always be extremists towards the management of any club, but he is a manager who, mainly, retains indifference amongst supporters. How different it is to the usual doctrine of being loved or loathed; he does not possess the Messianic aura of Dalglish or Rafael Benitez, nor does he sit in the dugout, like Hodgson, as the embodiment of what had gone wrong at Liverpool.

But still he is scrutinised punctiliously, even when there is little to peruse through. It is said he talks too much, even though he spends the same amount of time conversing with the media as any other Premier League manager. His supposed philosophy -- passing the ball -- is used against him detrimentally, even though he has never truly said how Liverpool would play and despite winning a number of games with counterattacking tactics.

But still the question remains. If a season-to-season approach fails to answer it, sights must be shifted.

Of all the major criticisms of Rodgers -- talking, tactical inflexibility and man-management skills -- they were criticisms more prevalent in the first half of the season.

His talking -- paint-by-numbers rhetoric designed to stir the fans' emotions -- was honed and more natural when results improved. His tactical inflexibility -- and reticence to tweak a style not entirely fruitful -- loosened significantly when results improved. The man-management -- and marginalisation of £35m worth of talent in Jordan Henderson and Stewart Downing -- looked far more forgiven when results improved, the aforementioned duo playing important roles in that.

Spot the constant. Liverpool progressed along with the season, albeit from a very low starting position. The opening months produced fearsome figures: two points from the opening 15, three wins in their first 14 matches, 12th in mid-December after a 3-1 home defeat to Aston Villa.

But the January transfer window brought the opportunity of redemption for the summer debacle, which saw a summer-long pursuit of Clint Dempsey end in futility. Liverpool began the season with Luis Suarez being supported by Suso and Raheem Sterling, with Jonjo Shelvey featuring often in midfield. Regardless of how the young trio are rated, all three are unquestionably inexperienced.

Philippe Coutinho and Daniel Sturridge may be young, but both have played Champions League football. For a combined £20 million, they brought Liverpool two things that had been lacking earlier in the season -- ready-made quality in attacking positions and speed on the break.

Their arrivals saw a different Liverpool, as Sturridge's pace and running stretched teams, while Coutinho dazzled. The 20-year-old's capability to play the right ball at the right time is unparalleled by anybody else in the squad.

The figures were far more favourable after that: two defeats in their last 16 games, including an eight-match unbeaten run at the season's climax. Sturridge scored 10 league goals, most involving the wizardry of Coutinho in some way, big or small.

The worries from the beginning of the season should not all be placed upon the travails of the transfer window, nor is it accurate that Rodgers found the perfect formula as the season wore on. Defeats to West Bromwich Albion and Southampton, as well as back-to-back goalless draws with Reading and West Ham, demonstrate that -- so, too, his simple-minded substitutions against Zenit which killed all momentum when it resided so strongly with Liverpool in the second leg of their Europa League tie.

There is plenty to improve. Worry rightly remains on Rodgers' inability throughout the season to amend the defensive frailty, with his decision to consign Sebastian Coates and Martin Skrtel to non-playing purgatory after the FA Cup defeat to Oldham helping little. He also must spend the summer figuring out the combination that suits his midfield best; in a season of twisting the Rubik's Cube, he never quite matched everything together.

These are problems to be solved during the off-season, problems to be explored as the summer sun blazes. For now, all revolves around that one, constant question of progress; a question which sees 99 people offer 100 different answers.

Maybe the question is a red herring. Maybe, amongst all the examinations and evaluations, this truly was the Year Zero so exalted by Fenway Sports Group and simply a year of settling for Rodgers -- that he halted three seasons of decline in terms of points was expected of him, but to deal with the sweat-summoning spotlight thrust upon him is still impressive.

And so in a season in which the focus has been on the Northern Irishman, the final tweaks and twists of the microscope should fall upon him: Disregard the progress of the squad for now -- points tallies and finishing positions included -- for this season has seen the progress of Rodgers himself as both a person and manager.

He will be far better prepared for it next season, though if his side continue to perform as they did in the second half of the season, that spotlight will become dimmer by the day.

In a circular season -- circular arguments, circular results, circular arguments -- it would always finish how it began. With his first year over and the comforting caveats to be removed when his second season begins, Rodgers will be under pressure to make sure it finishes even better next season.