Suarez prompts summer of answers to questions not yet asked
It started, as it always seems to, with a hastily translated interview given originally in his native tongue.

Luis Suarez just can't get enough of speaking his mind when he returns to South America on international duty, it appears. Radio waves ebb and flow, television cameras roll enthusiastically and amateur translators salivate in the knowledge Suarez is about to talk.

-Brewin: Transfer market already making noise
-Marcotti: Liverpool will be fine if Suarez leaves
-Liverpool linked with Mignolet move

But this was no defence of the accusations of serial diving or a passionate plea for understanding of his role in the Patrice Evra incident. Those utterances can be regarded as a human being under pressure as he searches for answers to appease the toughest questions.

But his latest interview appeared to be meticulous, words wading in cold blood, the language of a professional footballer.

It was clear: Suarez would find it difficult to reject an advance from Real Madrid. If the vultures already had been circling Suarez after a season that saw him notch 30 goals, consider this the moment he pulled on a coat of raw meat for a night of flirtation at the European super-disco.

The scramble began. Definitive, contextual translations of his words were sought; any shrapnel of solace for Liverpool fans -- whether mistranslation or the pesky media Suarez cited himself -- was sought. It mattered little anyway -- the rolling news media had already splashed it across television screens in all of its noxious yellow vulgarity, Suarez's departure becoming increasingly inevitable with every shouted decibel.

And yet, 48 hours after reality hit and he told a news conference that a change of environment would be favourable, nothing has changed. Suarez would find it hard to say no to Real Madrid, but the Spanish club have not yet asked the question and there is no indication they will soon. Even if they did, Liverpool have issued a firm statement of intent, a vow that their star player is not for sale.

The waiting game begins, though this already feels like the formative stages of a transfer saga. It is one that Liverpool must win, and win quickly.

Upon the release of Suarez's words, the sighs and eye-rolls could be heard from Anfield all over. For the first time in a long while, a summer of normality had beckoned: No fight against the club's ownership, no desperate attempt to balance books and replace world-class players for a quarter of the price, no worldwide search for yet another Liverpool manager.

No longer. The uncertainty over Suarez changes all of that. After years of watching the Uruguayan frustrate and befuddle defenders at Anfield comes an unwelcome role reversal; it is their turn to look over their shoulder profusely sweating, worrying and wondering which way he will twist. The work by Brendan Rodgers and the transfer committee of identifying targets and completing their deals quickly is not undone, but their major work of the summer may not yet have started.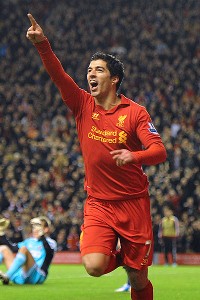 John Powell/Liverpool FC/Getty ImagesWhat direction will Luis Suarez travel this summer -- back to Anfield or off to Spain?
Much like Suarez, Liverpool must spend the summer answering questions not yet asked, a summer of planning defenestrated. Though Liverpool will have been prepared for the eventuality of the 26-year-old's departure, it would have been a task far easier if Rodgers did not desire -- and indeed, need -- to replace the entire defensive setup.

Though Liverpool insist he is not for sale and did right to release the statement so speedily and emphatically, every player has a price -- especially one with a mentality that is somehow both steadfast and volatile. He is determined to get what he wants and is unwavering in his commitment, yet his actions waver relentlessly to achieve that. There should be no real surprise among Liverpool fans that Suarez wants to leave -- he left Ajax to further his career and inevitably will do the same at Anfield.

It is easy to be immersed in the rhetoric that Liverpool is a special club, that a player such as Suarez has achieved a sense of belonging on Merseyside more than anywhere else. It's a viewpoint given even more merit when considering how reputations were risked defending him throughout the incidents with Evra and Branislav Ivanovic.

Yet this is football; this is modern football. An expensive commodity sourced from one club to another is now potentially to become an even more expensive commodity for another; if Fernando Torres did not dispel such dewy-eyed notions, this dig to the sternum should do.

A player of Suarez's calibre should not be expected to play for a team that finished seventh in the Premier League, especially for a side with La Liga and Champions League success a genuine possibility. That Suarez also mentioned Atletico Madrid nixes that thought slightly, but Atletico have four European trophies in as many years and Champions League football next season.

Still, the allure -- and shadow -- of Real Madrid is what makes Liverpool shudder most. Players have left clubs in far better positions to wear the white shirt -- Cristiano Ronaldo left Premier League champions Manchester United for the Bernabeu in 2009. In fact, players have left for Real Madrid with Liverpool far healthier than it is now: Michael Owen left 2004 with the club in fourth and Xabi Alonso departed having seen the side go within four points of the Premier League title.

Nothing has changed yet, however. Suarez is still a Liverpool player, no transfer request has been handed in. A player cannot receive rancour for wanting to join Real Madrid, but he can certainly be stopped from doing so. This is where Liverpool hold the position of strength; this is where Liverpool find themselves with yet another summer dilemma.

If a bid should arrive, allowing Suarez to leave would be unthinkable to many -- not only because he is the club's best player, but because it would act as confirmation that Liverpool have become a club that sells their best assets and harbour no true intent on being among the upper echelon of European football again.

If they are willing to sell Suarez now, Philippe Coutinho will be targeted to do similarly next summer -- the cycle becomes harder to break.

Yet £40 million -- the rumoured figure of his buyout clause, though reports vary in their veracity -- is a hefty sum to invest. Liverpool would lose one world-class player but potentially purchase three who could develop into that. The performances of Coutinho and Daniel Sturridge in Suarez's absence, particularly in the 6-0 win against Newcastle, served as a glimpse into life without the Uruguayan. The message became clearer with each goal: Do not abandon all hope just yet.

But ignore all of the bunkum and bluster surrounding the positives and negatives of selling Suarez, for that is nowhere near a reality. Not publicly, at least. Away from conjecture and the cudgeling of reputations, deep in the club's offices and administration, they must prepare for what happens if Suarez's fantasy does become reality.

After months of planning for the summer with Suarez, they also must plan without him. And if Suarez is to continue to flutter his eyelashes elsewhere, he owes it to Liverpool to finalise things before the midnight hour and allow them to replace adequately -- or attempt to, at least. After years of turning pumpkins into glass carriages on the pitch, he must be careful his relationship with those who have supported him most the past few years does not turn the other way.