Liverpool's early transfer dealings indicate lessons have been learned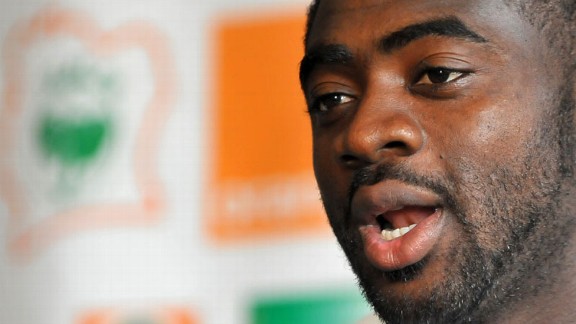 GettyImagesKolo Toure deal could represent a sea change at Liverpool.
History will be kind to Kolo Toure. That is no outlandish claim for a player with two Premier League titles, three FA Cups and a Champions League final to nurse in retirement, of course.

But when history peers over its pedestal and looks upon the Ivorian center back, it might even deem his low-key, free transfer to Liverpool as quite a telling one -- a pivotal moment for the club, an extra-special thread on the tapestry.

That is not because of anything Toure has done in his career or will go on to do in its final, fading days. This is not because signing a 32-year-old as cover to the center back partnership will propel his new side to unmentionable heights; it is not even because he is strong and has the potential of bandaging his new club's Achilles' heel of monstrous center forwards.

- Agent: Suarez is not seeking exit
- Suarez transfer talk - Press Pass
- Liverpool 'agree fee' for Aspas
- Liverpool sign Kolo Toure on a free

More important than any of that, the signing of Toure could mark the moment the club began to learn from errors of summers and winters gone. The football season is hardly 10 days old and Liverpool have identified a transfer target, agreed to personal terms and announced the deal upon completion. Acting clinically and with professionalism. It's about time.

What happened last summer at Anfield is a path well-trodden. With each minute ticking toward the end of the summer transfer window came a further step into the surreal. Clint Dempsey was a player wanted by Brendan Rodgers from his first day in charge, Andy Carroll was not; 91 days later, Fulham were being offered £2 million for their best player and Carroll had left on loan. In one elaborate game of poker, Liverpool realised they held the jokers a little too late -- Tottenham bought Dempsey, no one truly bought Carroll and Liverpool were left with no ample support for Luis Suarez.

How Suarez must have felt when he realised he was to be flanked by Raheem Sterling, Fabio Borini and Suso, three grossly inexperienced youngsters. How Rodgers must have muttered and cursed under his breath at the ramshackle operation above and around him -- forget the installment of the tunnel's famous sign, for this is Anfield, where communication and clarity are commodities most rare.

Some things were not entirely the club's fault. The appointments of Dave Fallows as head of recruitment and Barry Hunter as chief scout -- both from Manchester City -- were scuppered by neither being allowed to work until the close of the summer window. The transfer committee wanted by the club hierarchy could not yet be formed.

Rodgers must also shoulder some fault for the summer, particularly his reported refusal to sign Daniel Sturridge, at that time. But what he offered in September was an astute appraisal of the innards of Anfield. "[There are] operational issues we need to sort out," he said.

It told on the pitch. Suarez toiled alone up front as Sterling was overplayed and Suso was shoe-horned out wide; the situation worsened when Borini broke his foot on international duty in October. Liverpool were as low as 12th in December and took just 25 points from their first 19 games. The next 19 games would yield 36, with just three defeats in that time.

This is not a Rodgers thing, however, nor is it a Fenway Sports Group thing. Other managers and regimes have suffered from a similar affliction. Liverpool are a club that have perpetually waited at the airport for a player never arriving, the card in their hands wilting by the hour, the engine on the limousine always running.

In 2005, Portuguese forward Simao was touching down on the runway of John Lennon Airport when Liverpool reneged on a deal already agreed to for the sake of an extra few million pounds. Two years later, a similar story with Sevilla's Daniel Alves: Rafael Benitez wanted both the Brazilian and Dirk Kuyt but was informed funds were available for only one, with a reticence to release money for Alves given Benitez's plans to play him further up the pitch. He ended the summer with Jermaine Pennant and Kuyt, the latter courtesy of a personal loan from chairman David Moores.

It was the same story but different owners toward the end of 2007, as well, when Benitez's requests to Tom Hicks and George Gillett to sign defender Kahka Kaladze were met with the now infamous response that the Spaniard should "quit talking" and focus on coaching and training his team. In a relationship most sour, this was the point it began to curdle and the rest is unfortunate, unwelcome history for Liverpool.

Simplistic analysis of complex incidents, granted. But despite the intricacies of what occurred, the end result remained: Liverpool missed out on three international players who have aggregated 160 caps and counting.

It would appear mistakes -- and such grave ones, too -- are being learned from. The signings of Philippe Coutinho and Sturridge tally with that, as well. There was no restraint like there was in the summer when Rodgers, ruled by his own dedication and the disorganisation throughout the club, targeted two players he had managed at Swansea for up to £25 million. Both Borini and Joe Allen could become important players for Liverpool irrespective of their unsubstantial first years and hindsight is villainous, but their signatures spell out a club still finding its feet alongside a manager doing similar.

There are still potential issues ahead, particularly if a power struggle between Rodgers and the mysterious transfer committee commences. But for now, Rodgers and the committee -- whoever is on it and whatever their remit -- have shown that mistakes decades-old are being rectified. Liverpool clearly needed a strong center back, one with a winning mentality but also an acceptance that regular football was not guaranteed. Toure appears to be that and was identified as such.

It isn't just the rapid acquisition of Toure, either. Reports suggest Iago Aspas, the Celta Vigo forward, is close to a move to Anfield with June not yet here. Few know much of Aspas but it appears he, again, will be the culmination of meticulous planning, intelligent scouting and proper negotiation. He is a player who can play across the front three forward positions, a position Rodgers readily utilises. He also comes, much like his Shakespearean namesake, knowing his price and standing in the team. To improve the starting 11 is important, but to better the squad itself is vital. Aspas would come in with the knowledge his place must be won.

That is not to correlate swift deal-making success with success, of course. Early signings mean little if they are not worthy of playing for a side with Champions League aspirations. But such proactive action is useful all around: new players can settle and adapt quicker, while Rodgers will have more time to mould them how he wishes. It also brings accountability; no more excuses. He can also budget for unexpected change, much like the injury of Lucas Leiva early last season.

It is more than simply signing players, though. Liverpool fans will hope this is the beginning of learning from mistakes from top to bottom across all aspects of the club. Rodgers admitted he has been learning but he is not, and should not be, alone.

The arrival of Toure may not make much of a difference on the pitch -- though his experience will be crucial, so too his strength and leadership against brutish forwards -- but it could signal a lot away from the pitch, as long as this summer continues how it has started. It could be the moment something clicked into place across the entire club. At a club of disharmony in recent times, how sweet a bit of harmony may sound.

Rodgers and the transfer committee are giving their current players ample notice over who will be their teammates next season. With a saga over the future of Suarez starting to stir, the least he and others can do is extend the courtesy back toward the club. If players are to go, they will go -- but never should that halt any of club's planning; planning which, for the first time in a while, looks to be proper. It might not last, but if mistakes are indeed learned from, maybe it will.