Anfield dreams of Carragher for the final time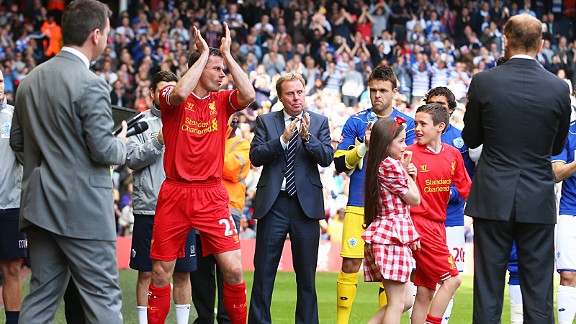 GettyImagesLiverpool's Jamie Carragher made the final appearance of his career against QPR
There will be plenty of time for Liverpool to dissect this season. There will be moments of quiet contemplation and intense, microscopic analysis; moments to assess what went right, what went wrong and just why everything happened. There will even be an attempt to define progress and decide whether Brendan Rodgers has achieved it.

But not now; not on this day. This, from start to finish, was Jamie Carragher's day. On his 737th and final appearance, his name was read out last by the pitch-side announcer before kickoff. The usual numerical order, bookended by Luis Suarez's name, had stopped for this day. There was no Suarez, but it would not have mattered. The natural order had been tampered with - here was one player worthy of making it happen.

-Whalley: Carragher bows out on a high

This was not a testimonial, despite the atmosphere of appreciation. Carragher would not have allowed it. He was screeching at the assistant for a throw-in given against him within minutes on Sunday, all the while talking to Jose Enrique and Jordon Ibe -- making his debut at age 17 -- on the left-hand side. His voice will be missed as much as those limbs, magnets to goal-bound shots.

It was an afternoon like few others at Anfield. Rarely do players say goodbye to the Kop with such fanfare, particularly those who have only ever known those four stands. Gerry Byrne was the last player to run out exclusively for Liverpool, and he retired in 1969. Others have come and gone to tributes and tears, Sami Hyypia most recently in 2009. But they would play for other clubs and applaud other supporters in their past or future; others left not knowing it would be their final time.

This was final, definitive, the end. Not even Carragher can come back after having his own mosaic and guard of honour. The cry of one more year from the Kop will not be listened to.

He did listen to the Kop at one point in the afternoon, however. With an hour played, they -- along with the other thousands -- compelled him to shoot. They had most of the game, but this time he obliged. Now here was a rarity: Carragher, 25 yards from goal, shaping to unleash a thunderbolt towards goal. The ball flew past Rob Green and, for one moment, the storybook shut. It quickly reopened as the ball bounced off the post and away.

But this was fairy-tale stuff anyway. He kept a clean sheet, after all. Just a few minutes after he struck the woodwork came something which embodied what he has done for 16 years; he has not flourished scoring goals, but stopping them.

So it was for the final time, matching Loic Remy stride-for-stride before taking the ball from him with an acute sliding challenge. Remy, nine years younger and twice as fast, had been ahead of Carragher as the race for the ball began. Speed does not always match up to determination. Even in a game of little true importance, he lunged as if the world's fate depended upon it. The score remained 1-0 Liverpool-- something that acts as an epitaph more than any slobberknocker shot.

There was a football match around the furore, of course. Carragher would be the first to point that out, ever the footballing pedant. It was not much of a match granted, played as if one team was to finish seventh and the other already relegated into the Championship.

Liverpool began brightly and with clear intent to score early, for the formula this season has often been a quick goal pre-empting a sound battering of the opposition. QPR were a side who had already discovered this after a 3-0 defeat in December. Philippe Coutinho could have had two within the opening two minutes: His first, a conventional weaving through a static defence before his shot was deflected behind; his second was rather more unlikely, a stooping header from a corner which looked to have crossed the line. With a mixture of hazardous sunshine and a mass of bodies, it would be difficult to fault a mortal linesman.

Coutinho would eventually get his goal and allow Anfield to rain adulation upon one of their new heroes. Impressive work from youngster Ibe on the left -- cutting inside beyond two players and laying it off -- was matched by the Brazilian playmaker, who guided the ball into the bottom corner from outside the area.

Liverpool searched for a second and looked for an apt end to a season which has seen them obliterate bottom-half sides with threes, fours and fives. But it has been a long, tiring season and this was becoming a long, tiring day under the intense sunshine. The constant calling of Carragher served as a pleasant distraction to a game that slowed down considerably as the clock ticked nearer 90.

Still, Green was busy in the QPR goal and the game will provide a few positive final footnotes as the collation of the season review begins.

Ibe, in particular, impressed on his first start for the club -- stationed on the left-hand side, the teenager showed his willingness to commit defenders and link up well with Coutinho. He is not the expected build of a young English winger: His physique is impressive, his backside large, his running style blustering. He will not be a player to rely on pace, his power and tenacity fairly rare in a player so raw.

He displayed the latter in the second half, running 50 yards to track Esteban Granero and taking the ball from him. Carragher himself would have been proud.

There were other things Rodgers will have noted: Daniel Sturridge is either sublime or ridiculous, choosing the latter this time; Glen Johnson and Jose Enrique, auxiliary wingers at times such was their attacking nature, can still be an important part of the defence. There was also a solid display from Pepe Reina, who helped Liverpool to a 16th league clean sheet of the season, their best tally since 2010.

But there will be time to digest all that properly on Monday morning. A Monday morning that Carragher -- for the first time in a long while -- will be able to lie in bed until midday and casually read the newspapers at the breakfast table. The quiet, end-of-season 1-0 victory was anything but as he departed with five minutes remaining.

Forget all thoughts of progress, inverting triangles and formations. Forget everything to do with this season and next. This was a day for Carragher, a day for somebody who lived the dream of every young boy who has booted a football through the streets of Liverpool.

The end of the season is traditionally a time to dream for supporters; to dream of new signings, new systems, new glories. That will come at Liverpool. But for now, they will dream of a team of Carraghers for the final time.