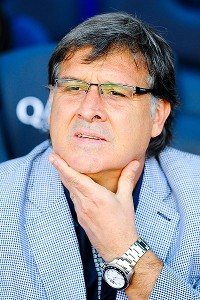 AllsportMartino has plenty to ponder as he manages Barcelona's transition.
Johan Cruyff, the architect of it all, is fiercely disliked by the Barcelona president, Sandro Rosell, and has announced that he will not return to the Camp Nou while Rosell is in charge.

Pep Guardiola, the Crown Prince of Cruyffism, came, won and went. Now he's building a kingdom of his own. Elsewhere.

Leo Messi, possibly the club's greatest ever footballer, is in the middle of an injury-induced blip; Xavi, the passing machine, is approaching a certain age; while former manager Tito Vilanova is fighting for his health and well-being. Continue Reading...