Carlo Ancelotti hopes to turn around poor fortunes vs. Barcelona
It isn't just because of the no-smoking rule at the Camp Nou that Carlo Ancelotti's relationship with FC Barcelona, as both a player and a coach, can be characterized as a tale of close but no cigar.

The Italian, who will coach in his first Clasico this Saturday as manager of Real Madrid, has a history of missing out or coming up short against the Catalans.

Remember, for example, back to his playing days at the club he's indelibly linked to: AC Milan. That's where Ancelotti won two Italian titles and two European Cups as part of the great Arrigo Sacchi side, which both dominated and revolutionized continental football in the late 1980s and early '90s. But Ancelotti retired 24 months before Fabio Capello's Milan destroyed Johan Cruyff's Barcelona in that Athens Champions League final of 1994. The Barca of Romario, Pep Guardiola, Ronald Koeman and Rafa Nadal's uncle, Miguel Angel, were treated like rag dolls by Dejan Savicevic, Marcel Desailly Paolo Maldini, Roberto Donadoni and Mauro Tassotti. It was a defeat that scarred Catalan football psychology for a long time, and is still regularly invoked today. But Ancelotti had moved on. He missed it.

Then, as a coach of the Rossoneri, Ancelotti lost to Barcelona in a Champions League group game in 2004-05, thanks to an 89th minute Ronaldinho goal -- an impressive draw at the Camp Nou ripped out of his clutches.

Worse was to follow.

Just more than a year later, his former Milan teammate-turned-manager Frank Rijkaard had made Barcelona exciting and feisty. The scenario was the Champions League semifinal, and Ancelotti's Milan had lost 1-0 at home. However, they conjured up a fine performance and kept the Camp Nou, packed with 99,000 fans that night, right on the edge of their seats. Had the German ref not incorrectly disallowed Andriy Shevchenko's headed goal midway through the second half, Ancelotti's side would have earned extra time, too.

Ancelotti missed out on another opportunity against Barcelona in the 2011-12 season. He left Chelsea just 10 months before his successor, Roberto Di Matteo, led a 10-man Blues side to a remarkable 2-2 (2-3 aggregate) semifinal win over the Catalans, despite Petr Cech's goal being pummeled by Barcelona.

And last season, Ancelotti continued the theme that, so far at least, the Catalan football HQ reserves an unfriendly, unlucky face for this legendary Italian.

In the Champions League quarterfinals, Ancelotti's PSG side were outplayed in the first leg in Paris, but a late, offside goal was allowed to stand and the tie was balanced at 2-2 for the Camp Nou second leg. Thanks to a Zlatan Ibrahimovic assist and a Javier Pastore goal, PSG led 3-2 on aggregate. And until Pedro equalised with just a quarter of an hour left, allowing Barca to advance on away goals, it was the French club that was en route to facing Bayern in the semifinal.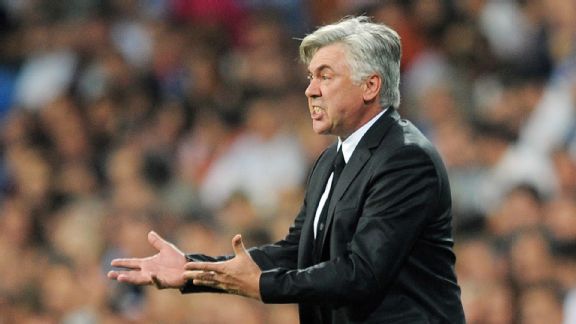 Denis Doyle/Getty ImagesCarlo Ancelotti hasn't had much luck against Barcelona.
However, Ancelotti produced a game plan and inspired his squad sufficiently that there was a moment in that Champions League quarterfinal that still threatens to affect the Italian's debut as a Clasico coach this Saturday. That moment involved, who else, but Lionel Messi.

Having scored a mighty goal in the Paris match, Messi injured his thigh, came off at half-time, and shouldn't really have been declared fit for the return match. But he was desperate to play. Then coach Tito Vilanova knew how painful defeat to Chelsea in the semifinal a year earlier had been, and how close Barca had already come to elimination at the hands of Milan. So Messi started on the bench in the return leg, came on just after the hour and changed the tide of the game, helping to create Pedro's goal that put his team in the final four.

Yet Messi's efforts in trying to vault Ancelotti's team caused his injury to worsen. In the Champions League semis, he was ineffective in the first leg, a 4-0 defeat to Bayern, absent from the second leg and played just more than 160 minutes of the remaining 720 in La Liga.

Since then, Messi's fitness -- having been industrially strong and a trademark of his greatness – has become an issue. He's had three thigh muscle problems since April, and while his reappearance as a sub against Osasuna last week and his goal against Milan on Tuesday signify that he seems physically ready for the Madrid test, the little Argentinian hasn't yet looked as if he's fizzing with form.

When he pulled up with a thigh muscle strain in Almeria on Sept. 28, it came minutes after he'd struck a phenomenally powerful shot past Suarez Esteban to give Barcelona the lead. Sprinting, shooting with power -- essential to his genius but a constant strain on those piston-strong thighs.

Whether there's any thought of regretting the numerous international flights and charity football matches with which Messi filled his summer, we've yet to learn. But, following years of goal scoring supremacy to go with his unique speed and skill, Real Madrid's Cristiano Ronaldo is now significantly ahead of the Argentinian in the Champions League contest, having just equalled Pippo Inzaghi's competition record of seven goals in just three group games.

The Portuguese is seizing his chance while Messi tries to fine-tune his over-worked physique. Moreover, Ronaldo has scored eight times in his past six visits to the Camp Nou on Liga, Supercopa and Copa del Rey visits. Only two of those have been wins, but probably the two most important, pretty much guaranteeing Madrid's title in 2012 and knocking Barca out of the Cup semifinal last January.

What Ancelotti's Milan and PSG teams have shown in the past is that the coach is very clear on how to defeat Barcelona at home. He's just lacked either a smidgen of the outright excellence to enforce it, or the trace of luck that all great champions welcome without bashfulness. Ancelotti arrived at Madrid like a cool breeze let in through an open window to clear an obstinate smell. The smell of failure.

Jose Mourinho's tenure had some genuine highs, and if Morata, Jese, Diego Lopez or Rafa Varane are the stars of a Madrid victory Saturday, he'll be able to legitimately claim an influence on the result. Their advancement owes greatly to the departed coach.

But Mourinho caused, and left behind, acrimony, anger, division and he failed to win the requisite number of important trophies. Ancelotti almost doesn't resemble the Portuguese in any way. Mr. Affable to Mr. Angry. The man who can happily salute a club president every day of the year for an 8 million euro salary, compared with the man who tells the president exactly whose club it is and how to run it.

Right now, though, the football that Real Mourinho played compared to how Real Ancelotti are playing isn't substantively different. Ancelotti's promise, on arrival, was to bring flair, to enthuse the Bernabeu and win La Decima (or attempt to) with the panache that would please president Florentino Perez, sponsors and TV rights buyers around the globe.

That said, Ancelotti knows that right now, this moment, it all comes down to the Clasico. With a win or a draw, there will be a tidal wave of sentiments from fans, the media (domestic and international) and, more importantly, the office of the president. It's early and things are developing. We are on track to win everything. Ancelotti is still dealing with problems Mourinho left behind. Lose and he'll be a mouse being circled by hawks.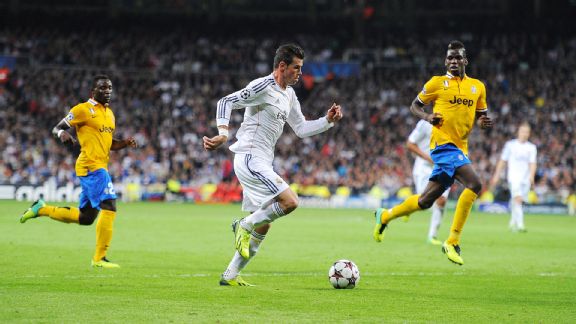 Denis Doyle/Getty Images
The fact that it wasn't Ancelotti who wanted to sign Gareth Bale this summer, or claimed he knew how to fit the Welshman in without a personal say in how the midfield was reshaped, will be forgotten. The slow, and sometimes barely detectable, improvements in play will be highlighted and made to seem catastrophic when they are not.

Even some wise heads will write or broadcast with Cyclops vision by zoning in on the fact that Mourinho seemed to have Barcelona's number in head-to-head battles over the past year and a half. Yet they'll ignore the fact that Barca kept on racking up significant numbers of trophies while Madrid couldn't do so during Mourinho's reign.

These are some of the key ideas with which Ancelotti needs to wrestle, and ensure that the correct answers emerge.

1) Is it completely the coach's choice as to whether Bale, signed on a presidential whim as the most expensive player ever, starts the match -- or will it be permanently held against him by Perez if common sense says that Bale's state of match-fitness means that he starts on the bench when the world is watching this mega-attention Clasico?
2) Does Dani Carvajal's excellent ball winning, impressive athleticism and superior use of the ball as a rampaging right back win him his place ahead of the more experienced, more defensive Alvaro Arbeloa?
3) If Bale plays, and Ancelotti admits the Welshman has a preference for playing down the right, is Angel Di Maria (Madrid's best player this season) shifted to the left wing and Ronaldo played down the middle in a 4-3-3?
4) Although Madrid have looked vastly more compact in midfield since they used their third playing system of the season, 4-3-3, is it feasible that by going man-to-man with Barcelona, a small advantage is handed back to the side that has played that system better than anyone over the past five years?
5) Is there such a spotlight on the supposed lack of refereeing support for Neymar, given how often he's fouled and how rarely those who do so are shown yellow or red cards, that Madrid will have to be careful how they play him. Or will referee Undiano Mallenco stick to type and allow the most physical liberty shown in Spanish football, as has recently been the case, when he takes charge of a Clasico?

Two questions to which Ancelotti already knows the answers are: Does the state of Messi's form fundamentally affect Madrid's chance of taking home a result? And what kind of reception awaits if we lose?

Is it cigar time for Ancelotti at the Camp Nou yet?