Top Tenner: Clasico clashes
Top Tenner picks out a selection of classic on and off-pitch battles between Real Madrid and Barcelona.

10 - Barca 3-2 Madrid (Spanish Supercopa second-leg, 2011)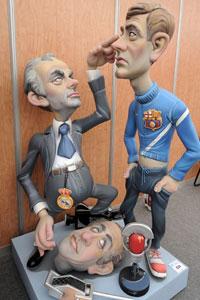 GettyImagesJose Mourinho and Tito Vilanova's eye-gouging incident was immortalised in figurine form.
In his book Morbo, Spanish football expert Phil Ball describes Clasicos as less football matches, more re-enactments of the Civil War. History does not tell us whether Franco's key weapons against Catalan revolutionaries included eye-gouging, but if Jose Mourinho was one of his generals, it might have done. The 'Gouge-gate' game itself --a Supercopa second-leg in which Lionel Messi scored the winner in a 5-4 aggregate win for Barcelona -- was as fiery as most Clasicos were around that time. Six months earlier, Barca substitute keeper Pinto had managed to get himself sent off from the bench after wading into a touchline fight and, in a similar scuffle in the Supercopa, Mourinho crept up behind then-Barca assistant Tito Vilanova and... well, you know what he did. At least he was magnanimous afterwards, mind -- he described the Supercopa he'd just lost as pequenito (of little importance).

9 - Barca 0-2 Madrid (Champions League semifinal first-leg, 2002)

Dubbed 'the game of the century', this was the second time that the two clubs had met in the semifinals of the European Cup, after Real defeated Barca on the way to their fifth title in 1960. This game took on even more importance since they were both lagging behind Rafa Benitez's Valencia in the league, with Real eventually finishing third and Barca fourth. Zinedine Zidane gave Real a second-half lead in a tight game, and Catalan hope was crushed by a delicate, 92nd-minute chip by Steve McManaman, who had almost signed for Barca a few years earlier. The second leg ended in a 1-1 draw, and Real progressed to beat Bayer Leverkeusen in the final at Hampden Park.

ESPN FC Clasico video analysis:
Lowe | Rest Bale? | Predictions
More Clasico video:
Martino: No clear favorite | Bale on fitness

8 - Barca 2-1 Madrid (European Cup first round first-leg, 1960)

In the latter half of the 1950s, Real ruled Europe, winning the first five European Cups with a team featuring Paco Gento, Alfredo Di Stefano and Ferenc Puskas. Their quest for a sixth was scuppered before it began, though, as Liga champions Barca beat them in the first round, prevailing as a couple of Luis Suarez goals saw them twice come from behind in a 2-2 first leg, before they secured a 2-1 win at Camp Nou. In a curious role-reversal, it was Real that would cry foul conspiracy after this one, since the English referee disallowed three of their goals. Still, they would laugh last, as Barca went on to lose to Benfica in the final, and Evaristo, the Brazilian who scored the winner in the first round, joined Real at the end of the season.

7 - Barca 1-5 Madrid (La Liga, 1963)

Of course, Real would go on to exact some sort of revenge (if winning the European Cup again in 1962 wasn't enough to reaffirm their superiority) a couple of years later, by going to Camp Nou and handing Barcelona a thrashing. The scoreline reads like a summary of that golden era for Real -- Di Stefano got a hat-trick, with Puskas and Gento bagging one each. What makes it even more remarkable, if such a thing is possible, is that Puskas and Di Stefano were 35 and 36 at the time, this in an era before fads like diet, nutrition and Ryan Giggs' yoga. Which, although it may sound like one, is not a euphemism.

6 - Barca 5-0 Madrid (La Liga, 1994)

The ultimate expression of Johan Cruyff's dream team, this was a confirmation of the utter superiority Barcelona held over Real in the early nineties. Well, sort of -- Real would actually go on to win the title the following season, thus proving that even footballing dynasties are fleeting. But this rout, inspired by a Romario hat trick (the other goals scored by Ronald Koeman and Ivan Iglesias), came to be a symbol of Cruyff's philosophy of football.

5 - Madrid 0-5 Barca (La Liga, 1974)

If 1994 was the Clasico high point of Johan Cruyff's time at Barca as a manager, then surely this was the pinnacle for him as a player. At the start of the 1973-74 season, Cruyff was reunited with Rinus Michels, who at Ajax had instigated the 'Total Football' philosophy with which both clubs and both men are still synonymous. Barca broke the world transfer record to recruit Cruyff, beating Real to the Dutchman's signature after he refused to play for a club associated with Spanish dictator General Franco, despite them agreeing a deal with Ajax. The result Camp Nou, with a Cruyff-inspired Barca turning Real hither and thither, just one game of a 25-game unbeaten run.

4 - The transfer of Alfredo di Stefano (1953)

The Di Stefano saga was dealt with in a previous Top Tenner, but no list of tussles between Real and Barcelona can be complete without this one. The original sin when it comes to Catalans and Franco (when it comes to football, anyway -- he did one or two worse things elsewhere), Di Stefano's complicated transfer from Colombia to Spain ended in him combining with Gento and Puskas, when he could have played with Suarez and Laszlo Kubala. A different dynasty could have emerged, and if the theory of alternate universes is correct, somewhere in another cosmos it is Barca who are obsessing over La Decima, not Real.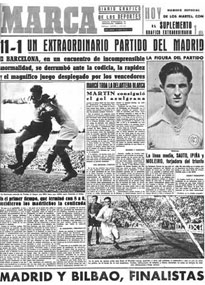 OtherReal Madrid recorded a stunning victory over Barcelona but question marks remain
3 – Madrid 11-1 Barca (Copa del Generalissimo semifinal second leg, 1943)

The popular story is that General Franco was a Real Madrid fan, and he would, shall we say, 'intervene' to ensure that Los Blancos did well, especially when playing Barcelona. There are of course elements of truth to that, but Franco actually wasn't a huge football fan, preferring the fine upstanding, fun-for-all-the-family Spanish tradition of bull fighting. What he did recognise was that football was rather popular, and could thus be used to 'adjust' the mood of the nation. One such game did whiff of intervention by sinister forces, the second leg of the Copa del Generalissimo (named, of course, after Franco) semifinal in 1943, when Franco's director of state security was said to have entered the Barcelona dressing room before the game, warning them that winning this one might not be great for their health/public safety. He backed this up with the gentle persuasion of his gun. Barca, 3-0 up from the first leg, appeared to comply, losing 11-1, with Sabino Barinaga bagging four and two other players scoring hat-tricks.

2 - Madrid 0-3 Barca (La Liga, 2005)

Barcelona have won more emphatically at the Bernabeu, not least when Thierry Henry and Leo Messi took them apart in 2009's 6-2 shellacking. However, Real can surely have never been so humiliated as when their own famously partisan and Catalan-hating fans were moved to applaud the performance of a Barcelona player, as they did with Ronaldinho, the architect of this win that saw Frank Rijkaard's side reached their zenith. "It was a perfect game," Ronaldinho said afterwards. "I will never forget this because it is very rare for any footballer to be applauded in this way by the opposition fans."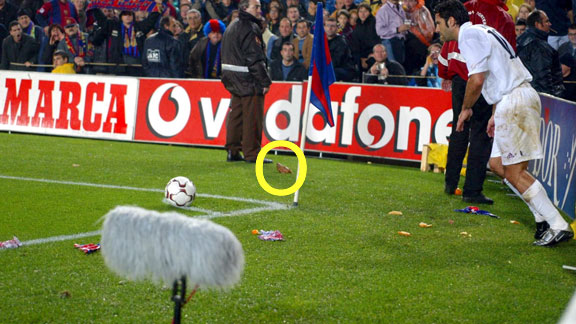 GettyImagesAfter controverially switching Barcelona for Real Madrid, Luis Figo had a pig's head thrown at him by Catalan fans in a Clasico.
1 - The transfer of Luis Figo

It may not be a game, but in many ways this can be classified as Real's greatest victory over Barca. In the summer of 2000, Florentino Perez was battling Lorenzo Sanz for the Real presidency, and as with any of these elections, outrageous promises were de rigeur. One of those promises was made by Perez -- if he won, he'd sign Luis Figo. It was regarded as a joke (Sanz gleefully asked if Perez had agreed a deal with Claudia Schiffer too), but Perez actually had a legally-binding contract to back up his statement, as Sid Lowe explains in his recent book Fear And Loathing In La Liga. Figo, who was in dispute with the Barcelona board, had signed a contract that paid him 400 million pesetas (1.6 million pounds) and stated if Perez won the election, he would sign for Real.

To get himself out of this contract, Figo would have to pay Perez 5,000 million pesetas (about 20 million pounds) in compensation. If he lost the election, Figo could keep the money and nothing more would be said about it -- the player and his agent regarded this as free money and leverage in their dispute with Barca, on the basis that nobody thought Perez would win. Of course, Perez did win, and taking advantage of the relatively low buyout clause of 38million pounds in Figo's Barca contract (such clauses in Spain are usually unrealistically high), signed the man who had become more than a player in Cataluyna, but a symbol for the club.