Neymar and Bale prepare for Clasico debuts
If there was a moment when you "knew" that Real Madrid would sign Gareth Bale, it was the moment that FC Barcelona signed Neymar. On Saturday at 6 p.m. Spain time, the summer's biggest signings will meet for the first time, and the symbiotic nature of the Madrid-Barca rivalry will be revealed to them if it has not been already: After all, Neymar and Bale have already stood in the middle of it, their destinies apparently intertwined. Some of their experiences have also been shared and, like their clubs, their success may be measured not only by what they do but by what their counterpart does.

Real Madrid and Barcelona live in a swirl of mutual dependence. They feed off each other, driving each other on. The determination and the need to prevail propels them, forcing them to reach ever higher. Competition makes them. Jorge Valdano has likened them to cathedrals in the middle ages: A city builds a fabulous cathedral, so the next city must build something better. Like competitive neighbours, one buys a fast car, so the other buys a faster car. Anything you can do, I can do better. When it comes to signing players, there's something that screams: arms race. Former Madrid president Ramon Mendoza once claimed: "We must both have the nuclear bomb."

- Miller: Clasico Top Tenner
- Brewin: Top billing in the UK
- ESPN FC Clasico video analysis:
Rest Bale? | Predictions
- More Clasico videos:
Martino: No clear favorite | Bale on fitness

Bale fits Madrid's model, sport and strategy. He has the potential to be one of the world's very best players and was the face of the Premier League. That his image looked out on Times Square wasn't lost on Real Madrid president Florentino Perez. Perez could hardly be more delighted when he was shown a photograph of the Welshman at age 10 or 11 in a Madrid shirt, which then adorned the stage upon which he was presented. In other words, Madrid's interest in him is long-standing. Yet it's hard to avoid the conclusion that when Neymar joined Barcelona, the desire to sign Bale became a need.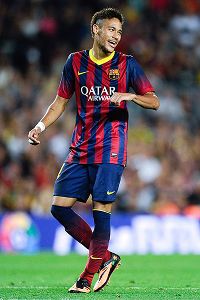 David Ramos/Getty ImagesNeymar has had a few reasons to smile since joining Barcelona from Santos.
Perez had publicly admitted to trying to sign Neymar earlier this summer. Perez would not have been able to sign both players. Eventually, he pulled out, insisting that the Brazilian was "too expensive" and that signing him would cost Madrid more than 100 million euros. Bale's signing did cost more than 100 million euros. "Because of that price, he'll never be judged normally," Johan Cruyff said.

Barcelona president Sandro Rosell had taken the first steps toward signing Neymar two years previously. There was a hint that Madrid's interest was driven by Barcelona's interest and enhanced still further by Neymar's impressive displays at the Confederations Cup. By then, most assumed he was joining Barcelona, and with every goal Madridista hearts sunk. Perez had to try. Or maybe he just wanted to make it more expensive for Barca?

Maybe so, but Perez's decision to publicly admit the pursuit was curious: It made it look as if Barcelona had won. That, certainly, was the way it was sold in Catalonia. Sport dedicated three pages in a row to how Neymar's signing was a victory over Madrid, Rosell defeating his opposite number; it is always about the other. Far from making Neymar look expensive or increasing the doubts, Perez's words had added value to the star. Signing him was a great move for Barcelona ... if only because it meant that Madrid didn't have him.

- Hunter: Ancelotti's struggles against Barcelona
- Cox: Busquets finally gets his due

The subsequent world-record signing of Bale made the 58 million euros it cost to get Neymar appear cheap. Their respective signings tapped into the popular, if simplistic, perception of the two clubs: technique versus athleticism (Barcelona had looked at Bale as a potential left-back but doubted his capacity to play in reduced spaces) and the fact that once again Madrid had spent the most money. Tata Martino called Bale's transfer a lack of respect to the world we live in. As if 58 million euros is nothing.

"He has not been here long and he doesn't appear to know his own club," Carlo Ancelotti retorted. They had barely arrived, and already Bale and Neymar were weapons in a familiar war.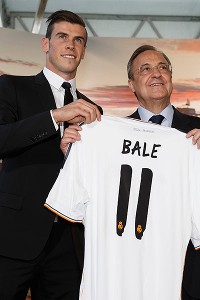 Angel Martinez/Real Madrid/Getty ImagesUnveiled in typical Real Madrid style, Bale has since struggled for form and fitness.
On the day Bale was unveiled, there was an added doubt: At the Bernabeu, fans used his presentation as an opportunity to chant for Madrid not to sell Mesut Ozil. Players too were unhappy at the sale of the German, in part at least made necessary by the arrival of the Welshman. Mostly, though, fans cheered and chanted Bale's name. The overwhelming emotion has been excitement, and when they take the field on Saturday, the sense of anticipation will be inescapable.

But there have been doubts about both men, too, of course, talk of egos and dressing rooms that would not exactly await with open arms. These were different than the usual blockbuster signings. Perez is fond of saying that the best players in the world must play at Madrid. They must always top the shopping lists. But this summer, the best two players were already at Madrid and Barcelona. On Saturday night, Cristiano Ronaldo and Leo Messi will be top of the bill, not Bale and Neymar.

They will not be easily dethroned and the new signings knew it. From both men, the tone was deferential; ambition came through association, not alone. Neymar arrived saying that Messi was the best, that he had come to help not to overshadow. Bale called Ronaldo the "boss" and joked that he would leave the free kicks to the Portuguese. Johan Cruyff expressed his doubts in Barcelona, insisting that a ship cannot have "two captains." Real Madrid reveled in a friendly greeting between Bale and Ronaldo; their determination to project a fee below that paid for Ronaldo did not appear coincidental.

The early signs have been good: Ronaldo has supported Bale and, while Neymar's best performance for Barcelona was without Messi, there has been no friction at the Camp Nou, either.

So far their experiences have been different, though. And in Bale's case, that begins with the signing itself. The lack of a proper preseason has made for a stuttering start. Full fitness does not come easily and the Welshman is a man who needs to be at 100 percent, who needs to feel exactly right. Neymar has played eight times in the league, racking up 576 minutes, scoring twice and producing five assists, the second-highest total in Spain. Add to that 243 minutes in the Champions League and the goal that won Barcelona the Spanish Super Cup. The doubts have gone.

If Neymar's performances have been hugely impressive, Bale's have been few. He scored on his league debut at the Madrigal, but thigh problems have kept him out: 49 minutes in the Champions League, 125 in La Liga across one start and two appearances as a sub. When he has played, it has been on the right and it has, naturally, been intermittent.

Doubts remain as to whether that is his best position. Most of all, though, the doubts centre on his fitness. The last international break, during which he did not join up with Wales, allowed him a 10-day mini-preseason; two substitute performances saw him progress further. And now, says Ancelotti, he is ready to start. Just in time for El Clasico and a meeting with Neymar.