Taking clasico finances into account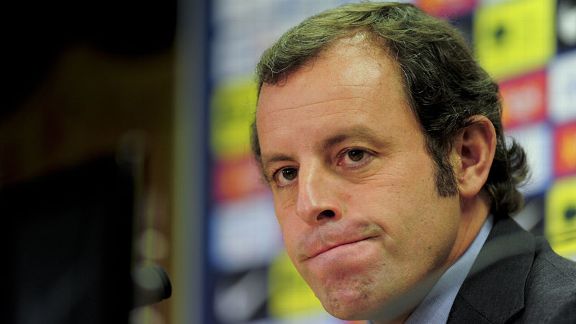 GettyImagesSandro Rosell insists Barcelona remain in rude financial health.
Saturday's clasico between Barcelona and Real Madrid at the Camp Nou is not just the meeting of Spain's biggest teams. Depending on who you believe it is either the coming together of the two richest sporting institutions in the world, or a game between two clubs in which mounting financial issues are being willfully ignored.

- Ledwith: Barca pass Milan test ahead of Clasico
- Train: Insatiable Ronaldo decisive again in Juve win

Madrid president Florentino Perez often commends his own economic stewardship of the Estadio Santiago Bernabeu club, and again spoke of how he had (twice) saved it from a financial abyss when he addressed the club's annual Asamblea in late September.

"It is now nine consecutive years of revenue growth, and our figures are the highest in the global sports industry," a beaming Perez said. "There is no club, not in football or any other sport, which can reach this figure. Even Forbes magazine has laid down before us."

Whatever about Forbes, the socios who attended were impressed -- approving the club's official accounts for the 2012-13 financial year by an extraordinary margin -- with 808 votes for, none against and four abstentions. The club's accounts showed Madrid's declared debts had fallen from 127 million euros to 90.6 million euros over the previous 12 months, while club revenues were up to a record 520.9 million euros, with a net profit of 36.9 million euros -- an increase of more than 50 percent on the previous year.

Two weeks after Madrid's AGM, Barca held its Asamblea at the Camp Nou. Blaugrana president Sandro Rosell was also happy with himself as he predicted record revenues of 509 million euros for the 2013-14 season.

The former Nike executive sounded not unlike a Eurozone politician as he spoke at this year's AGM of the need to balance "austerity" with investment in infrastructure and all-round "sustainable policies" at the Catalan club.

"We have cleaned up the club over the last three years with a policy of transparency, austerity and growth," Rosell said. "[Reducing] the debt is the real key to the battle for our economic management and what makes us different."

Different from his profligate predecessor (and now arch-enemy) Joan Laporta, Rosell meant. And figures circulated that day claimed that the Catalan club's debt had fallen from 430 million euros to 331 million euros in the three years since Rosell replaced Laporta. Significant investments in youth teams (73 million euros) and improvements to facilities (35 million euros) made over that time were also trumpeted. The club also pushed through a change to their statutes at the event -- which mandates that executives who do not quickly correct a deficit in the club's annual accounts must step down.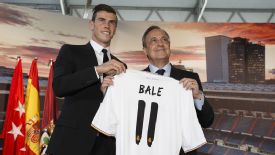 GettyImagesFlorentino Perez broke the world transfer record to bring in Gareth Bale this summer, if you believe what Tottenham said.
While that statute change and Barca's budget were also approved by landslide majorities more commonly seen in a developing world dictatorship, fans' groups and journalists around both clubs have since subjected the official figures and claims by Perez and Rosell to closer scrutiny.

Carlos Mendoza, president of Madrid fan group Asociacion por los Valores del Madridismo, who was hushed by Perez when he tried to offer a critical perspective at the AGM, was given a platform to speak in AS.

"We have studied the accounts and found things which are not explained by the president," Mendoza said. "Florentino only recognises the 'net' financial debt, which is only the debt owed to the banks, some 90 million euros. But Madrid has more debts than just banks -- to players, clubs, sporting associations, public administration, suppliers. That all adds up to 541 million euros, more than double the debt Florentino inherited from Lorenzo Sanz."

Mendoza also pointed out that the latest club figures did not include the hundreds of millions involved in signing Gareth Bale and extending Cristiano Ronaldo's contract, and suggested that Mesut Ozil's sale -- which was so unpopular with Madrid fans and players -- had been required to balance these out.

Madrid fans might have wanted to dismiss Mendoza as a crank. But it was more difficult to ignore Jose Maria Gay de Liebana, widely regarded as Spanish football's foremost financial expert, who was also interviewed by AS.

Perez, who is also the head of Spain's biggest construction company, often says that some debt (around 90 million euros) is not unusual for a huge multinational business like a top football club. But Gay de Liebana argued that the club's accounts showed it was well behind examples of good financial management like Arsenal or Borussia Dortmund.

"Madrid's debt is, effectively, 541 million euros," said the Universidad de Barcelona professor. "It is a very high debt and there is a problem. Madrid has homework to do."

Just as both Rosell and Perez blame predecessors as president for their debts, they also have pretty similar policies for helping their clubs to deal with their financial problems. Perez bought another galactico this summer in Bale -- and said he was "cheap" at 91 million euros due to the commercial revenues he would help bring in. Rosell, previously head of Nike's marketing activities in South America, had long made signing Neymar a priority this summer for similar reasons.

While most Madrid fans quite like signing big-money superstars, the Barca board's move into international marketing has been more controversial. A socis (club members) protest group called "Go Barca" tried to officially censure Rosell and three fellow directors last month, citing grievances including the 65 million-euro Neymar transfer and the club's commercial dealings with Qatar. Rosell headed off that threat, but many in Catalonia wonder how such practices fit with the club's famous "mes que un club" slogan.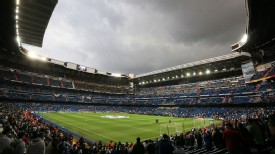 GettyImagesReal Madrid are planning on revamping their stadium -- but could the name be sold?
New construction plans also feature heavily on the agenda of both Perez and Rosell. Despite, or perhaps because of, their club's debts, both men want to increase the capacity and/or commercial potential of the Bernabeu and the Camp Nou.

Disgruntled fan Mendoza claimed that Perez planned to use "three or four years" of future season ticket sales as part security for a loan to finance the planned 400 million-euro redevelopment of the Bernabeu, while Perez himself has floated the idea of the stadium gaining a "surname" -- which sounds quite like the beginning of a softening-up process towards selling naming rights to a sponsor. A redevelopment of the Camp Nou is also an aim of Rosell's -- and would require a significant injection of funds from somewhere, with the Qatar Foundation and/or government quite likely investors.

Such plans are likely to be very unpopular with fans –- even the apparently docile ones who vote at asambleas. But further borrowing by either Barca or Madrid could even mean that members (socios in Madrid, socis in Barcelona) lose control of "their" club, and no longer get the chance to rubber-stamp executive decisions each year.

Given the need to manage their huge debts, whatever the actual figure, both Madrid and Barca are especially vulnerable to a drop-off in revenues. Spain's current economic "crisis" has hit matchday revenues at both clubs -- leading perhaps to both Rosell's much-lamented decision to start charging under-sevens, and Madrid's pricing of most tickets at 100 euros and over for the recent derbi against Atletico. An even bigger danger would be if the Spanish government goes through with plans to change La Liga's current television revenue sharing agreement -- and cut the total amount the big two currently receive.

Should Madrid's debt increase still further, Gay de Liebana warned that the club might need to be "saved" by a wealthy external buyer.

"The fact is that Madrid is so far in debt, and has a big project for the stadium, so it could end up having to convert itself into a limited company, or 'Sociedad Anonima,' so that capital can be injected in," he said. "Then you would either need a socio with the ability to bring that capital, or the support of a benefactor."

Perez often claims he is the only Spanish president who can ensure the club's "values" are protected from a Russian or Arab investor. Rosell appears happy for the club's apparent support for Catalan nationalism to cover their ever-closer links with Qatar. But questions are mounting over where both presidents are really taking "their" clubs.