Casillas throws a glove at Ancelotti's feet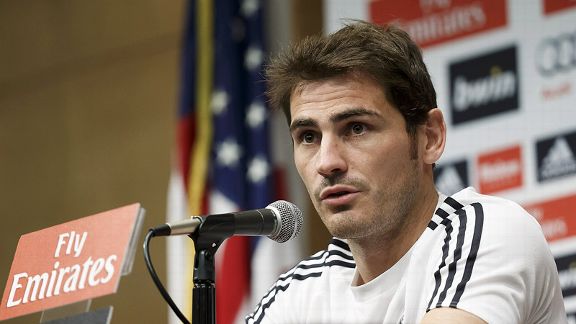 Angel Martinez/Real Madrid/Getty Images
Iker Casillas set hearts, and a few checkbooks, aflutter on Thursday when he told reporters in Madrid that if he continues to warm the Real bench for much longer, he will consider seeking his fortune elsewhere, as early as January.

"If in three months the situation has not changed and I am asked the same question, maybe I will answer that I am thinking about leaving," Casillas said while attending an event on the outskirts of the Spanish capital.

While it was a conditioned statement -- the condition being that he stressed he wants to remain at Real for the rest of his career -- it certainly poses a bit of a dilemma for coach Carlo Ancelotti.

The Italian coach has already been subjected to the ire of the Bernabeu during his short reign. He cannot have failed to hear the crowd's chants of admiration for Casillas, whose status as a national hero is arguably second only to that of Andres Iniesta, who enjoyed a full season of standing ovations in a country united in the wake of Spain's 2010 World Cup triumph in Johannesburg. It was the outstretched leg of the captain that prevented Arjen Robben from sealing victory for Holland earlier in the game, after all.

But now, even the national side no longer represents a guaranteed start for the country's most-capped player. Victor Valdes was preferred by Vicente del Bosque for the key qualifier against Belarus last week, while Casillas was reinstated for the match against Georgia in which a solitary point was required to seal passage to the 2014 finals; a relatively low-risk assignment. After the Belarus match, Del Bosque stated that he played Valdes largely because Casillas has been inactive at club level of late. Form is a factor, but if the captain is gainfully employed, he is del Bosque's automatic first choice, come rain or shine.

But the cloud that has been following Casillas around since he was dropped by Jose Mourinho last December refuses to go away. Even when he was reinstated after the Portuguese's ill-thought out message to the Bernabeu and its board, Casillas was injured, suffering the same fate last month when handed a second start of the season against Galatasaray in the Champions League. Luck has not been on his side throughout 2013, and it is only sensible in a World Cup season that Casillas is considering making his own by leaving Real Madrid. Del Bosque will not be swayed by Casillas keeping second division sides at bay in the King's Cup.

All of which leaves Ancelotti with a careful and explosive balancing act to perform. The Italian cannot be seen to bend to player power -- and Casillas carries considerable clout within the club -- at the expense of further jeopardizing a season that is already proving a little troublesome domestically. Diego Lopez has done absolutely nothing -- other than not being Casillas -- to warrant being dropped. But Ancelotti will be acutely aware that he will face outright hostility if he is perceived to have driven San Iker from the Bernabeu.

For Casillas, too, carrying through on his threat -- if it is to be taken as such -- presents considerable problems. Being a family man who has never lived outside Madrid, in addition to having a heavily pregnant girlfriend, he will presumably not move to any old club, and may prefer to stay in Spain.

Barcelona and Atletico are unlikely destinations for patently obvious reasons, and he is cup-tied in the Champions League. There will be no shortage of clubs willing to take on his wages for a six-month loan, with the Premier League's international exposure probably making England a front runner. Joe Hart should certainly be a little concerned after recent high-profile clangers at oil-rich Manchester City. Ligue 1 sides Monaco and PSG would enjoy the profile Casillas would bring, as would most of Serie A's big-hitters.

Casillas needs playing time to counter the rise of Valdes in the international stakes, and Ancelotti now needs to decide whether to stick or twist. It will certainly be interesting to see who is between the sticks at the Bernabeu on Saturday when Real hosts Malaga. Casillas is not afraid to speak his mind, and in doing so Thursday, he has presented Ancelotti, unwittingly or not, with a real headache. On the other hand, he has also set himself for a potential fall; if Lopez plays Saturday, Casillas' next assignment in a Real shirt will be to shut out Juventus next Wednesday, with a little added pressure to do so applied to his own shoulders.